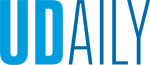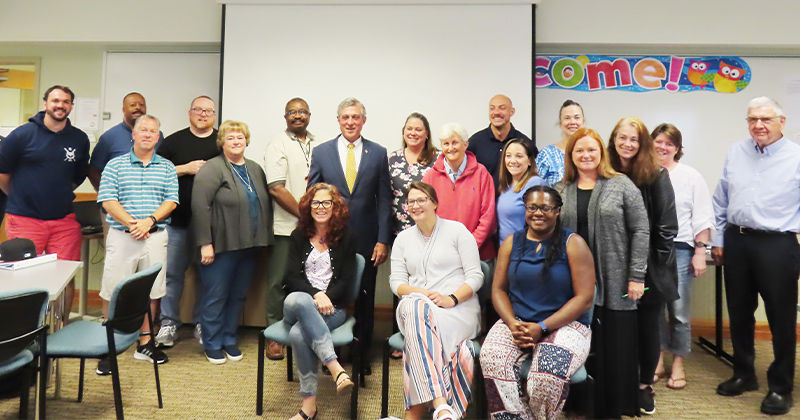 Elevating civics education
Article by Sophonie Milord Photos by Sophonie Milord September 07, 2023
UD's Democracy Project Summer Institute provides educators with civics and history support for the new school year
For the past two years, the Delaware Department of Education (DDOE) and the Social Studies Coalition of Delaware (SSCD) have engaged in a statewide initiative to improve social studies teaching and learning in Delaware. DDOE and SSCD turned to the University of Delaware's Institute for Public Administration (IPA)'s Delaware Center for Civics Education (DCCE) to develop the model lessons for civics.
Led by Fran O'Malley, project director of DCCE, and Ed Freel, IPA Senior Fellow, the Democracy Project Summer Institute is an annual professional development opportunity for Delaware teachers. This year, the program celebrated its 25th anniversary by welcoming 20 seventh grade civics teachers to UD's Newark Campus. The Delaware Department of State sponsors the institute and offers an in-depth analysis of Delaware's civics and history standards.
Educators were provided with guided practice and new model lessons highlighting Black history in Delaware. Summer Institute scholars also had the opportunity to meet Delawareans significantly impacted by the Civil Rights Movement that shifted Delaware's educational system and the nation.
Presenters included Governor John Carney, Secretary of State Jeffrey Bullock, Chief Justice Collins J. Seitz, Jr., and Attorney General Kathy Jennings. The contributions of state leaders to the Institute's professional learning left lasting impressions on many of the teachers in attendance including Joseph Flamer, a teacher at Smyrna Middle School. "I like the fact that our government officials see the importance of the Democracy Project, dedicating time to engage with us in conversations and … put resources behind this project," Flamer said. "They see the importance of civics education."
Throughout the week, O'Malley and DCCE Assistant Director Scott Abbott walked educators through lessons on grade 7 civics standards, clarifications, classroom discussion strategies, and instructional resources that support model lessons in civics education.
When asked about how the summer institute sessions would further inform their teaching moving forward, several educators chimed in, including Lisa Nothestein, a teacher at the Early College School at Delaware State University. Nothestein said, "Being here has allowed me to make connections with other teachers and see what they are doing in their classrooms," Nothestein said. "It has been helpful to go through these model lessons because walking through the lessons impacts me on a deeper level and makes it easier to be more engaged with my peers and my students while teaching."
Educators participated in interactive sessions that provided a deeper understanding of Delaware state history. One session occurred at the Hockessin School 107c where Delaware Chief Justice Collins J. Seitz, Jr. joined the 20 educators. The Hockessin School was originally a one-room schoolhouse created to serve Black children who could not integrate with white children. It is now a multi-functional community center. Seitz introduced the remarkable story of Shirley Bulah whose daily route to school in the early 1950s became the catalyst for the Supreme Court case Brown v. Board of Education. The walls of that building were once filled with blackboards, but it now hosts historical artifacts and relics that preserve an essential piece of Delaware's history. Throughout his session, Seitz discussed how his father Chancellor Collins J. Seitz, Sr., played a pivotal role in the desegregation of Hockessin Schools in 1952.
This day-long visit to the Hockessin School immersed educators in an engaging history of school desegregation in Delaware. The new model lesson provided teachers with a greater comprehension of Delaware history by interacting with historical artifacts and learning from Chief Justice Seitz. Some lessons included video or picture graphics from O'Malley who served as the lead instructor for the week, while other lessons called for the teachers to stand up in groups and participate in a read-aloud session that included a reading from the actual letters written by the Bulah family. Bulah's mother wrote those letters with the support of Delaware's only Black attorney, Louis Redding. Within these letters, the mother detailed the unfairness of her daughter's transportation to school where she was forced to walk miles, while her white counterparts were allowed to ride the bus to school. The Bulah v. Gebhart case was part of Brown v. Board of Education and quoted Judge Seitz Sr., whose argument made way for school segregation to be declared unconstitutional in 1954.
According to Seitz, Delaware was the only state at the time that got the correct argument in place to go against the segregation of schools with the Bulah case. While closing the morning session, Seitz left the group with these final words, "It takes real moral courage to stand up when everyone else is sitting down."
Former students of the Hockessin School including Lois Johnson and Sonny Knot joined the teachers to share memories and details of their upbringing in Hockessin, Delaware. Johnson expressed that growing up in Hockessin was some of the best years of her life, but she had some horrifying experiences. While some memories shared were heartfelt and difficult for her to express, Johnson ended her discussion with a grateful sentiment, "We have lived long enough to see the fruition of what others have created," she said.
Educators were asked to share one thing that they learned from the week, and Philip Vaughn of Central Middle School replied, "Going to the [Hockessin School] and meeting the students who integrated in the [1950s]." Another teacher, Jamie Gill from Central Middle School responded, "Delaware is the first state for multiple reasons including signing the Constitution and desegregating schools."
Another new model lesson is based on equal property rights for Delaware citizens. Throughout history, many Black citizens and lower-income individuals did not receive the same type of property rights as white and wealthy individuals. This lesson aimed to educate students on the history of this wealth gap and how it still impacts people today. Teachers will have the opportunity to incorporate these lessons into their classrooms for the upcoming school year.
One of the final activities was a case study where participants were asked to complete a deep dive into an issue related to property rights. O'Malley asked how this scenario would potentially make students feel, and the teachers express that their students would probably be upset after reading it. To tie the lesson together, O'Malley highlighted the importance of intellectual property, which the Constitution protects. The focal point of each lesson was to inform students about their property rights and to be better-informed citizens who can make the best possible decisions individually and for the community.
The final lesson of the summer institute allowed teachers to develop instructional skills that help pull students into an immersive learning environment that empowers them to be civically aware of their surroundings. O'Malley discussed a potential classroom project allowing students to connect and engage with the government by first starting locally within the school walls. By having students connect with their English teacher or principal, this activity teaches students how to interact with the government as adults. O'Malley advises teachers to start first with the "government" of their school. "We want kids to understand how to connect with the people who impact their lives and things that have meaning to them. This is an excellent way to teach students how to be involved in public policy from where they currently are in life," said O'Malley.
Reflecting on her experience at the summer institute, Nicole Hughes of MOT Charter said, "I think they have come up with some good lessons to use. I love the incorporation of state history because students do not get enough of that. I also love that they have brought in state leaders. [The information provided] is information that we can bring directly back to our kids."
DCCE will continue partnering with DDOE and the Social Studies Coalition of Delaware this coming year to expand the model lesson initiative to align teaching and learning to standards better and expose students to more culturally relevant instructional materials.
About the Institute for Public Administration
The University of Delaware's Institute for Public Administration (IPA) addresses the policy, planning and management needs of its partners through the integration of applied research, professional development and the education of tomorrow's leaders. As a research and public service center in the Joseph R. Biden, Jr. School of Public Policy and Administration, IPA collaborates with state agencies, municipal governments, nonprofits, communities and businesses to examine complex policy issues and improve quality of life in Delaware and beyond.
About the Delaware Center for Civics Education
The Delaware Center for Civics Education promotes civic engagement and a better understanding of citizen responsibilities in a democratic society among young people by providing resources and professional learning around Delaware's civics standards in support of Delaware teachers.
About the Joseph R. Biden, Jr. School of Public Policy and Administration
Established in 1961 and named in 2018 for the University of Delaware's most distinguished alumnus, the 46th President of the United States, the Joseph R. Biden, Jr. School of Public Policy and Administration prepares students with the knowledge and skills necessary to engage in research and public service to improve the quality of life in communities around the world. Biden School faculty, staff, students, and alumni create and use interdisciplinary, nonpartisan research, and empirically based analysis to inform effective decision-making and policy and to improve leadership and administration. The Biden School partners with organizations from all sectors to discover innovative and equitable solutions to the critical challenges of our time.