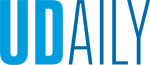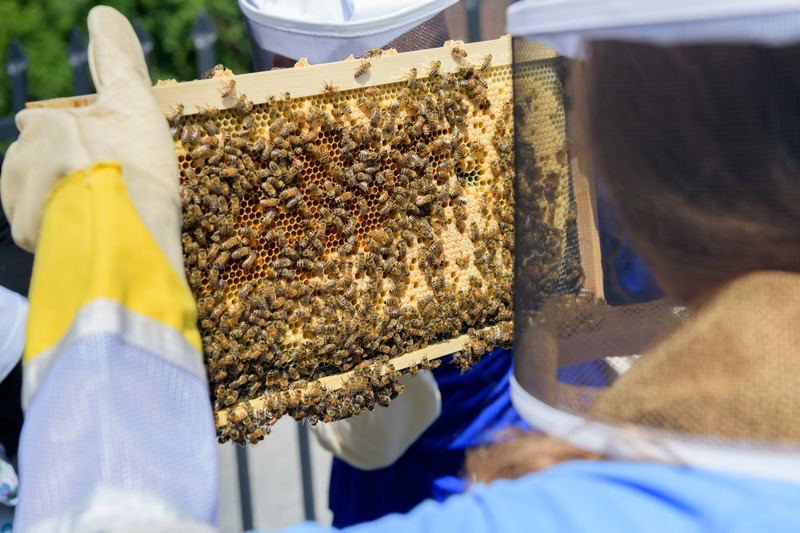 Bees in the literary wild
Article by Hilary Douwes Photos by Evan Krape and Maria Errico October 11, 2023
UD alumna joins a professor to examine fiction and fact in a time of climate crisis
What will the world look like when pollinators have disappeared, and how can science help us prevent them from disappearing?
These questions were the focus of a recent event at the University of Delaware, called Bees in the Literary Wild. Hosted by the Department of English, the event brought together UD alumna and novelist Julie Carrick Dalton and Deborah Delaney, associate professor of entomology, to discuss Dalton's novel The Last Beekeeper and the role storytelling plays in heightening awareness of contemporary issues. 
The novel tells the story of Sasha Severn, daughter of the last beekeeper, as an environmental crisis kills the world's pollinators and the global food supply is nearly destroyed. 
Dalton's inspiration for the book, which she says is set in the "near future," came from her own experience as a beekeeper. One summer day she came out to her hives to discover all of the bees — 40,000 of them — had died. The following year she had the same experience with a new hive. She traced the deaths to lawn chemicals sprayed in her neighborhood. 
"I'm thinking, 'If my bees died, what's happening to our native pollinators? What's happening to the butterflies, the wasps, the hornets? We need all of them.' So, I imagined what if we had a world without pollinators. And that's the world I created," she said.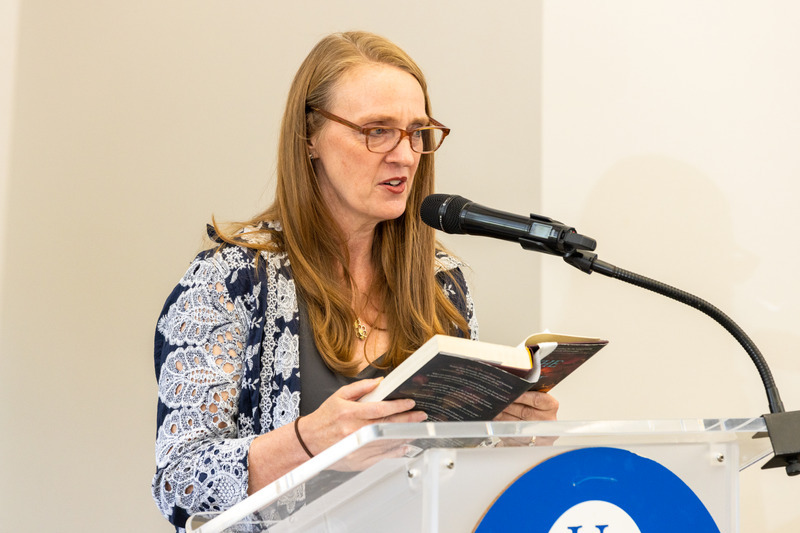 Delaney is also a beekeeper, with hundreds of hives in Delaware and Pennsylvania, including the UD teaching apiary. The apiary houses upwards of 50 colonies, which produce honey and beeswax that is sold at various locations around Newark. The bees are an active part of her classes, research into the genetics of bees and work as a specialist with the Delaware Cooperative Extension. 
"I could relate to a lot of what you were talking about in the book," Delaney said to Dalton. "And part of it tapped in me some of the fears that I have. I want my beekeeping class to read this book because it's just such an easily digestible way to understand these big problems and the challenges that beekeepers and bees themselves face."
Delaney uses social media storytelling in her pollination ecology class to draw attention to pollinator issues. She requires students to post photos of flowers and interactions between flowers and insects from the pollinator garden at UD to spur conversations about the specific behaviors and unique morphology of insects. 
"I'm not the best with social media, but boy my students are fantastic," she said. "They are getting that social engagement with the public."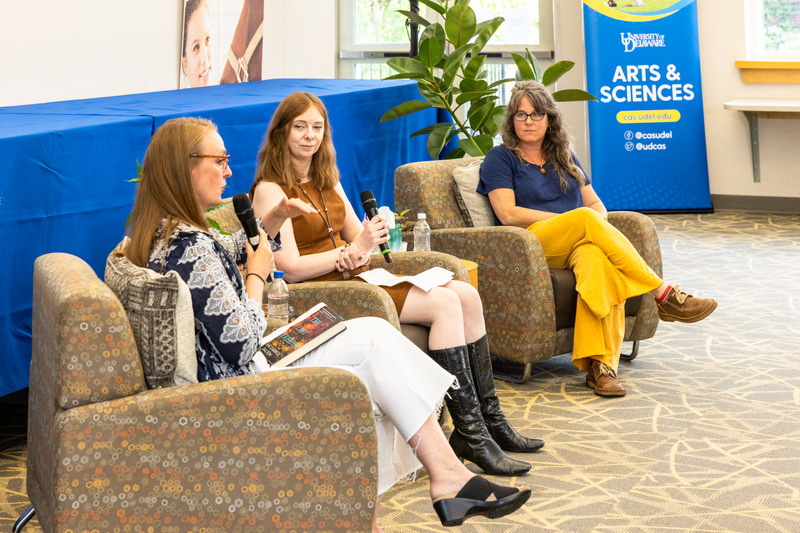 This is Dalton's second novel that touches on the impact of climate change and human relationships. An honors biochemistry major when she came to UD, Dalton graduated in 1992 with a double major in political science and English with a concentration in journalism. 
"My roommate was a journalism major, and I was obsessed with her homework," Dalton said. "I followed her around when she did interviews and decided I wanted to be a journalist. I stopped taking science classes."
Dalton served as editor of UD's student newspaper, The Review, and worked as a journalist for years before turning to creative writing full time. But her love of science continued. She received a certificate in sustainable agriculture from Tufts University and lived on a farm in Massachusetts. She loves to "eavesdrop on entomology Twitter" and used a conversation about pine bark beetles as a storyline in her first novel. 
Dalton and Delaney listed several ways the public can help bees and all pollinators. Dalton mentioned a movement called "No Mow May," where homeowners refrain from cutting their lawns during the month because it's the time when insects and bees are coming out to forage for food. 
Delaney said being a good steward of the land starts with healthy soil.
"Many of our bees are native species that nest in the soil, and they spend probably 80 to 90 percent of their life in the soil," she said. "These are single moms working to care for their babies. If one dies, then that whole generation dies."
It's also important to plant many different species of colorful, pollen-bearing, nectar-bearing flowers, Delaney said.
"I think [that] is probably the best thing that anybody can do," she said. "Because if you plant it, the bees will come."