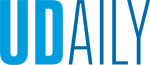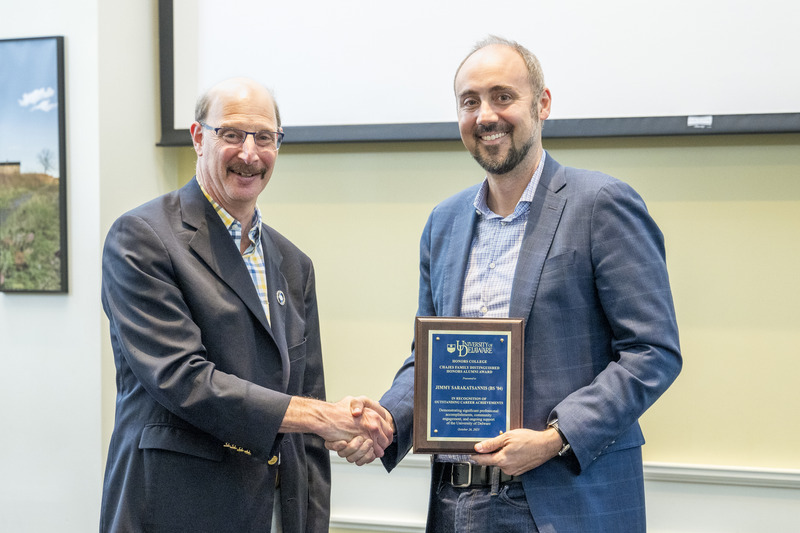 Improving the nation's schools
Article by Margo McDonough Photo by Kathy F. Atkinson November 21, 2023
UD alumnus Jimmy Sarakatsannis recognized by Honors College for work in education
Jimmy Sarakatsannis graduated from the University of Delaware in 2004 with an honors degree in biochemistry. Today, as a senior partner at McKinsey & Company, the global management consulting firm, his mission is to make schools better. His work spans every stage, from pre-K-12 to higher education and workforce development.
A biochemistry degree may not seem the expected training ground for educational consulting, but Sarakatsannis said his time at UD set him up for success. He was awarded the Chajes Family Distinguished Honors Alumni Award at a recent ceremony on UD's Newark campus. Held in the University Visitor Center, the event was attended by current Honors College students, faculty and staff, as well as some of Sarakatsannis' former professors.
"My education at UD was the stage for all that followed. I solve complex problems — that's what I do all day long. I learned problem solving, and a lot more, in classes with professors like Dr. Fox," Sarakatsannis said, motioning to Alan Fox, a professor of philosophy who was in attendance. "I also learned how to navigate in an ambiguous environment. The University offers so much and you have to prioritize from the wealth of choices in front of you. Everyone's path is going to be different."
Sarakatsannis took full advantage of the University's co-curricular programming, including Symphonic Band-Wind Ensemble and a study abroad program in South Africa. He was a du Pont Memorial Scholar and a member of Phi Beta Kappa, and he conducted undergraduate research. He especially enjoyed service learning, including many hours spent volunteering with disadvantaged students.
While Sarakatsannis had planned to pursue a doctorate in theoretical chemistry, his volunteer work made him question his career plans to go into research. After graduating, he earned a master's in physics and philosophy from Columbia University and then a master's in teaching from American University. For three years, he taught middle school science at John Philip Sousa Middle School, a public school in Washington, D.C.
"I was a high-effort, mediocre teacher," he acknowledged. He shared with a good friend his frustration with teaching yet continued desire to effect positive change. The friend suggested consulting, and in 2008 he began his career at McKinsey. Today, as a senior partner in the Washington, D.C., office, he leads McKinsey's education and private equity practices. Much of his work focuses on how technology can be used to transform teaching and learning, within and beyond formal education.
Among his recent projects, he advised an online learning company on developing a strategy to raise student success rates; led support of a new non-profit in K-12 education, helping to design and set up the organization with an independent sales force and operations team; and worked with a national system of technical and vocational colleges to create online and hybrid programs to expand access.
Michael J. Chajes, dean of the Honors College, and his family fund the Chajes Family Distinguished Honors Alumni Award. He said the award program not only recognizes successful alumni but is also a way to inspire current Honors College students.
"Our students enjoy finding out about the twists and turns in the speaker's career paths," Chajes said. "Hearing about all that goes into building a successful and satisfying career, including unexpected detours and setbacks, along with serendipitous events, allows our students to see the amazing opportunities that are waiting for them."
University of Delaware Honors College
Honors College students can be found in a variety of disciplines across all colleges at the University of Delaware. Honors courses are rigorous and allow students more in-depth study of their subject areas. Learn more about UD's Honors College.