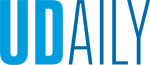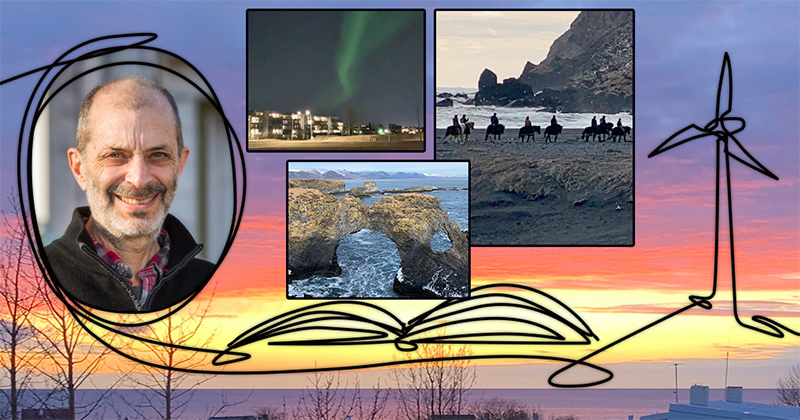 Wind energy in Iceland
Article by Adam Thomas Photos courtesy of Jeremy Firestone | Photo illustration by Tammy Beeson May 22, 2023
UD Professor Jeremy Firestone describes teaching wind energy science and discussing policy in Iceland
University of Delaware Professor Jeremy Firestone traveled to Iceland in January and in March to teach a course at the University of Iceland on wind energy and to work with colleagues there on wind energy siting policy. Firestone went to Iceland as part of the Fulbright Specialist Program through Fulbright and Fulbright Iceland grants. Firestone shared his thoughts about his experience in Iceland, as well as the state of wind energy in Iceland and the challenges and opportunities moving forward.
Q: How long was your stay in Iceland?
Firestone: It happened in two parts, for a total of six weeks. During the first three-week period in January, I taught a course on wind power in the University of Iceland's English language-based International Master's degree in Environment and Natural Resources. Then, for the second three-week period in March, I worked on issues related to siting of wind turbines in Iceland.
Q: Where does renewable energy stand in Iceland?
Firestone: Iceland relies on hydropower and geothermal power for 100% of its electricity and geothermal for about 90% of its building heat. Most (~80%) of the electricity is consumed by the industrial sector, with four aluminum smelting plants, each with its own dedicated electricity generating plant (hydropower), consuming the lion-share. Despite its considerable renewable energy progress, Iceland remains a high per capita carbon-intensive society given emissions associated with commercial fishing (it is a large exporter), aviation, as it serves as an international stopover, the non-electricity components of the aluminum production process, and tourism, where it has two-million plus visitors a year for a population of about 350,000.
It also is worth noting that Iceland's hydropower resource is different than the United States' in that it is almost entirely glacier-fed. There is some annual variation and there is some winter to summer variation as well, but overall, not that much. So, Iceland does not have the same problem as the U.S. inner-mountain west does, with variable snowfall, drought, and too much water consumption, all of which are causing rivers to be "oversubscribed".
Q: Does Iceland currently have a robust wind-energy sector?
Firestone: It does not. Iceland has only two wind turbines at present. Given the carbon footprint I earlier noted, Iceland is looking at wind power as a possible way to help it decarbonize.
Q: Why has wind energy been slow to take off in Iceland?
Firestone: It has been slow in part because of Iceland's abundant hydro and geothermal resources. All its existing electricity needs are basically covered. Iceland is ahead of the United States on electric vehicles, but still has a long way to go to fully transition its vehicle fleet. Given a small population, Iceland will not require much wind power to power its vehicle fleet.
To take full advantage of wind power, Iceland will need to modernize its electricity grid as its grid is presently not capable of moving large amounts of power. In many locations, Iceland uses medium voltage power lines rather than high voltage lines for electricity transmission. This limits the ability to move electricity that could be generated by wind turbines to areas where electricity is and will be needed.
Q: Does Iceland have the right meteorological and other necessary conditions for wind energy?
Firestone: It does. It is extremely windy in Iceland, so it is a great place to develop wind power. There were many days when I was in Reykjavik when the wind on the ground was blowing consistently at 10-meters per second (22 mph). And that's just on the ground. At hub height, one would expect the wind speed to be greater. And as there is a cubic relationship between wind speed and power production, windy areas are at a premium. There was one day when the winds were 25-meters per second on the ground. Continuously. Which is around 56 miles per hour. It was so windy they could not de-plane people who landed.
Q: With regards to the general population in Iceland, are there any concerns surrounding wind energy?
Firestone: It is a pretty interesting situation. It is sort of like the wild west. Iceland has had people coming out of the woodwork who together have put forward a few dozen wind power proposals. This, perhaps unsurprisingly, is scaring people. Something similar happened in the United States around 2005, with proposals to develop east coast offshore wind power, but the situation in Iceland is more sensible because there are several experienced European developers sponsoring the land-based wind power projects. There are concerns with wind power's effect on nature and landscape — Iceland has spectacular nature areas and vistas, and its people have a strong identity with the landscape. As a result, a major Icelandic nature conservation organization opposes land-based wind development.
There are related concerns about impacts on tourism. There has been some interesting research published around Icelandic tourism and land-based wind power, although it is not clear how large, if any, an impact there would be on tourism given that wind power development will be limited — Iceland will not become the Iowa of the North Atlantic/Arctic. And although Iceland is not particularly biodiverse, there is concern regarding potential impacts on some wildlife species, such as sea eagles.
Regarding offshore wind, it has barely been discussed. It has mostly been discussions around wind energy on land. I did, however, review a 2018 master's thesis that reported on an offshore wind suitability analysis and Iceland undertook an offshore wind resource assessment in 2015, but that is about it. I subsequently learned of some more concrete consideration of offshore wind power, which occurred after I left in April. Should it progress, offshore commercial fishing conflicts would likely loom large, and I would expect wildlife issues to arise in some locations because of, for example, the presence of whales and the puffins.
There also has been some talk of putting wind turbines in the far south of Iceland's exclusive economic zone (EEZ), roughly 200 nautical miles from shore. Then you install an electrical cable and send the electricity to the UK and interconnect it into the European grid. But nothing concrete.
Q: Getting away from the work side of your experience, what was it like to visit Iceland?
Firestone: It was great and very interesting. In January, I saw some of the main tourist attractions along a route called the Golden Circle. There is also a major tourist attraction called the Blue Lagoon, which was created by geothermal wastewater that was pumped onto adjacent lava fields. They thought it was just going to go into the ground, but it pooled and created this lagoon and eventually this large development called the Blue Lagoon. I never went to the Blue Lagoon but instead went on numerous occasions to the local geothermally heated public baths, a very Reykjavik, Icelandic thing. It was nice, mostly locals, and it was not very expensive.
The apartment that I called home both times, was the same unit, a university apartment in a building that was mostly populated by student families, that had a view over the bay/ocean. I could see the sunset, so that was quite nice. To my office, from the apartment where I stayed, it was a seven-minute walk, so similar to my Newark commute by bike.
The really amazing thing to me was how long the twilights were. In January, it felt as if the sun was always setting or rising, when it wasn't dark. Even in March, it is not that high on the horizon, but in January, it was very low. Although the sun did not rise until after 11 a.m. in January, it would start getting light at 9-9:30. I remember the first day I went downtown, I was like, 'Oh man, the sun is setting at 4!' and it was my first time there so I did not want to have to find my way back in the dark, so I left for my apartment arriving about thirty minutes later, but then it did not get dark for another hour or so. Because the twilights are so long. I really liked that.
It was atypically cold when I was there, both in January and March. But because of that, in March, there was just a trace of precipitation in Reykjavik. And it normally rains or snows several times a week. The clear night skies in tandem with the right conditions, allowed us to see the northern lights twice. It was spectacular. In January, there was a lot of snow and ice. They had a big dump of snow in late December, and it was just cold and it did not melt. It was ice everywhere. I wore crampons then and when I didn't, I almost fell.
My wife joined me for 12 days in March and we went to the Snæfellsnes Peninsula, and we took several breathtaking day hikes. Having the ocean on one side and the mountains on the other, that is about as good as it gets. We also spent a day on the south coast, with many waterfalls, black-sand beaches, and a cave.
Everything was easy and the people were very nice and the drivers were pedestrian friendly. Almost everyone speaks English, and they speak it very well. You could take advantage of everything, and it was easy to get around, particularly for someone like me who likes to walk. The Icelandic food was good, with a lot of local fish. We had a very special dinner out with Icelandic colleagues who schooled us on the local fish varieties and regaled us with tales of their Iceland youth, including neighborhood fishmongers. I could not tell you what Icelandic currency looks like. Everything is by credit card. I never changed money or saw Icelandic currency.
Lots of fresh bread. It was also interesting because Reykjavik has very good pizza. It was amongst the best pizza I have ever had.