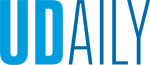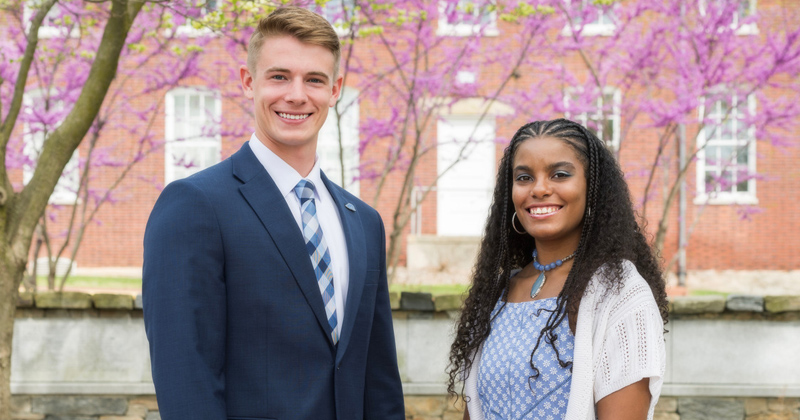 Rising stars, inspiring seniors
Article by Megan Maccherone Photo by Kathy F. Atkinson May 18, 2023
UD Alumni Association honors two seniors for academic achievement, leadership, community service
Graduating University of Delaware students Aniya Brown and Brenden Swanik are the 2023 recipients of the Emalea Pusey Warner and Alexander J. Taylor Sr. Awards for Outstanding Seniors, respectively. The awards are presented by the University of Delaware Alumni Association (UDAA) each year to seniors who demonstrate leadership, academic success and community service. Recipients must have a cumulative grade point average of 3.5 or higher at the end of the first semester of their senior year.
Brown and Swanik will lead the alumni delegates procession at Commencement and will be honored at a celebration on June 2, during Alumni Weekend.
Emalea Pusey Warner Award: Aniya Brown, ANR23
Aniya Brown, an Honors pre-veterinary medicine major and Spanish for healthcare minor, has extensive extracurricular involvement, a clear passion for the veterinary profession and dedication to making a difference at UD, in her community and beyond.
Even in high school, Brown had worked closely with animals through volunteering at local shelters such as the SPCA and Delaware Humane Association, but her path of working with animals as a career was solidified through her experiences at UD. A pivotal moment for Brown happened while she was participating in the honors add-on section of the course Animals, Science and Society, in which she worked hands-on with piglets for a senior swine capstone. One night, she helped in the birth of 14 piglets.
"It was one of the most exhilarating things I have ever been a part of," she said. "Since then, I have been able to delve even deeper into my field and I've fallen more in love with it through classes such as lactational physiology, animal disease, the dairy production capstone and more."
Brown has conducted research with chickens in the College of Agriculture and Natural Resources (CANR) Summer Scholars/UD Envision program and deepened her appreciation for education and public service through her work as a teaching assistant and chemistry workshop leader. Along her journey, she networked with professors who have become mentors on her path "toward actualizing my purpose and achieving my dream of becoming a veterinarian," Brown said.
With the help of her mentors, Brown took on her first experience in a veterinary hospital through an externship at Windcrest Animal Hospital where she now works as a pharmacy and technician assistant.
"The encouragement my mentors gave me and the knowledge my classes provided me fortified my spirit to take on the challenge in full force, and I felt I deserved to be there," Brown said. "These hands-on experiences were key components of my vet school applications."
For Brown, becoming a veterinarian is just one facet of her larger dream and the meaningful impact she aspires to have on the world. She advocates for equality and equity as well, especially through her role as a founding member of People of All Colors and Communities Together (PACCT). PACCT is an Honors student action committee dedicated to achieving equality and equity at UD and beyond by facilitating the admission and retention of minority Honors students and providing anti-racist education.
Additionally, she serves as an Honors student ambassador and an inaugural member of President Assanis' Student Advisory Council. Outside of UD, she is a mentor for Delaware Goes to College Academy and talks to underrepresented students about the different pathways to attend college. She also spends at least two hours each week teaching English to native Spanish speakers from local Latin-related organizations. Brown has received the Global Seal of Biliteracy for being functionally fluent in Spanish, and she was selected as a Fulbright English Teaching Assistant award recipient to teach in Colombia, but she declined the offer — for now — to pursue her studies in veterinary medicine.
Through her volunteerism, Brown has sought to improve the lives of others and foster inclusive experiences. She has no plans to stop in these efforts after graduation — Brown is committed to diversifying the veterinary field as Black women comprise only 1.7% of the profession.
Brown's other passions, her faith and dance, shine through in her extracurricular activities. She is a Bible study leader for Intervarsity Christian Ministry and president of two dance teams on campus, the Solace Gospel Dance Team and the Isodynamic Hip Hop Dance Crew. She also led the entertainment committee for CANR's annual Ag Day, coordinating performances, booking performers and organizing the stage and seating.
"Aniya has distinguished herself as an outstanding academic and as an actively engaged member of our campus and local community, a student that cares about her peers and unselfishly gives her time as a volunteer," said Lesa Griffiths, professor of animal nutrition at UD. "She is an amazing role model for young women in STEM and I have no doubt that she will have an inspirational and impactful career."
After graduation, Brown will attend the North Carolina State University College of Veterinary Medicine.
Alexander J. Taylor Sr. Award: Brenden Swanik, EG23
A self-proclaimed "space nerd" since childhood, Brenden Swanik has embraced opportunities at UD that contribute to his passion for space exploration, but even more importantly, to how he can use these experiences for the betterment of humankind. His commitment to influencing positive change extends to the UD community as well, through student leadership roles and advocating for policy changes that will impact generations of Blue Hen students.
"UD has encouraged me to take risks, aim high and never sell myself short, lessons I hope to impart to the next generation of movers and shakers at the University of Delaware," Swanik said.
Swanik, an Honors biomedical engineering major, interned at the NASA Langley Research Center in the summer of 2021 with help from the Delaware Space Grant Consortium. The following summer, he interned at Axiom Space in Houston, Texas, supported by the Honors College Enrichment Award. There, Swanik gained insight into the private space sector as he worked on the company's first commercial space station. He led efforts to design, simulate, test and manufacture various components within the crew quarters and integrated hardware into the top-level model of Axiom Space Station.
These opportunities sparked Swanik's interest in the pressing global crisis surrounding aerospace technology policy. He became fascinated with the challenge of preserving international partnerships while fostering new avenues for collaboration between the private and public sectors of the global aerospace economy.
Swanik wrote about these topics extensively in his applications for two prestigious international scholarships, ultimately reaching the status of a finalist for both — an achievement that speaks volumes. This experience enabled him to forge connections to the UD alumni network and increased his interest in these research areas.
While at UD, Swanik has represented the student body through numerous leadership roles. In 2019, he re-founded the Delta Eta Chapter of the Pi Kappa Alpha fraternity at UD with the core mission of re-writing the preconceived notion of Greek life, actively combating hazing.
In the 2021-22 academic year, he served as executive vice president and chief justice concurrently for the Student Government Association (SGA). In this role, he was a voting member on the University Faculty Senate and UD Board of Trustees, which allowed him to weigh in on decisions such as course offerings and University leadership and policies. He also improved the visibility of the SGA on campus, which led to a significant increase in applications to serve in the organization — a tenfold increase from the previous year.
Recognizing his outstanding leadership on campus, Swanik was selected to be part of the inaugural President's Student Advisory Council, where he serves as a representative of the UD student body. "Surrounded by the senior leadership of the University, I was not only mentored but inspired to learn the methodology of effective leadership," Swanik said. "President Assanis once told me, 'No great challenge has been solved passively.'"
These examples represent just a few of the exceptional opportunities that Swanik has eagerly embraced. He has also served as a teaching assistant, an Honors teaching fellow and a research assistant, among other important roles at UD, in addition to studying abroad at Aix-Marseille University in France.
One of his long-term goals is to be an astronaut and experience space firsthand. Next, he plans to work as mission manager of International Space Station External Deployments for Nanoracks in the Washington, D.C., area.
To learn more about the UD Alumni Association's Warner and Taylor Awards, past recipients and more awards offered through the Office of Development and Alumni Relations, visit the Scholarships and Awards webpage.