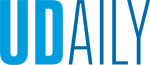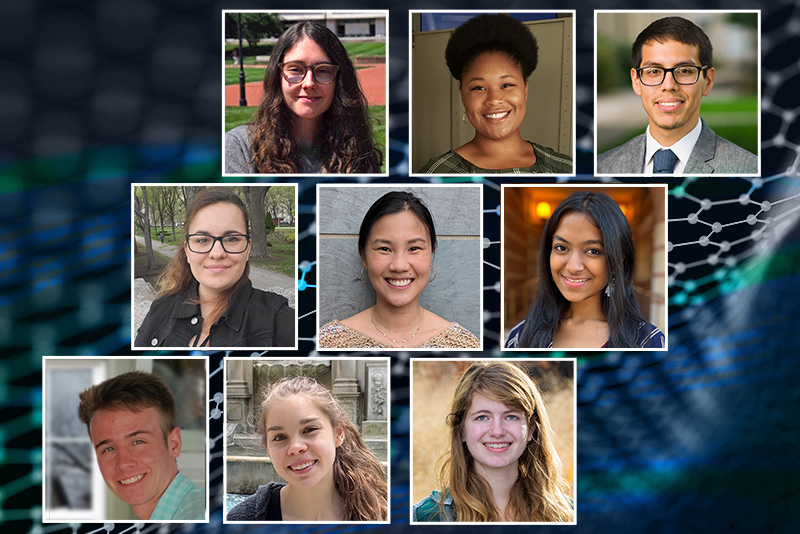 Fostering inquiry and innovation
Article by Karen B. Roberts Photo illustration by Jeffrey C. Chase May 25, 2023
15 UD students, alumni awarded 2023 NSF Graduate Research Fellowship
Each spring, the National Science Foundation (NSF) awards graduate research fellowships to promising undergraduate and graduate students around the country. These individuals are anticipated to become knowledge experts in their field and to help advance the nation's technological infrastructure, national security and economic well-being through their research, teaching and innovations in science and engineering.
An impressive 15 University of Delaware undergraduate and graduate students and alumni were selected for the NSF Graduate Research Fellowship Program's 2023 Class of Fellows. Four additional UD students and two alumni earned honorable mentions.
The highly competitive fellowship is awarded to individuals pursuing full-time, research-based master's and doctoral programs in STEM (science, technology, engineering and mathematics) or STEM education. It is the oldest graduate fellowship of its kind and includes a three-year annual stipend of $37,000, and a $12,000 cost-of-education allowance for tuition and fees.
"The NSF Graduate Research Fellowship is one of the most prestigious awards given to promising young adults to pursue graduate studies in social, natural and engineering sciences," said Louis Rossi, dean of UD's Graduate College. "About 2,000 of these fellowships are awarded each year across all fields and receiving one requires exceptional potential coupled to a compelling research plan. UD has created an environment where this kind of potential can flourish."
A native of Peru, UD Honors senior Eduardo Nombera Bueno wants to use his NSF graduate fellowship to promote LatinX and other under-represented groups to remain in higher education. He hopes to one day see these types of resources extended overseas and spoke to the importance of having a mentor.
"None of my success as an undergraduate would have been possible without the encouragement and support of my advisers, especially Dr. LaShanda Korley and Jignesh Mahajan, a graduate student in the Korley lab," said Nombera Bueno. "Dr. Korley is an amazing adviser, caring mentor and genuine person. Without her, I don't know if something like the GRFP would have been possible for me."
UD doctoral student Jodi Graf, meanwhile, called the application process "a pivotal step in a graduate student's career."
"It required me to dig deep into why I wanted to pursue a doctorate, and, for the first time, I had to envision my future Ph.D. journey," Graf said.
Past NSF graduate research fellows include numerous Nobel Prize winners, former U.S. Secretary of Energy Steven Chu, Google founderSergey Brin and Freakonomics co-author Steven Levitt. Ishika Govil, an Honors chemical engineering major and computer science major, expressed excitement at sharing the prestigious award with two of her friends and fellow classmates, Eduardo Nombera Bueno and Rebecca Beswick.
"It speaks to the strength of our academic community here at UD," said Govil.
UD's 2023 Graduate Research Fellows
Rebecca Beswick, (Honors College) chemical engineering, University of Colorado Boulder
Rebecca Beswick is a senior Honors student majoring in chemical engineering, with minors in sustainable energy technology, electrical engineering and energy policy. A Distinguished Scholar and Goldwater Scholar, Beswick has been working on ways to leverage hydrogen electrolysis — the process of splitting water into hydrogen and oxygen gas using electricity — toward a greener future. Advised by chemical and biomolecular engineer Yushan Yan, she finds the idea of using electricity to reshape molecules fascinating and believes it will be increasingly important as renewable energy generation in the U.S. increases. During her doctoral studies in chemical engineering at University of Colorado Boulder, Beswick will focus on using electricity to transform carbon dioxide molecules into plastics and fuels. Her future goals include pursuing a career focused on scaling electrochemical processes.
Eduardo Nombera Bueno, (Honors College) chemical engineering, Massachusetts Institute of Technology
Eduardo Nombera Bueno is a senior Honors chemical engineering major and materials science and engineering major. At UD, he has explored ways to turn tree biomass into sustainable alternatives for conventional plastics, under the advisement of chemical and biomolecular engineers LaShanda Korley and Thomas H. Epps, III. This fall, Nombera Bueno will begin doctoral studies in chemical engineering at the Massachusetts Institute of Technology, where he previously spent a summer working with Paula Hammond, professor and head of the chemical engineering department, on the design and synthesis of nanoparticles for immunotherapy applications. Now, Nombera Bueno hopes to leverage his interests in the intersections of polymer science, biology and chemical engineering toward technologies for bettering human health, while conducting outreach to underrepresented groups in STEM.
Ishika Govil, (Honors College) chemical engineering, Massachusetts Institute of Technology
Ishika Govil is a senior Honors chemical engineering major and computer science major. A Distinguished Scholar and Goldwater Scholar, Govil has explored computational and experimental methods to design novel proteins for use as therapeutics, sensors and biocatalysts, under the advisement of chemical and biomolecular engineer Aditya Kunjapur. This fall, Govil will pursue a doctoral degree in chemical engineering at Massachusetts Institute of Technology, where she hopes to advance tools for drug discovery and sustainable manufacturing of novel therapeutic medicines. Her future goals include working at the interface of synthetic biology and computation, strategic priority areas for the U.S., while leading biopharmaceutical research and development.
Jodi Graf, chemical engineering, UD
Jodi Graf is a chemical and biomolecular engineering doctoral student interested in developing pulmonary therapeutics — medicines that are inhaled and delivered directly to the lungs. One major limitation to developing new inhaled medicines is the lack of models that accurately capture the lung environment to evaluate new drugs. Graf's project focuses on using hydrogels to mimic the lung microenvironment, particularly for chronic obstructive pulmonary disease (COPD) applications. Using these models, Graf aims to develop better therapies to reduce chronic lung inflammation by applying nanoparticle technologies. She is co-advised by chemical and biomolecular engineers April Kloxin, who specializes in disease modeling using next-generation biomaterials, and Catherine Fromen, an expert in pulmonary drug delivery. Long term, Graf hopes to become a principal scientist in drug product development.
Windsor Lundy, chemistry, chemical synthesis, UD
Windsor Lundy, a doctoral candidate studying chemistry under the advisement of Mary Watson, professor of chemistry and biochemistry, is working to develop new reactions that form carbon-carbon bonds with the potential to accelerate the drug discovery process. She is using diverse and readily available starting materials to form new carbon-carbon bonds using non-traditional activation methods. The approach has received interest from academic groups and the pharmaceutical industry, as it would provide chemists new ways to transform abundant materials. New and improved reactions could lead to better methods for discovering new drugs, allowing for the rapid development of new pharmaceuticals to treat or prevent disease. Following graduate school, Lundy hopes to pursue a career in academia or in the pharmaceutical industry.
Stephanie Ross, mechanical engineering, Massachusetts Institute of Technology
A University Graduate Scholar, Stephanie Ross is completing an accelerated master's in mechanical engineering, after earning an Honors bachelor of mechanical engineering degree with distinction in May 2022. A Eugene du Pont Memorial Distinguished Scholar, Ross' research primarily has focused on sustainability in electrochemical devices, specifically lithium-ion batteries, under the advisement of mechanical engineer Koffi Pierre Yao. For her senior thesis, Ross developed a sedimentation pool to separate battery materials in water to explore a novel method within the lithium-ion battery recycling field. She currently is investigating materials to make lithium-ion battery electrode manufacturing more sustainable. This fall, she will begin work toward a doctoral degree in mechanical engineering at the Massachusetts Institute of Technology. Her career goals include becoming a professor and helping students of all backgrounds to navigate higher education, while exploring technology solutions for sustainable energy storage.
Max Sokolich, engineering, microrobotics, UD
Max Sokolich is a second-year doctoral candidate investigating ways to control and use microrobots to enhance human health. The idea is to use microrobots in ways that can augment the biological system, direct cell fate and lead to the formation of specific tissues. Sokolich is advised by mechanical engineer Sambeeta Das, an expert in this area. He is particularly interested in being able to control multiple microrobots at once. Toward that end, Sokolich has already created a highly versatile, vision-based control system that can be customized for tracking and manipulating acoustic and magnetic microrobots. Next steps in his work include devising algorithms to control individual robots and determining how best to enable the microrobots to interact with and control cellular behavior.
Kathryn "Katy" Strand, Honors student, bioengineering, University of Pennsylvania
Kathryn Strand earned her Honors bachelor's degree in biomedical engineering at UD in December 2022. As an undergraduate, Strand collected, processed and analyzed human-subject data to inform the development of a decision-making model for neuromechanics and sensorimotor learning, under the advisement of biomedical engineer Joshua Cashaback. She also worked on a computational model to assess articular cartilage contact stress in the ankle during an NSF Research Experiences for Undergraduates opportunity at the University of Iowa. She currently serves as program coordinator for the Perry Initiative outreach program for high school women interested in orthopedic surgery or engineering careers. This fall, Strand will pursue a doctoral degree in bioengineering at the University of Pennsylvania, focusing on orthopedic biomechanics. Ultimately, she hopes to work in patient-centered rehabilitation-based research.
Tamara Turski, STEM education and learning, UD
Tamara Turski is a second-year doctoral student in the College of Education and Human Development's School of Education. Her research centers on early childhood science education and ways to link school and home practices to better support a child's ability to learn science. Working under the advisement of Zoubeida Dagher, professor of science education, Turski is particularly interested in exploring inquiry-based science learning in preschool settings, which leverages a child's innate curiosity as a means of engagement. The topic grew out of her undergraduate research on the impact of adoption on academic success with Stephanie Del Tufo, assistant professor in the School of Education and the Interdisciplinary Neuroscience Graduate Program.
The following UD alumni also will continue their research through the fellowship:
— Rebecca Clements, Honors graduate and Distinguished Scholar, biomedical engineering, Northwestern University
— Daniel Markus DeSantis, electrical and electronic engineering, Massachusetts Institute of Technology
— Tatyana Nesterova, Honors graduate, Life science: biophysics, Johns Hopkins
— Nisha Ramen, Honors graduate, chemical engineering
— Lauren Reich, Life Science: cell biology, University of Pennsylvania
— Patrick Gilbert Mercado Reyes, Honors graduate, Psychology: social psychology, Duke University
An additional six undergraduate or graduate students and alumni received honorable mentions:
Current institution is UD:
— Renea Briner, Honors graduate, Distinguished Scholar and Goldwater Scholar, Geosciences: biological oceanography
— Ross Klauer, bioengineering
— Sonia Chunsum Li, chemical engineering
Christine Oberhausen, chemical engineering
UD alumni:
— Lauren Meckler, Honors graduate, Psychology: physiological psychology
— Ryan Thomas McCune, Honors graduate, civil engineering, North Carolina State University