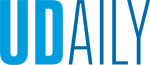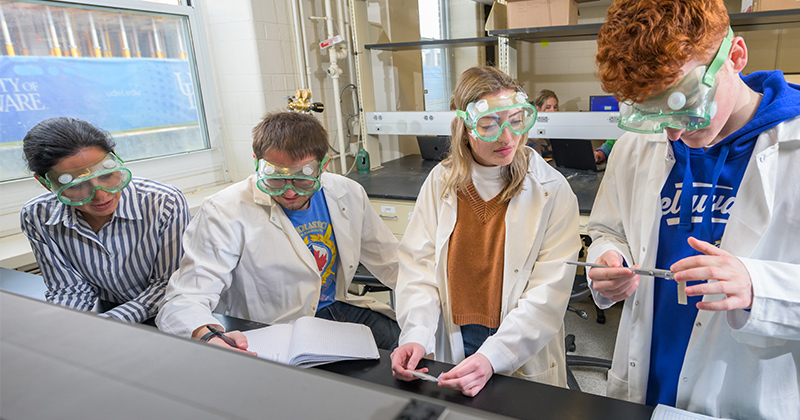 Materials science innovations
Article by Erica K. Brockmeier Photos by Evan Krape and courtesy of Ioanna Fampiou May 01, 2023
Celebrating its 25th anniversary, UD's materials science and engineering department focuses on 21st century tools
From creating lightweight yet durable prosthetics to designing new types of solar panels and batteries, materials engineers combine their expertise in physics, chemistry, biology, and engineering to help meet the needs of modern-day life.
Training the next generation of materials engineers means equipping students with the ability to understand the structures and properties of a wide range of materials, from "classics" like metals, polymers and ceramics to newer materials that are created using nanotechnology, unique composites and even artificial intelligence.
With the future of materials engineering in mind, the University of Delaware's College of Engineering enrolled its first class of students into a new undergraduate program in Materials Science and Engineering in the fall of 2019. Thanks to its forward-thinking curriculum that embraces modern materials, the program's first graduates will be ready to address the challenges of the 21st century head on.
Structure, properties, processing and performance
At the core of the field of materials engineering is understanding the relationship between structure, properties, processing and performance. These four pillars are what Sheldon Hewlett, assistant professor in the Department of Materials Science and Engineering who leads instruction and teaching, and other faculty members reiterate throughout the curriculum.
Along with its focus on these four pillars, the curriculum offered at UD is one that looks at engineering problems more holistically, Hewlett added. "Engineering as a whole is moving away from binned discipline thinking to more systemic, problem-solving thinking," he said. "In our curriculum, everything is geared toward different flavors of material science and understanding the structure-property relationships from different points of view.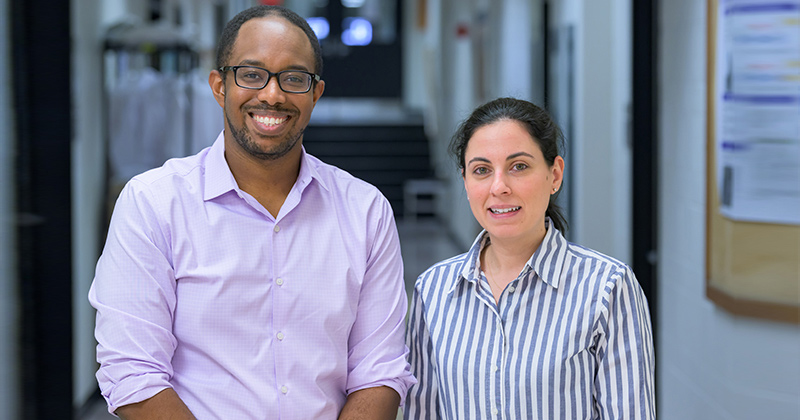 These different flavors cover a wide range of topics, from fundamental sophomore year courses in topics like thermodynamics and kinetics to advanced junior and senior year courses in polymers, solid state physics and quantum mechanics. And accompanying a breadth of lecture-based courses, students are actively integrating what they learn in lectures during hands-on laboratory work, both inside the classroom and as part of independent research projects. 
"We try to make sure everything meshes together, so they're using all the things that they are learning," Hewlett said. "We're also trying to integrate real materials and problems and to understand how to embed those in the class and have this rich experience."
One of the places where students integrate what they learn in lectures to address real-world research challenges is during the two-semester Materials Science Engineering Lab (MSEG 305 and MSEG 315) which students take during the fall and spring semesters of their junior year. 
Working in teams of three to four people, students collect data as they go through laboratory techniques and problem solving together. This year, students developed a solar cell and tested its efficiency, studied polymer synthesis with PEDOT:PSS (a unique polymer used in the lab of assistant professor Laure Kayser), conducted thermal conductivity experiments, and learned the ins and outs of 3D printing.  
Arriana Bisram, a materials science and engineering junior minoring in biological sciences from Bear, Delaware, is currently taking MSEG 315. She said that the thermal conductivity lab had the groups working much more independently than their labs from the previous semester, which allowed the group to foster their problem-solving skills. "We had to do a lot of critical thinking on our own, to think about how we could create the best thermocouple that would fit into a desired situation," said Bisram.
Essential skills for a materials scientist's toolbox
Another essential laboratory experience for future materials engineers is being able to work in a clean room, a complex laboratory setting where engineers manufacture devices that have structural elements in the 10 to 100 nanometer range. 
At UD, upperclassmen gain this important skill in Nanoscale Materials Laboratory (MSEG 402), a course that includes both lectures and an opportunity to work in teams to design, characterize and fabricate devices at the UD Nanofabrication Facility (UDNF). The course also ensures that students know how to work in a clean room safely while following standard operating procedures (SOPs), a key skill for both future industry scientists and graduate students.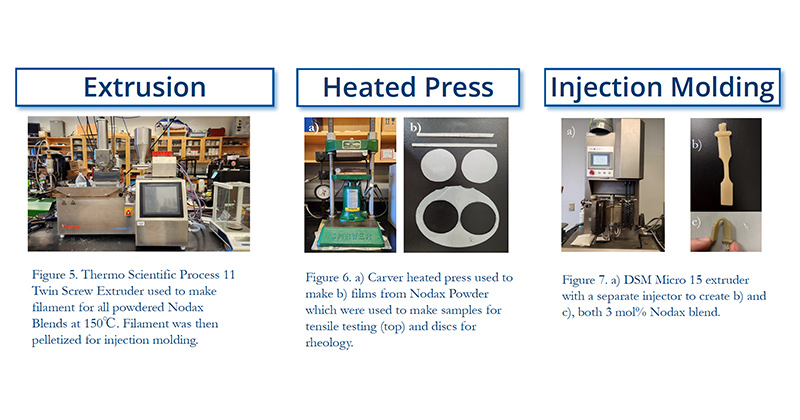 "Nanofabrication is a big field — it involves design, lithography, etching, deposition, packaging, and for each component there are detailed subdivisions," said Xi Wang, an assistant professor who will be the lead instructor of MSEG 402 in the fall of 2023. "Through this course, students will be familiar with almost all the components of nanofabrication and will become familiar with equipment that will be important for future research or work experience."
Along with essential laboratory skills, UD materials science and engineering students also gain experience with cutting-edge computational tools during Computational Materials Science and Engineering (MSEG 304), where juniors learn how to develop algorithms so they can study materials in silico.
"Computer modeling has become a tool like any other experimental technique," said Anderson Janotti, associate professor and MSEG 304 instructor, about the importance of these tools for the field. "And computational modeling is a lot more flexible: You can mold, transform, and probe various different aspects of a material."
In MSEG 304, students learn key concepts in computational materials engineering, including molecular dynamics and Monte Carlo techniques, and receive an overview of commonly used programming languages such as Python. "The programming language is one thing, but how you think about the materials science side of the problem is another," Janotti said. "I try to emphasize the core concept of how to translate your idea into an algorithm, then writing the code depending on the language you use."
Making connections, seeing the world, pursuing interests
There's also plenty of opportunities available for UD students to engage with materials engineering outside of the classroom. For Honors sophomore Melanie Heider from Newark, who was attracted to the field after working at the Center for Composite Materials during high school, this means connecting with professors and learning more about their research as a student member of the UD Materials Research Society.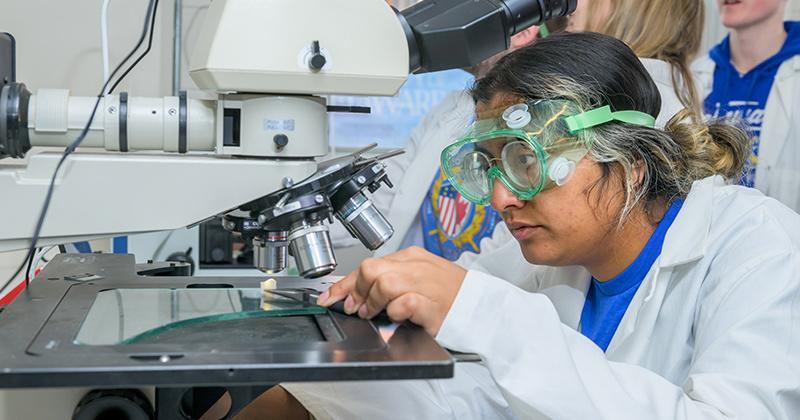 Heider added that she has also been able to make strong connections with her classmates thanks to the smaller size of the program here at UD. "I have the same 15 people in my classes for the next three years, so building those connections, doing homework, studying for tests, is something that I appreciate about having a small major where you basically know everyone," said Heider. 
Sophomore Caitlyn Edgar from Washingtonville, New York, chose UD because of her ability to take materials science and engineering as an undergraduate major, which she said will enable her to pursue her passion for sustainable materials. Both Edgar and Heider had the opportunity to take Materials Science for Engineers (MSEG 201) and participate in Ismat Shah's winter study abroad trip on material science, physics and history, where students traveled to Greece, Turkey, North Macedonia, Serbia, Kosovo, Italy and Switzerland. 
"It was interesting, and beneficial to my overall understanding, to see Dr. Shah's perspective on the course content; as a professor, he prefers to focus the most on concepts and why certain phenomena happen the way they do," Edgar said. "We also held our lecture on polymers in the Casartelli Science Museum in Como, Italy, with a professor from a nearby university whose expertise is in polymers. Dr. Shah has connections with people all around the world, and he is generous enough to use them to the benefit of his students' experience."
Bisram, who found out about the program through her sister, said that she "fell in love with the work that was being done and how broad the research was" in materials engineering, which is evident in the research project she's been working on with Kristi Kiick, Blue and Gold Distinguished Professor and chair of Biomedical Engineering. Bisram connected with Kiick through a colloquium professor and has been able to use her materials science expertise and coursework on a research project that has potential biomedical applications. 
"We're working with resin-like polypeptides that are biocompatible, and we're figuring out what chains of amino acids we can add to it to make it flexible and strong, so we can use that to deliver drugs," Bisram said. She added that she plans on expanding this project for her honors thesis and, thanks to the positive interactions she's had with professors here at UD, hopes to become a professor in the future. "Through the lectures I've been in, the material I've learned, and what I've gained through the program, there are lots of things that I want to incorporate into what I eventually teach," she said.
Putting everything together
A key part of any engineering program is the final year capstone project, also known as senior design. UD's materials science and engineering program is no exception, where seniors take a six credit hour course during the fall semester and work on an open-ended, previously unsolved problem. 
Assistant Professor Ioanna Fampiou, who leads senior design, said that this capstone course is created to give students the opportunity to apply the knowledge they've gained over the previous three years. Along with lectures on technical report writing, budgeting and presentation guidelines, Fampiou also brings in guest lecturers to discuss engineering ethics, sustainability, intellectual property, patents, and entrepreneurship. 
"The major is organized in a way that helped them acquire a lot of knowledge, and that was obvious when they had to make choices in their design projects," she said. "They knew how to handle the different aspects of the design project, what techniques they needed and which labs to go to, and they performed all the tests on their own."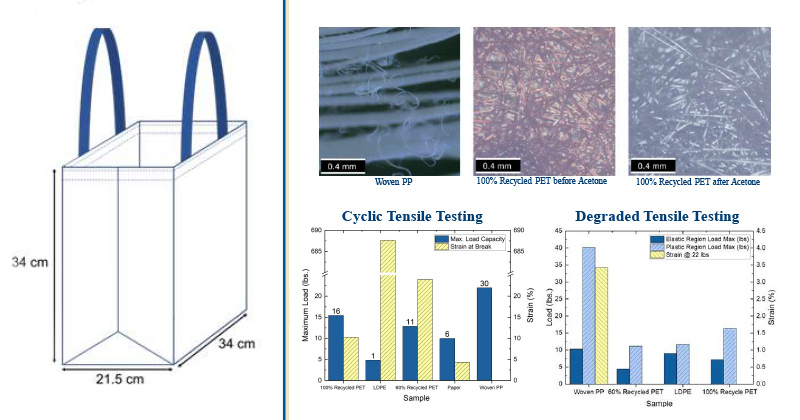 Fall 2022 was the first time the capstone course was held, and all the projects that students worked on were sponsored by UD faculty. Projects included evaluating degradation, performance and life cycle of reusable bags (sponsored by LaShanda Korley and the Department of Natural Resources and Environmental Control), designing a pH sensor for biological materials (sponsored by David Martin), testing out the usability of NodaxTM, a bio-based plastic made from vegetable oils, as a material for a biodegradable hot-cold cup (sponsored by John Rabolt and danimer scientific) and 3D printing a device to improve quantum yield measurements of photon upconversion materials (sponsored by Matthew Doty). 
"Students worked on projects that really captured their interests in various aspects of materials science and engineering, including synthesis, characterization, mechanical testing, and 3D printing," Fampiou said about this year's senior class. "Our students were well-equipped to lead and succeed in the senior design projects and have acquired a unique set of skills during their studies that will allow them to find jobs in industry or pursue advanced graduate degrees upon graduation."
"I was so impressed with the seniors when they did their poster presentations," said academic adviser Suzy Rogers about the first cohort of graduating seniors. "They were all speaking about their projects so easily, they were so comfortable with the topic, with the science, and they were able to answer all the questions that were being fielded."
Embracing the future
While UD's materials science and engineering curriculum was already designed with the future in mind, the faculty have learned a lot from this first cohort of students and are excited to incorporate more innovations into the undergraduate curriculum moving forward. Specific ideas include integrating computer modeling into additional courses, providing additional opportunities for independent research and community service, and finding external and industry sponsors for future senior design projects.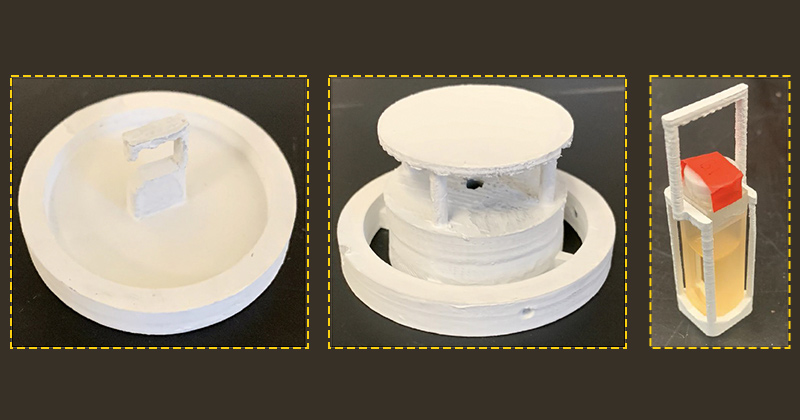 "We are very excited about the educational outcomes from our first class of graduates, and we look forward to continuing to refine our program and expanding to include more students," said Joshua Zide, professor and chair of Materials Science and Engineering. "Because materials are such a critical component of so many technological challenges facing society, we are excited to help educate engineers whose education is inherently interdisciplinary. There are so many opportunities for these students, and we can't wait to see what they accomplish as they go out into the world."
To explore areas of interest for her future career, Edgar is currently looking into summer research and internship opportunities, including research experience for undergraduates (REU) programs available at UD that are offered by the Center for Plastics Innovation and the Center for Hybrid, Active, and Responsive Materials. "Materials science combines several different engineering fields, and because of that I think you can apply materials science to so many different things," Edgar said. "There's such a variety of jobs out there that people can have with a materials science background, all depending on what you might want to do."
Heider is currently interested in pursuing a doctorate after graduation and said that having a degree in materials science is "definitely a plus" for her next career move. "Being a materials science undergrad major, and being able to learn all about materials, is something that UD has above other schools," she said. "Overall, I think being in a smaller program, one that just focuses on materials science, will definitely help me in grad school."
Bisram added, "Materials science is a broad field of study, and there's really no limitation of what you can do. Because of its wide scope, it's a place where you can get connected to a lot of different professors, a lot of different fields, and overall I think it's a great opportunity."
The Class of 2023 are the first cohort of undergraduate students to graduate from UD's materials science and engineering program. We asked seniors to share what motivated them to choose their major, what MSEG courses and instructors they enjoyed the most, what they hope to achieve in the future and what advice they have for future materials engineers.
I chose to study materials science because it is an ever-evolving field that can be applied to any discipline, as materials are necessary for every aspect of life.

Demarest, NJ

Professor Hewlett encapsulated how amazing the field is and the opportunities within it. I'm excited to continue my education at UD studying for my Masters of Materials Science.

Pembroke, MA

Every class I have taken with Professor Sheldon taught me a lot about materials science. He cares about every one of the students and that has really made a big impact.

Bainbridge, PA

A career in renewable energy would be very rewarding, particularly in offshore wind power as a source of clean energy, because of the challenges of climate change.

Crofton, MD

Be prepared to be pushed out of your comfort zone, don't be afraid to ask for help, get involved with activities, and make friends in your classes because you are all in it together!

Jericho, NY

I initially came in as a Chemical Engineer, but the MSEG class we had to take as part of that curriculum made me realize what I actually wanted to do.

Hamilton, NJ

Senior Design was my favorite class. I was able to work with my team and apply all that I had learned over the course of my degree in a meaningful way.

Fort Worth, TX

My favorite course is the Nanoscale Materials Laboratory. Creating functional devices that we could test and collect data from was very fulfilling and exciting.

Stowe, PA

My dream job would combine my passion for science, engineering and technology with my drive to help others. I would love to contribute to the advancement of global health.

Perkasie, PA

Junior lab was my favorite set of classes. It was the first time we got to see what MSEG was all about and gave me a lot of reassurance that I had picked the right major.

Middletown, DE

The kind of applied work done in material science and engineering has always fascinated me, and I can't think of anything I'd rather do.

Seattle, WA

Not only is Professor Sheldon Hewlett one of the best lecturers I've had at UD, but he cares about his students and is always there to help students in any way.

Lima, Peru

My dream job is to be a chip hardware manufacturer. There is going to be a need for young engineers to bring new options to the table and I plan to be one of them.

San Jose, CA

I am really interested in sustainable polymers and they have made innovations such as recyclable shoes or shoes made from ocean plastics; it is awesome to see.

Middletown, DE

Put in an effort to interact and become friends with your peers. You'll quickly come to realize that those people are going to become frequent members of your everyday life.

Pittsgrove, NJ

I chose the field of materials science and engineering because of the wide range of possibilities. It allows access to pretty much any field, and you can do anything you want with it.

Sewell, NJ
To learn more about these graduating seniors, hear from Founding Chair John Rabolt about how the department has evolved since it was first founded, and read more news from UD's department of materials science and engineering, check out the online edition of the Materials Matters magazine that was produced for the department's 25 year anniversary.