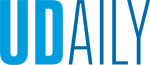 A conversation with Jen Psaki
Article by Amy Wolf Photos by Michael Reeves May 23, 2023
Students participate in Q&A with MSNBC host and former White House press secretary
Being the White House press secretary was not on Jen Psaki's "bingo card or list of life goals," but it was a role she did not hesitate to take.
"I didn't think twice about it, for a range of reasons," Psaki said via Zoom to a room full of University of Delaware students and community members in the Trabant University Center on Tuesday, April 25. "It's an amazing job and an honor to speak on behalf of your country, to state the obvious. Following Trump, it was like, if there is a call to public service, and I can play a small role in trying to rebuild some of the sanity and trust and belief in institutions — then I want to do that, and so I never hesitated."
At the event, which was hosted by the Joseph R. Biden, Jr. School of Public Policy and Administration's Biden Institute, aspiring journalists and students interested in politics participated in a Q&A with the former White House press secretary and current host of MSNBC's Inside with Jen Psaki.
Valerie Biden Owens, chair of the Biden Institute, set the tone for the conversational, engaging event, asking Psaki why she left the White House — a move Biden Owens jokingly compared to leaving President Biden at the altar.
"People always ask me what I miss the most about being in the White House, and it is working for the president, but also spending time with the president," Psaki said. "One of the things that people don't get to see who don't know him is that he is a person who you immediately feel like you've known forever."
Throughout the event, Biden Owens and students asked Psaki questions on a range of topics, including her experience as a woman in the briefing room, her most influential college class and her thoughts on declining public trust in the media.
Psaki shared advice that she received from Robert Gibbs, who served as the White House press secretary from 2009 to 2011: "Act like you belong there, and at a certain point, everybody will believe you."
Psaki said, "I don't want to over genderfy this, but I do think sometimes with women, you don't believe you belong there or you deserve to be there — there's a little bit of over analysis. At least I'm guilty of this, of thinking, 'Am I ready for this job?' No one's ready for the job until they do the job. So there is an element of it where you have to kind of just put your big girl pants on and just fake it 'til you make it sometimes."
She also shared a piece of advice from her father: "If you're not a little scared and nervous about your job that you're doing, you're overqualified, meaning you should be a little scared, because that's motivating."
That advice resonated with first-year student Sally Bornhorst, who attended the event.
"I took notes, and her quote about if you're not uncomfortable at first in your job, you're probably overqualified — I think that's really reassuring," said Bornhorst, who is studying marine science and plans to add a public policy minor. "As a woman in STEM, and potentially, eventually politics, that is something that I think is often a complaint — that it's hard to feel like you're in the right place. But her words were really inspiring."
During the discussion, Psaki cited two main reasons for declining public trust in the media: attacks on institutions and the ever-evolving state of how news reaches people.
"People are consuming media, consuming content, in a very different way," Psaki said, stating that while many people still watch the evening news and read the print Washington Post, those aren't the big deliverers of news in the ways they used to be. "It's the need to evolve to actually meet people where they are … in terms of how people are consuming content. Sometimes people will say … just stay off of Twitter, stay off of TikTok. Well, guess what, people — that's where people are consuming news, so you have to present accurate and informed content on those platforms too."
When asked about her most influential courses in college, Psaki said her English classes were the most useful and that knowing how to write clearly is an undervalued skill.
"An undervalued skill set is being able to write clearly and cohesively, and it is sometimes not what you always see from very smart, well educated people with great GPAs from college," Psaki said. "The most valuable thing for me was learning how to write clearly. To me, [English] is one of the best majors, because writing clearly is applicable — is useful — in so many industries."
Daniel Steenkamer, a sophomore communication major who attended the event, said he has aspirations to be a sports writer but in recent years has become more politically engaged.
"I certainly was looking forward to hearing from somebody who got to sit down and speak with the president about public relations strategies and having a unified voice and representing the United States," he said. "It's not every day that the former press secretary and a current cable news host is able to speak with students in an open forum."