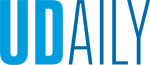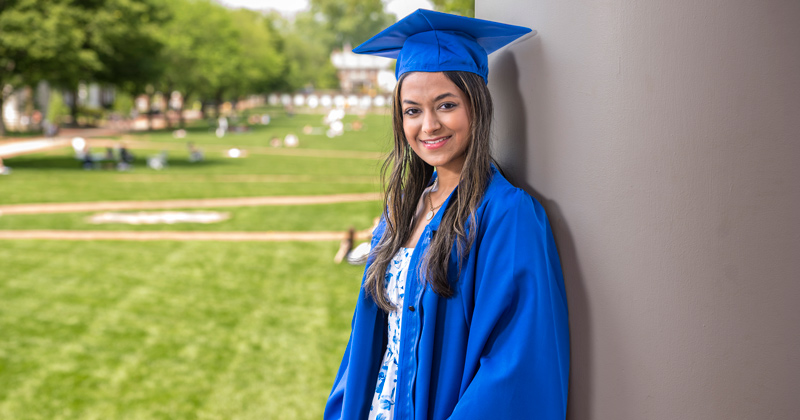 2023 High Index Senior
Article by Amy Wolf Photo by Kathy F. Atkinson May 26, 2023
UD chemical engineering and computer science double major Ishika Govil earns University recognition
Ishika Govil, a graduating senior at the University of Delaware, was drawn to UD because of its highly ranked chemical engineering program. But after doing remote research during the pandemic, she realized that she could combine her love of coding with the creative side of science and decided to add a second major in computer science.
That passion, she said, stems from her awareness that computation is growing so rapidly in society today, and integrating the two — chemical engineering and computer science — has helped her throughout her four years of research. Computational research can accelerate experimental research because it reduces the time and resources needed to go through typical trial-and-error processes.
"The future of chemical engineering — and the future of any sciences, really — is the integration with computation," Govil said. "So I want to be at the forefront of that."
Govil, an Honors student who earned a 4.0 grade point average (GPA) after taking 193 total credits during her time at UD, will be recognized as the High Index Senior among her graduating peers at the University's Commencement Ceremony on Saturday, May 27.
The award recognizes the graduating senior who has achieved the highest grade-point index, earned in full-time study toward a degree, which combines grade point average with the highest number of earned hours taken in residence at UD. Blue Hens earning a single degree must complete their program in four years, and students pursuing multiple, simultaneous degrees must complete their studies in five years or less.
Govil credits much of her success to good old-fashioned hard work. She puts a lot of emphasis on studying, doesn't procrastinate and took several 21-credit semesters during her time at UD. While earning a perfect grade point average is certainly no easy feat, Govil said her focus has never been solely on grades.
"I don't really put that much emphasis on earning the A — I just want to make sure I'm learning. Since I'm going into a Ph.D. in chemical engineering, my main priority is ensuring a strong foundational knowledge to carry me through that," said Govil, who will be pursuing a doctoral degree in chemical engineering at the Massachusetts Institute of Technology starting in the fall.
Beginning her first year, Govil has worked with Aditya Kunjapur, assistant professor in the Department of Chemical and Biomolecular Engineering, in his synthetic biology lab.
"If you are interested in research, I don't think there's any time that's too early to start," she said. "Get involved in research as soon as you know you want to pursue it. I joined research my fall semester in freshman year. I just emailed professors, and I wasn't afraid to be 'rejected' … Just make sure that you put yourself out there as early as possible."
Govil is a recipient of the 2022 Goldwater Scholarship, one of the most prestigious scholarships in the natural sciences, engineering and mathematics in the United States. She is also a 2023 National Science Foundation Graduate Research Fellow, McNair Scholar and recipient of the Anne Maureen Whitney Barrow Memorial Scholarship from the Society of Women Engineers and the Telkes Scholarship, making her a UD Distinguished Scholar.
Last summer, Govil participated in the Rosetta Commons Research Experience for Undergraduates at Johns Hopkins, and this summer she will be a teaching assistant through that program to inspire others to explore the realm of computational research.
She is also captain of Delaware Kamaal, UD's Indian fusion dance team, and has been involved with the Blue Hen Leadership Program, the Grand Challenges Scholars Program and the Tau Beta Pi Engineering Honors Society. Dance, she said, is her way to rewind and relax after a busy day of classes.
"Being able to perform my cultural dances for my fellow students at Trabant or Mitchell Hall and witnessing their genuine appreciation of my culture have been some of my favorite memories at UD," Govil said.
Being recognized as the High Index Senior proves that hard work — and a busy schedule — pays off.
"It was surreal, actually," Govil said, describing how she felt when she learned of the honor. "I knew I worked really hard over four years to maintain my grades, continue my participation and leadership in extracurricular activities, and also pursue research each semester alongside a full credit load. It's just a nice recognition of the culmination of my hard work and dedication throughout my tenure at UD."
After she completes her doctoral degree, Govil plans to pursue a research-based career in industry or academia. Her dream, she said, is to be at the forefront of some medical therapeutic breakthrough, potentially even the cure for cancer.
Govil said she is proud of all that she's accomplished during her time at UD but acknowledged that she wouldn't have been able to do it without a strong support system, including friends, family and mentors.
"My family has always been very supportive of anything that I want to do," she said. "They're always pushing me to dream bigger."