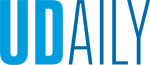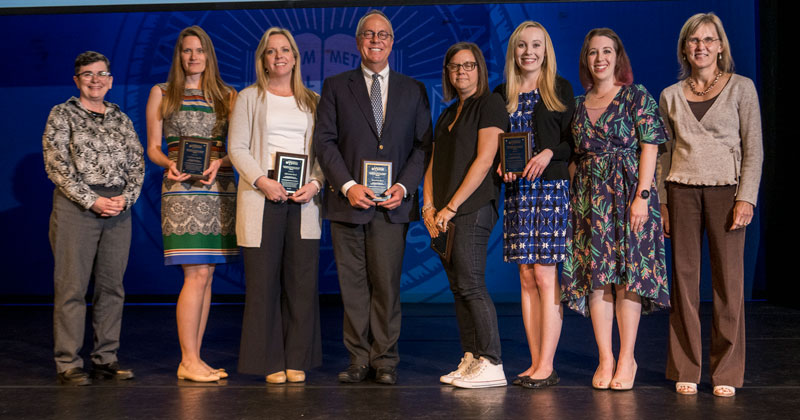 Celebrating excellent teaching, advising
Article by UDaily staff Photos by Kathy F. Atkinson May 10, 2023
Faculty Senate honors faculty, graduate students for excellence in teaching, advising
Six members of the University of Delaware faculty have been recognized for outstanding work in teaching and three for excellence in advisement and mentoring. In addition, five graduate students also have been honored for excellence in teaching, and one professor was recognized for his service to the Faculty Senate.
The honors were announced at the May 1 Faculty Senate meeting. Selected by the Senate's Committee on Student and Faculty Honors, the teaching and advising awards are based primarily on nominations from current and past students.
This year's Excellence in Teaching Awards were presented to:
Stefanie DeVito, assistant professor of biological sciences
Lauren Genova, assistant professor of chemistry and biochemistry
Christine Hoch, assistant professor of nursing
Stephanie Raible, assistant professor and faculty director of Social Innovation and Entrepreneurship
Jonathan Russ, associate professor of history
Elizabeth Soslau, professor in the School of Education
Excellence in Teaching honorees each receive $5,000 and have bricks inscribed with their names installed in Mentors' Circle between Hullihen Hall and the Morris Library.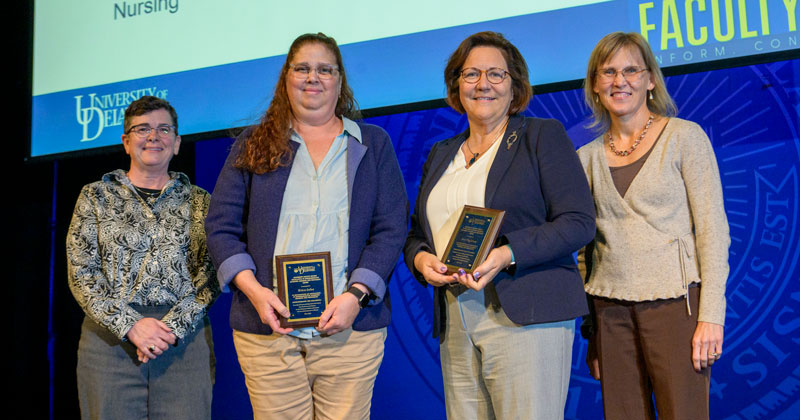 Receiving this year's Excellence in Undergraduate Advising and Mentoring Award were
Amy Hagstrom, professor of nursing and director of Global Initiatives for the College of Health Sciences
Jennifer Naccarelli, associate professor and associate chair of the Department of Women and Gender Studies
Erica Selva, associate professor of biological sciences
They each will receive $5,000 and also will have bricks inscribed with their names added to Mentors' Circle.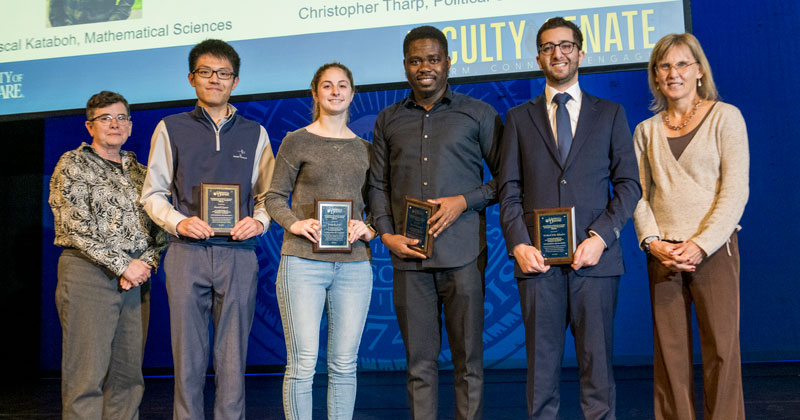 Five graduate students were named recipients of the Excellence in Graduate Student Teaching Award, and each received $1,500.
Honored this year were
Waleed Abu-Khader, master's student in civil and environmental engineering
David Clymer, master's student in physics and astronomy
Pascal Kataboh, doctoral student in mathematical sciences
Amanda Sensi, doctoral student in  chemistry and biochemistry
Christopher Tharp, doctoral student in political science and international relations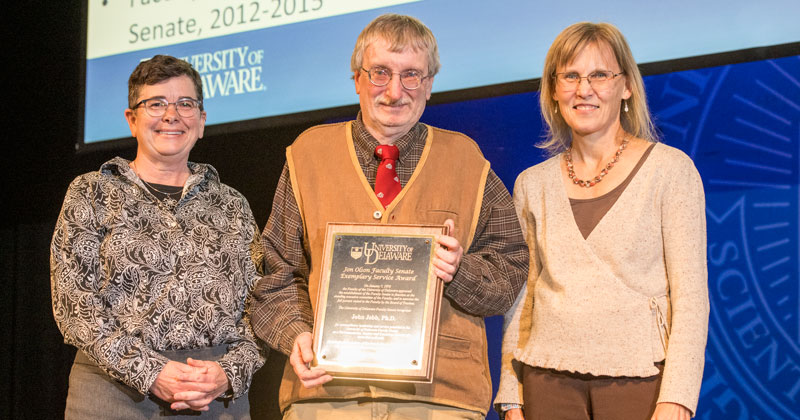 Also recognized at the meeting was John Jebb, associate professor of English. He was presented the Jon Olson Faculty Senate Exemplary Service Award for his service to the Faculty Senate of more than 10 years, including nine years as parliamentarian. Selected by the Faculty Senate Executive Committee, the award is named in honor of Jon Olson, the late professor emeritus of chemical and biomolecular engineering, who was the first president of the Faculty Senate. 
"I greatly enjoy the Faculty Senate," Jebb said. "To be rewarded for doing something that I enjoy is humbling and gratifying."
Reflections on teaching and advising
This year's honorees were invited to share their thoughts about teaching and advising with UDaily. Excerpts from their responses are printed below.
Excellence in Teaching
Stefanie DeVito: "I am honored to be receiving an Excellence in Teaching Award for 2023. I am grateful for the opportunity to teach enthusiastic and eager students and to work with dedicated upper-class students who serve as peer mentors in my classes to amplify student support and learning. Working with primarily first-year students in their first semester at UD, my goals for my students include not only learning the fundamentals of biology, but also to help them develop academic success skills, including how to take notes, study, manage their time and be reflective about their learning – skills which I hope will help them succeed in my course and beyond. As a first-generation college student myself who was inspired by amazing teachers and professors throughout my education, giving students the structure and support they need to succeed in challenging classes and reach their personal and professional goals is at the core of how I approach every class. I feel very fortunate to be part of a supportive community of students and colleagues here at UD!"
Lauren Genova: "Teaching changes lives, and for that reason is a responsibility I do not take lightly. To me, teaching is so much more than helping our students learn the content and skills needed to succeed in our disciplines. It's about instilling a passion for lifelong learning in our students. It's about inspiring our students to realize their greatest potential and empowering them to discover and embrace who they truly are. It's about cheering them on as they reach their goals and, in some cases, helping them gain the confidence they need to see themselves as we've always seen them: capable of accomplishing amazing things. One of my former professors and teaching mentors, Prof. Hal White, once told me, 'You are a different teacher to every one of your students.' These words have stayed with me ever since my first day teaching here at UD. For some students, we as their instructors could be the first to have ever believed in them. For other students, we as their instructors might serve as their support system: surely within the classroom itself, but also in other aspects of our students' multidimensional lives—such as by helping them discover undergraduate research opportunities which align with their passions, or by showing up to their concerts or sporting events. We may never know exactly what impact we make on our students' lives, but one thing that's certain is that students change instructors' lives as well. To realize that some of my students have thought so highly of my teaching to nominate me for the 2023 Excellence in Teaching Award is just one of the many ways they have left an indelible impression on my life, and for that I will be forever grateful." 
Christine Hoch: "I am honored to be one of the recipients of theExcellence in Teaching Awards for 2023. I am fortunate to teach content in which I have personal experience and interest. This supports development and delivery of content that is engaging with real-world application. I am indebted to my colleagues who have supported me and freely shared their talents and wisdom. I am most grateful to the students who continue to challenge and inspire me." 
Stephanie Raible: "It is my goal to have students feel welcome in the classroom and for them to find meaning within the content. I see my role as being a curator: I present students material, and it's their responsibility to make sense of how it makes sense for them. For me, this award came on the 10th anniversary of teaching, which makes it an extra special way to celebrate. I cannot thank my students enough for this recognition."
Jonathan Russ: "I am humbled and honored to be a recipient of the University's Excellence in Teaching Award this year. I am passionate about teaching, and it is extraordinarily gratifying to have been nominated by my students for the award. While it may sound hyperbolic, I truly am living my dream to be a teacher/scholar. After attending my very first history class as an undergraduate student, I was so inspired by the soaring rhetoric and the engaging subject matter that as I departed the lecture hall I thought to myself, 'THAT is what I want to do with my life.' My goal never wavered, and after all these years, it remains a thrill to engage with our students every day. I still have butterflies in my stomach at the beginning of every class because I can barely contain my excitement. There is simply so much historical research to be shared and discussed, and evidently my passion for the subject comes through. It is my privilege to teach at the University of Delaware, and I am very moved to be recognized with the Excellence in Teaching Award. My heart is filled with gratitude."
Elizabeth Soslau: "I used to attempt to fill the role of  'sage on the stage' -- meticulously creating lectures. Over time, I've learned to talk less, listen more, be more curious about my students and shift instructional power to my students so that I became a co-learner. These changes contributed to a deep love for teaching and for my students." 
Excellence in Undergraduate Advising and Mentoring
Amy Hagstrom: "My work in advisement is based on a mentoring relationship that offers students the opportunity to explore career ideas as well as problem-solve their life plans and educational questions. I believe advising a diverse group of students for the global health minor offered by the College of Health Sciences has altered how I see the role of advisement, as well.  Many students that travel on study abroad programs did not realize that their courses were (many times) a component of the courses required for the minor."
Jennifer Naccarelli: "The process of advisement extends beyond course planning for degree completion. Advisement sessions are a critical component of a student's UD journey.  In them students get to think about, and practice articulating, their future vision for themselves. And they get to do so in a setting that is free from the expectations of family and friends, a space carved out for them to consider life after UD. It is a deeply rewarding experience teaching students how to translate the most exciting aspects of their coursework and their acquired experiences into the first steps of their professional trajectory."
Erica Selva: "The moment you realize you have connected with a student to enable them to conquer a fundamental concept is pure joy and knowing in some small way that may contribute to their future is the genuine reward of mentoring students."
Excellence in Graduate Student Teaching
Waleed Abu-Khader: "Being responsible for more than 40 students in one of the toughest courses in civil engineering is not an easy thing to most people. I saw the loophole when I started teaching, it's all about building the proper relationship with the students to ensure their trust, comfort and that there is no barrier between student and the instructor. The small age gap helped me build this easily. I already knew how they think and what methods suit them to deliver the message. UD has a great campus with a huge diversity of students; students didn't only come to study, they wanted to build up their skills in communication and develop their network. I push my students to balance between college life and studying, starting by planning dinner parties and gathering to show them the real practice happening in the field of civil engineering to get the practical idea not just the theory. I believe the space given by my teaching adviser helped me a lot to shine and implement my strategy. In addition, the supportive Department of Civil Engineering was like a family to me and made me stand by them whenever they needed me."
David Clymer: "I used to ask 'Does anybody have any questions about anything on the screen?' while teaching Zoom classes during the pandemic. I am really glad nowadays in class I get to ask 'Does anybody have any questions about anything on the chalkboard?' I aim to effectively communicate my thought process to students in a logical and concise manner. This is always a challenge when it comes to physics, for it is a subject that employs advanced mathematics to study the very abstract fundamental principles of nature. For this reason, at the beginning of the semester, I tell my students the central theme of the course. Throughout the semester, this main theme is frequently revisited and reinforced with the examples they see and through the techniques they learn. The very essence of classical mechanics (the PHYS 207 class I taught recently) is the idea that force causes acceleration, meanwhile mechanical energy and momentum are two conserved quantities of the motion in an isolated system. However, since temperature is absent from the framework of classical mechanics, we need statistical thermodynamics (PHYS 616) and its very essence is the idea that experimentally measurable thermodynamic quantities are dictated by the possible microstates a system can assume. Class participation and office hours are the best opportunities for me to engage in discussions and exchange thoughts with students so that I can become aware of the pitfalls students may have in their understanding of the course content. I always encourage students to ask questions and I enjoy answering their questions and oftentimes elaborating on the concepts relevant to their questions. To me, teaching would not be so enjoyable without all these interactions with students."
Pascal Kataboh: "I am absolutely thrilled to receive this award! As a graduate student at UD, I made it my personal mission to help my students not only understand mathematics but also find joy in it. To me, teaching mathematics isn't simply about showing students how to solve problems; it's about working alongside them as they learn and grow in their mathematical abilities. I firmly believe that teaching with passion and dedication is the key to ensuring our students' success. Mathematics doesn't have to be a subject shrouded in mystery and confusion; it can be enjoyable and even fun when we make it interactive and engage our students in deep discussions. I take great joy in seeing my students recognize me, even in coffee shops on campus and enthusiastically want to discuss calculus problems. This is what teaching is all about: seeing our students grow and thrive. I am motivated now more than ever to continue working diligently to help our students become independent problem solvers. I am so grateful for the tremendous advice and support I have received from some of the fantastic math instructors here at UD, particularly Drs. Bacuta Cr, Hotchkiss, Kilikian, and Mr. Brittingham. I could not have achieved this award without them, and I am so grateful for their guidance."
Amanda Sensi: "I taught CHEMM333/334 Organic Chemistry for Chemistry Majors. I helped instill basic laboratory techniques in an organic lab setting. I also wanted to show my students that lab can be fun yet informative throughout my time teaching."