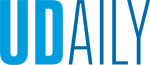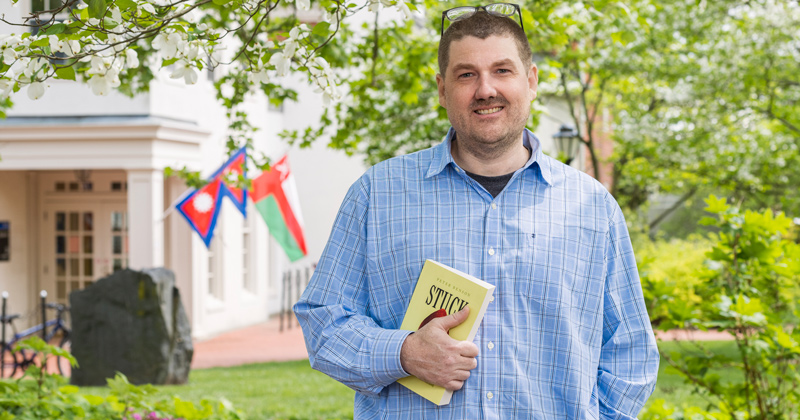 Getting candid about mental illness
Article by Artika Casini Photos by Kathy F. Atkinson May 30, 2023
Anthropology Professor Peter Benson turns his research inward, exploring his struggle with bipolar disorder and substance abuse
University of Delaware Professor Peter Benson didn't mean to burn bridges with the tobacco farmers of North Carolina. As an ethnographer, he had spent months doing the "deep hanging out" that this branch of anthropology requires, becoming an embedded inhabitant and reporter of their world.
But Benson belonged to the world of academe. His 2012 book, Tobacco Capitalism: Growers, Migrant Workers, and the Changing Face of a Global Industry, earned national, critical acclaim from everyone but the farmers he had met, befriended and come to love.
They resented Benson's analysis of their industry, which, the Harvard-trained researcher argued, perpetuated forms of structural violence, public health harms and labor exploitation — not by the farmers themselves, but by powerful tobacco corporations.
The farmers felt hurt. Benson did, too. He'd spend the next several years rethinking ethnography and reassessing whether any scholar can truly detach themselves from the people and places they study.
Benson's newest book, Stuck Moving: Or, How I Learned to Love (and Lament) Anthropology, is a wholly original attempt at his answer.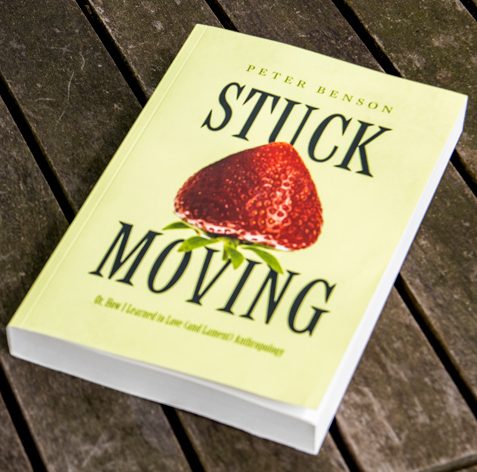 The free-ranging memoir chronicles Benson's struggles with bipolar disorder and drug addiction through an eclectic mix of quotes, playlists, letters, photographs, dramatic dialogue and more. At its core, Benson said, "it's a book about anthropology and me.
"What if I did to myself what I did to the tobacco farmers? What if I put myself in a little museum and show people who I am — with all of my messiness and complicities and vulnerabilities? Maybe it's an amends, an exchange; a movement in a different kind of place; a way of working out some of my personal and health problems."
The book's title, Stuck Moving, represents "the complete contradiction that is manic depression," Benson said. "It's like you're running as fast as you can — in place." 
But the book's cover, a strawberry, symbolizes possibility. It stems from a parable Benson learned from the leader of a recovery group, a rabbi, who compared addiction to being stuck: 
    Imagine you are chased by a tiger over the edge of a cliff.
You grab a vine and hang
    suspended between the tiger above and the sea below,
until a strawberry growing
    through a crack in the cliff face catches your attention. You reach out.  
"That's movement," Benson said. "That's your relationship to something else in the world."
Despite this imagery, his book doesn't seek to offer any help or impart any advice. "There's no audience," he said, "except for people who want to read something different and experimental, and in some ways, a roller coaster." 
On the other hand, Benon, who is chair of the anthropology department, tackles topics that rarely get discussed publicly, such as mental illness, addiction, pregnancy loss, social stigma, the culture of higher education and more. As Benson said, "Bipolar disorder is part and parcel of who I am. It's difficult for me to say, 'I'm a mentally well scholar but a mentally ill person.'
"I'm sure there are people who don't want to hear about my life. That's the dominant outlook in our society, which is maybe what I'm trying to challenge," he said. "The idea that we're all private individuals is probably not an awesome framework for thinking about mental illness."
Resources
For any student in need of support or assistance, UD's Division of Student Life provides a variety of resources.
Students can connect with the Center for Counseling and Student Development at 302-831-2141. The UD Helpline is available at 302-831-1001 at any time, night or day, for students feeling anxious, overwhelmed, depressed or otherwise in need of counseling.
In addition, staff members in the Office of the Dean of Students are available to assist any student who wishes to talk. Call 302-831-8939 to schedule an appointment.
Students have free, 24/7 access to virtual mental health support with TimelyCare. Talk to a licensed counselor now through the TimelyCare app.
Mental health support for UD benefited employees is provided from ComPsych® GuidanceResources®. The link gives steps on how to access services or call 1-877-527-4742 for support.