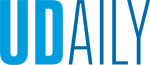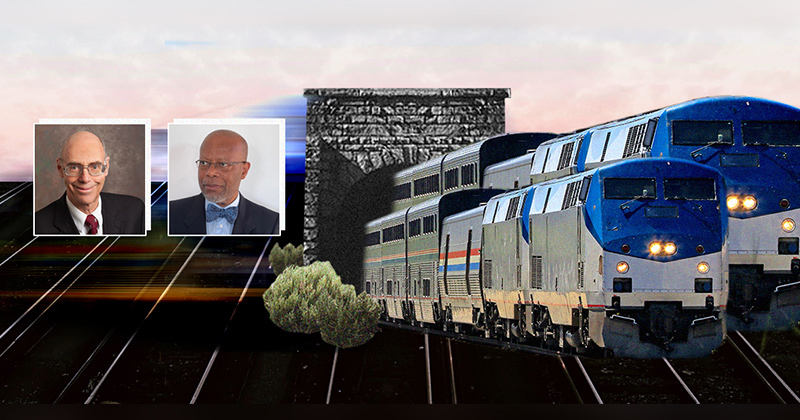 Sharing UD's railroad capabilities
Article by Maddy Lauria Photo illustration by Joy Smoker March 14, 2023
UD, Morgan State partner to create new engineering program at Baltimore HBCU
The University of Delaware is taking its railroad engineering expertise on the road through a new, federally funded partnership with one of Maryland's historically Black colleges and universities.
Thanks to a $4.6 million Consolidated Rail Infrastructure and Safety Improvements Program workforce development grant from the U.S. Department of Transportation Federal Railroad Administration, UD's College of Engineering faculty is partnering with the faculty at the Department of Transportation and Urban Infrastructure Studies in the Clarence M. Mitchell, Jr. School of Engineering at Morgan State University in Baltimore, Maryland, to develop and implement a new railway engineering track within its existing transportation systems engineering program. Not only will the effort create a new academic track for future Morgan State's engineering students, but it will also develop a blueprint for similar initiatives to be developed at other HBCU institutions.
"I see so many opportunities for our students and the urban community, so we appreciate that the University of Delaware is working with us to make this happen," said Anthony Saka, the inaugural chairman of the Department of Transportation and Urban Infrastructure Studies at Morgan State University. "It's going to be a very exciting four-year working relationship, one that we're hoping certainly isn't going to just end in 2026."
While the funding will only support four years of program development, the goal is to create a self-sustaining program that will benefit students for years to come, Saka and others said.
"This project is an excellent opportunity for our expert faculty members to work with Morgan State colleagues to develop a new program in railroad engineering," said Jack Puleo, chair of UD's Department of Civil and Environmental Engineering. "The collaboration with Morgan State faculty will create a workforce pipeline and increase workforce diversity in this important area of engineering. I look forward to seeing this collaboration flourish in the years to come."
The Federal Railroad Administration has noted in reports that a lack of diversity is a widespread issue in the railway industry, which is a leading form of American transportation that's poised to fit all modern needs.
Professor of Practice Allan Zarembski, director of the Railroad Engineering and Safety Program in the Department of Civil and Environmental Engineering, notes that railroads can meet modern needs, especially related to sustainability due to fuel and speed efficiency in transporting both passengers and freight.
However, he added, the number of American institutions offering railroad-related training is very small. And the industry is no longer just the nostalgic image of sweaty workers with sledgehammers pounding away at steel. There's a massive amount of technology involved in railways, from planning and scheduling routes to safety needs and data analysis to operations and maintenance and evolving inspections technologies.
"We're training engineers, which implies having to understand not only what's happening, but why it's happening and what can be done to make it better or to predict when it's going to get bad," Zarembski said. "The program will also help provide trained engineers to help improve safety and efficiency in the railroad industry."
UD's Railroad Engineering and Safety program was originally developed nearly a decade ago by Zarembski, who joined UD faculty in 2012 after a decades-long industry career. The internationally recognized program offers undergraduate and graduate level courses in railroad engineering, as well as a graduate-level certificate.
Zarembski, along with UD's Monique Head, who formerly worked at Morgan State, and Senior Scientist Joseph Palese will be leading the UD side of the new program development. On the Morgan State side, Saka and Professor Young-Jae Lee will lead the effort.
"I definitely think this is a great opportunity for our workforce development through education, both at the undergraduate and graduate level, to establish a railroad engineering program at Morgan State, but I think the really unique thing is there are no other HBCUs that have a railroad program," Head said. "It will also become a framework for which other HBCUs can pattern and mimic their own future programs."
While Morgan State has a legacy transportation degree program and classes that touch on rail as part of the normal curriculum, the college doesn't have a railroad-specific focus, Zarembski and Saka said. This funding will change that, allowing undergraduate and graduate students in the transportation systems engineering program to select a specific track in railway engineering.
The federal funding will also support scholarships for prospective students, which was a key goal for Morgan State, Zarembski said.
"Not only do we want to increase diversity, but we want to attract people who might not normally be able to attend such a program because of financial situations," Zarembski said.
The effort will not reinvent an entire degree program, he explained, but rather add a railroad engineering track within Morgan State's existing transportation degree offerings.
The first year of funding will support marketing and student recruitment activities, and program and course development, followed by undergraduate course implementation in the second year. The third year of the program will focus on graduate studies and plans to make the program self-sustaining after the four years of federal funding expire. That includes involving industry partners to support the scholarship component.
Both universities are providing a 20% funding match, making the total investment in the partnership closer to $5.5 million. That funding will also support at least one new full-time instructor at Morgan State.
"This is a true partnership," said Head. "We're all learning from each other, and I'm really excited to be working with more students, students who are really excited about having an impact in the railroad engineering sector."