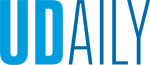 Hydroponic Towers have arrived at UD Dining
Article by Marissa Grimes March 10, 2023
The Hydroponics Club and Dining Services are bringing locally grown produce to campus
The University of Delaware Hydroponics Club and Dining Services are banding together for a greener future on-campus. Starting this spring, Dining Services and the UD student-run Hydroponics Club have partnered to showcase the future of farming in select dining locations on campus. The Hydroponics Club originated in spring 2022 and has been a key component in the recent partnership. The goal of the collaboration is to provide sustainable and fresh produce grown right on-campus through the use of hydroponic towers.
Caesar Rodney Fresh Food Company and Pencader Residential Dining are each home to the newest Hydroponic Towers on-campus. Fundraising efforts launched by the Hydroponics Club on 2022's Giving Tuesday successfully provided the organization with the ability to purchase and maintain the two vertical gardens being featured in the dining halls. The towers are growing fresh herbs and vegetables; such as several lettuce varieties, basil, thyme, oregano, rosemary and chamomile. Students can see the growth in action by visiting the gardens located next to the vegan station in CR and the entrance of Pencader.
The practice of hydroponics is a rapidly advancing form of agriculture that is significantly more sustainable and ethical than traditional farming. The garden can grow up to 36 plants, and reduces carbon emissions, eliminates food waste, saves water and serves healthier produce.
The hydroponic tower partnership is an effort to provide more locally sourced and sustainable food selections. Sustainable, locally sourced ingredients are at the forefront of on campus dining options for the 2023 spring semester. Join Dining Services and the Hydroponics Club in upcoming sustainable events this semester to enjoy the fresh and locally grown produce.