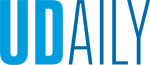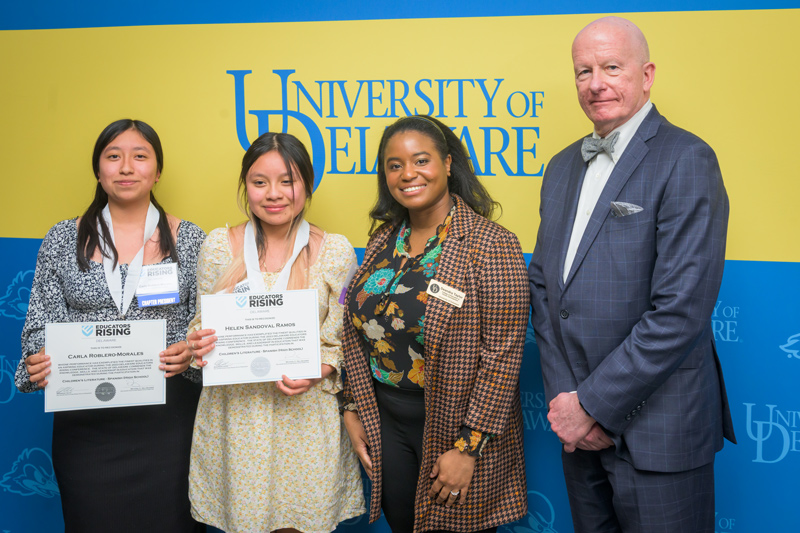 Rising educators
Article by Jessica Henderson Photos by Shelly Silva and Evan Krape March 31, 2023
UD sponsors education conference for future teachers in partnership with Delaware Department of Education
In line with its commitment to providing high-quality teacher preparation and service to Delaware children, families and communities, the University of Delaware College of Education and Human Development (CEHD) sponsored the Delaware Educators Rising education conference early in March in partnership with the Delaware Department of Education (DDOE) and other universities.
The conference, hosted annually in partnership with the DDOE and the Delaware Teacher Academy, supports middle school, high school and college students interested in becoming teachers by providing professional development and networking opportunities. The conference featured workshops, instructional presentations, competitions and networking activities for conference participants March 7–8, 2023, at the Doubletree by Hilton in Wilmington, Delaware. More than 200 students attended, with 70 qualifying for the national competition in June in Orlando, Florida.
"We were honored to sponsor the Delaware Educators Rising conference this year and present awards to the talented students in some of the Children's Literature competition categories," said Gary T. Henry, dean of CEHD and professor in the School of Education (SOE) and the Joseph R. Biden, Jr. School of Public Policy and Administration. "I'm heartened to see so many young people interested in teaching careers, especially in light of the national teaching shortage. We're looking forward to supporting them in their academic programs, certification processes and field placements if they choose to attend UD for undergraduate or graduate study."
Throughout the two-day event, CEHD and the College of Arts and Sciences (CAS) faculty and staff shared information about UD teacher preparation programs and served as conference presenters, competition judges and education mentors for participants.
"It is an honor to engage as a judge, presenter and sponsor at the Educators Rising conference," said Stephanie Kotch-Jester, associate director of undergraduate studies and assistant professor in the SOE. "CEHD's increased involvement in Educators Rising is providing critical connections between prospective students and our teacher preparation programs. The opportunities to build professional relationships with the students during their middle school and high school years are essential in supporting their goal of becoming teachers."
CEHD also sponsored the first and second place awards in the Children's Literature Pre-K and K-3 gold varsity competitions and the gold and silver awards in the Children Literature, Spanish varsity competitions for high school students. On March 8, Henry presented these awards to the recipients in each category and spoke with award winners about their enthusiasm for education.
Carla Roblero-Morales and Helen Sandoval Ramos of Sussex Central High School won the silver award in the Children's Literature, Spanish varsity category. Ramos, a former participant in CEHD's Teachers of Tomorrow program for underrepresented students, shared her excitement about the award and her appreciation of the event.
"I'm feeling excited and happy and thankful for the opportunity," Ramos said. "This is helping me learn more of what it takes to be a teacher. I also love the diverse community here."
Jasmine Piper and Hazel Getzlaff of Cape Henlopen High School won the first place gold award in the Children's Literature, K-3 varsity category. Both students similarly shared their excitement about the recognition.
"This award is very encouraging," Getzlaff said. "It helps me believe in myself."
Added Piper, "We worked really hard. This work also prepares us for our future in education."
Becoming a Teacher at UD
In addition to supporting events like the Educators Rising conference, UD provides many pathways to becoming a teacher, offering innovative teacher education and graduate education degree programs in CEHD and CAS as well as non-degree certification programs. CEHD offers undergraduate programs in early childhood, elementary and middle school teacher education, and CAS offers undergraduate programs in secondary education. Committed to their students' success, UD faculty and staff guide students through field placements, certification, teacher residencies and more so that their students can make a difference in the lives of children, families and communities in Delaware and around the globe.
Housed within CEHD, the UD Center for Excellence and Equity in Teacher Preparation (CEETP) provides support services for students and faculty across 28 UD undergraduate and graduate education programs and partners with schools and districts throughout the region. CEETP brings expertise in teacher education and a commitment to diversity, equity and inclusion to all of its university services and educational initiatives, such as CEHD's Teachers of Tomorrow pipeline program for underrepresented high school students and the Delaware teacher residency program for CEHD teacher education students.
To learn more about becoming a teacher at UD, visit CEEPT's webpage.
About Educators Rising
Educators Rising, a national organization with chapters in all 50 states, provides middle school, high school and college students interested in education careers with the opportunity to participate in professional development events, engage in educational competitions and expand their experiences as rising educational professionals. The national organization provides its chapters with classroom resources and the opportunity to attend the national conference where members, teacher leaders and educators showcase the skills they have gained in their education and training programs.
To learn more about the Delaware chapter of Educators Rising or review the event program, visit the Delaware Educators Rising event webpage.