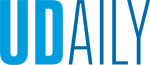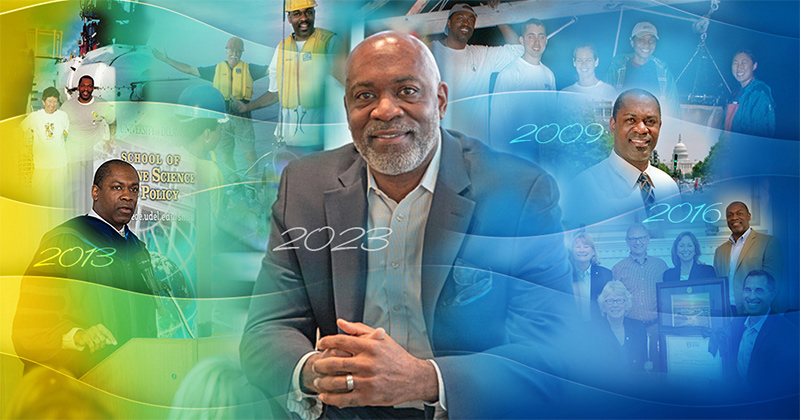 UD alum to lead American Geophysical Union
Article by Adam Thomas Photos courtesy of Brandon Jones | Illustration by Tammy Beeson March 17, 2023
Brandon Jones earned his master's and doctoral degrees in marine science from the University of Delaware
University of Delaware alumnus Brandon Jones has been named the president-elect of the American Geophysical Union, a role he will fill for two years before becoming president of AGU in 2025.
AGU supports 130,000 enthusiasts and experts worldwide in Earth and space sciences, according to the AGU website. Through broad and inclusive partnerships, AGU aims to advance discovery and science that accelerate knowledge and creates solutions that are ethical, unbiased and respectful of communities and their values. The organization was established in 1919 by the National Research Council and became an incorporated member of the National Academy of Sciences in 1972.
Jones is the program director for Education and Broadening Participation in the Geosciences Directorate at the National Science Foundation (NSF). In that role, he works on managing programs that relate to talent development and broadening participation in the Earth system sciences. Before joining NSF, Jones spent 13 years working in the U.S. Environmental Protection Agency (EPA).
Jones said being named president-elect of AGU is a huge honor, especially because he was elected by his fellow AGU members.
"To have the confidence of those who voted for me, to put me in this position, it is an honor," said Jones.
In his role with AGU, Jones is looking forward to helping implement AGU's strategic plan, specifically looking at ways to increase climate change awareness, as well as to increase awareness from the general population of how scientific discoveries are able to benefit society.
Having received both his master's degree (1994) and doctorate (2003) in marine science from UD, Jones said that even as a young boy, growing up in land-locked Ohio, he always had a love for the ocean.
"My grandparents would take me fishing around Ohio all the time in my youth, and I used to think about what kinds of creatures could be in the ocean given the kinds of critters I was seeing in the lakes, rivers and streams in a mid-western state," Jones said.
During his time at UD, Jones worked in the lab of Charles Epifanio where he studied the early life history stages of crabs, mainly blue crabs. Jones' main research focus was on the physical and biological mechanisms that influence the transport and recruitment of larval crab swarms in the Delaware Bay.
Jones fondly remembers his time at UD living on the Lewes Campus in the Franklin C. Daiber Residence Complex, saying that it was great to be able to live with his fellow Blue Hens.
"It's really neat that the majority of the graduate student body in Lewes lives together," Jones said. "That building of a bond, of a community, is something that I have carried with me decades later."
He also said Epifanio was a great mentor and friend throughout his time at the university.
"Chuck Epifanio was clearly ahead of his time as far as mentoring and guiding students and providing the professional development information his students needed," Jones said. "He was very much about meeting his students where they were and understanding where they wanted to go."
As someone who has championed diversity and inclusion throughout his career, Jones is currently working with a team on a brand-new NSF program called Growing Research Access for Nationally Transformative Equity and Diversity (GRANTED). GRANTED seeks to improve the capacity of emerging research institutions through assistance to research support professionals, mechanisms and processes.
Through his work at NSF and as the president-elect of AGU, Jones said he is looking forward to helping the general population understand how science can be used to address societal issues and benefit humanity.
"Working to figure out how to translate research and highlight important scientific discoveries is critical for societal advancement and preservation of the planet," Jones said. "How can we translate scientific products for societal benefit? That's an exciting movement to be a part of."