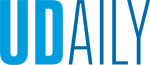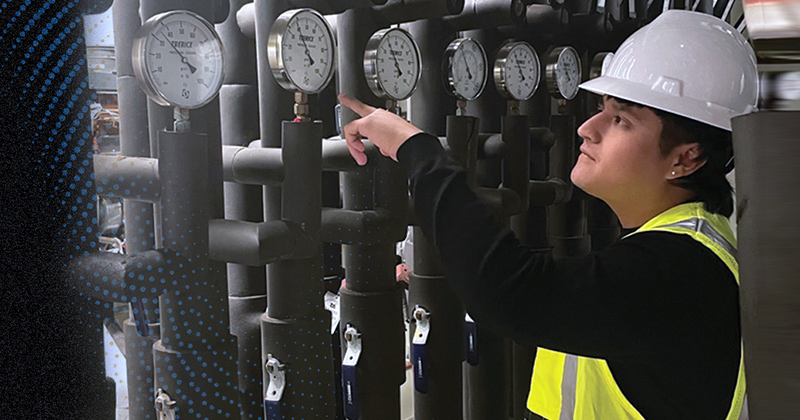 Real-world experience
Article by Erica K. Brockmeier Photos courtesy of Sean Vernon June 02, 2023
Mechanical engineering's Frederick Sanchez was the first UD student to participate in a new internship program with the Delaware Army National Guard
Whether you're studying environmental science or electrical engineering, internships are an important part of the undergraduate experience, helping students gain the skills, experience and connections they need for the next phase of their careers.
At the University of Delaware, students have the unique opportunity to learn firsthand about opportunities for civilian employees within the Delaware Army National Guard (DEARNG). As part of a pilot program launched during the 2022-23 academic year, Frederick Sanchez, a mechanical engineering senior from New Castle, was able to apply his technical knowledge to solve energy-related challenges while gaining soft skills and insights for future career paths.
Applying knowledge
This new pilot program is coordinated by UD alumnus Sean Vernon, who holds bachelor's and master's degrees from the College of Engineering's Department of Electrical and Computer Engineering. Vernon learned about the opportunities available from DEARNG while working on an energy auditing project during graduate school. He is now the energy program manager for the DEARNG Construction and Facilities Management Office, where he manages the day-to-day operation of energy and utility infrastructure as a civilian employee.
The internship program, which supports new energy-related initiatives and projects across the state, is designed for UD juniors and seniors from any major who have an interest in STEM. After completing the application and interview process in the late spring semester, successful applicants then work part-time at DEARNG for the entirety of the upcoming academic year.
"We want somebody that's able to problem solve," Vernon said of the program's ideal candidate. "The work involves a lot of contract and data management, data analytic skills, construction management, and giving us KPIs [key performance indicators]."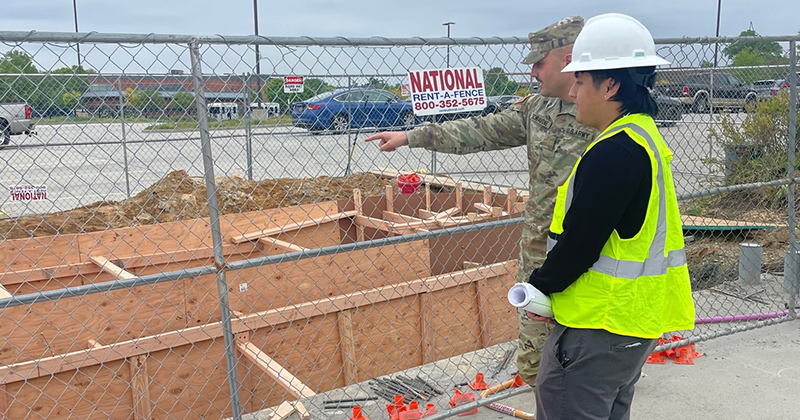 Sanchez said he was attracted to the internship because of the ability for him to work on projects related to construction, renewable energy, solar deployments, HVAC automation, and other energy-related initiatives. His typical week includes commuting to the DEARNG office in New Castle three days a week, where he attends project bids and meetings, travels to field sites with his team members and helps out with data analysis and computer aided design (CAD).
"I use an AutoCAD program named SOLIDWORKS, which I've used a lot in my major, and that's something that's heavily integrated here when they do the floor plans for their projects," Sanchez said of how he's been able to use his skills from mechanical engineering as part of the DEARNG internship. "I also get to apply my knowledge around energy efficiency, which I learned from my thermodynamics and heat transfer classes, when I work with Sean on ensuring that the generators and other equipment we use will give the optimal results."
Making connections
While Sanchez said it was challenging at first to apply what he had learned in the classroom towards addressing complex, real-world problems, his colleagues at DEARNG have been incredibly supportive. He also enjoyed having the opportunity to improve his soft skills, especially when explaining technical ideas, and being able to network with local engineering and architectural firms. 
"This was my first experience being immersed in a workplace with engineers, having to use what I learned on paper, which was difficult at first," he said. "But the most rewarding part was definitely the people I worked with. The work was really hands-on, I got to be involved in a lot of things, and they made me feel like part of the team."
Vernon added, "A lot of what we do is construction projects, which is related to what Fred's career trajectory could potentially be. Fred has been a great fit for us at DEARNG. He's doing great, and we're really proud of him and what he can do next."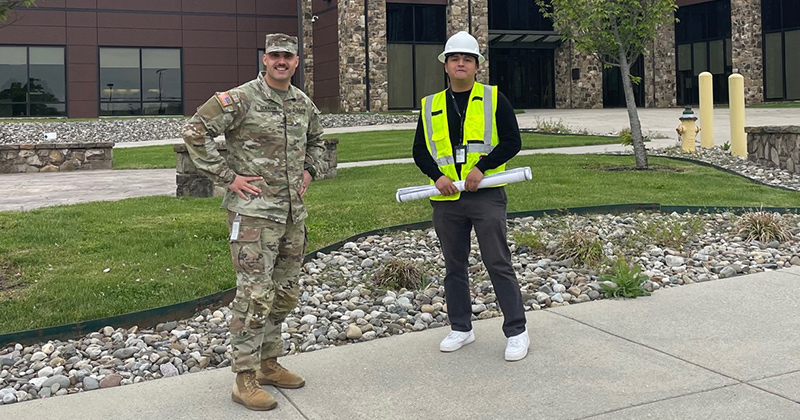 As the program continues during the 2023-24 academic year, Vernon said he hopes that UD students will take advantage of this unique opportunity to learn how they can apply their interests in energy, sustainability, or engineering in the public sector. "It's a field with security, stability, and good benefits. And if you did want to pivot to another field like defense research, you already have clearances from working with the government," he said. 
Sanchez graduated on May 27 and will join Summer Consultants as a mechanical engineer. He hopes to complete a master's degree at some point in the future, the experience of working with DEARNG is one that is likely to stick with him — especially now that he is also interested in joining the National Guard part-time. 
When asked how he would pitch this internship experience to his fellow classmates, Sanchez said that the DEARNG internship program "opens your eyes to a lot of different aspects of engineering, and the people there are great. You'll gain a lot of knowledge, not just technical, but also soft skills. It's definitely worth a shot."