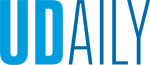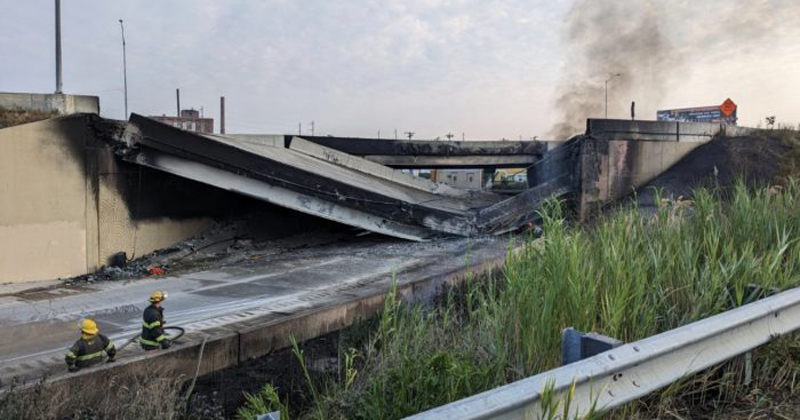 I-95 bridge collapse
Article by Amy Wolf Photo courtesy of City of Philadelphia Office of Emergency Management June 13, 2023
UD civil engineering professors explain why a gasoline truck fire caused a highway structure to fail
The bridge on Interstate 95 in Northeast Philadelphia that collapsed early on Sunday, June 11, wasn't designed to withstand the heat of an extreme fire. Indeed, most bridges aren't.
The bridge was supported by steel girders, so when a tanker truck full of gasoline caught on fire on an underpass, the extreme heat weakened the steel, causing the bridge to collapse.
According to the American Institute of Steel Construction, the strength of steel remains essentially unchanged until about 600 degrees Fahrenheit, but it loses about 50% of its strength at 1,100 degrees. Steel melts at 2,700 degrees and loses all its capacity for design purposes at around 2,200 degrees. Fires, meanwhile, can range in heat from around 1,000 degrees Fahrenheit to 3,000 degrees Fahrenheit.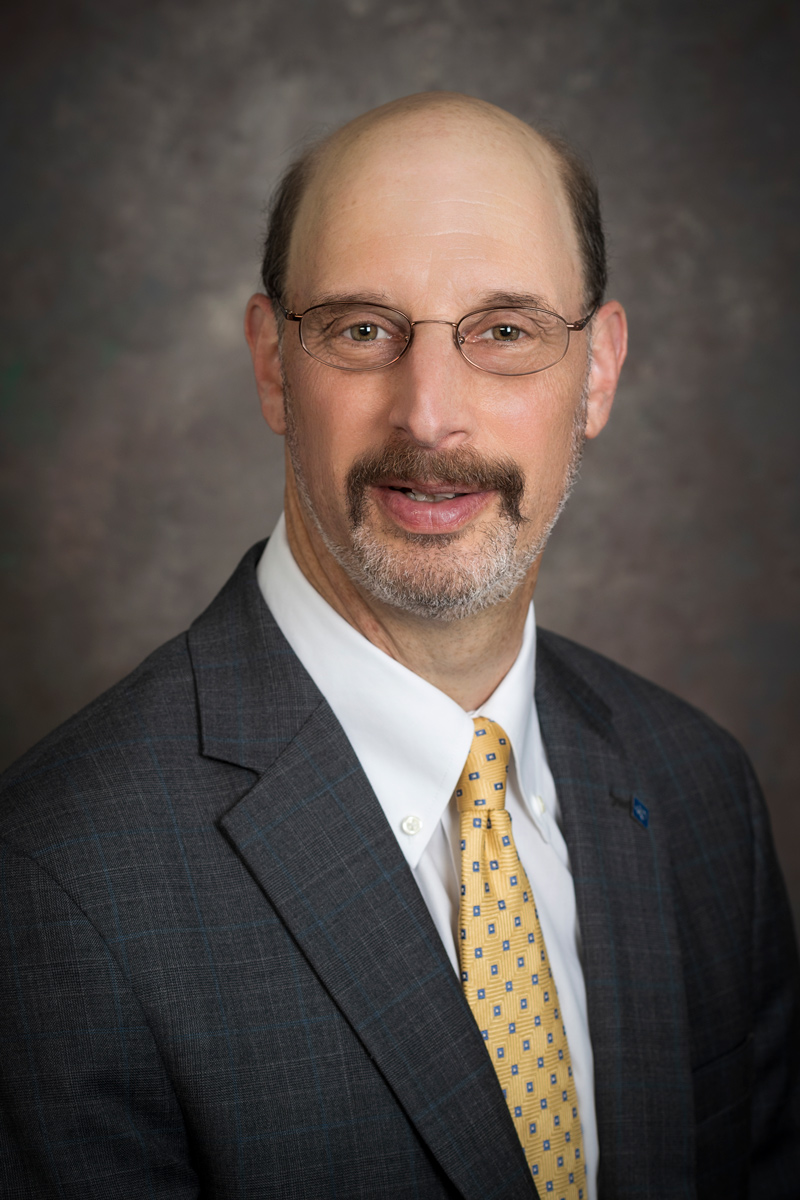 "If you think about steel, it's originally made as a molten material," said Michael Chajes, a professor of civil and environmental engineering at the University of Delaware and dean of the Honors College. "It starts from liquid material and then it cools and hardens, and so if you heat it back up to those temperatures, it's going to lose its stiffness and strength and is going to sag and start to fail."
Since bridge fires are such a rare occurrence, it would be cost prohibitive to coat the steel with a fireproofing material, much like in buildings, which are much more likely to catch on fire, suggested Chajes.
Tripp Shenton, who agreed on the cost issue, is a professor in the Department of Civil and Environmental Engineering and associate dean for undergraduate education in the College of Engineering.
"It's such a rare instance, rare situation," Shenton said. "The chances of this happening are so small. I can't really foresee there being a time when your typical bridge would be designed for fire like this."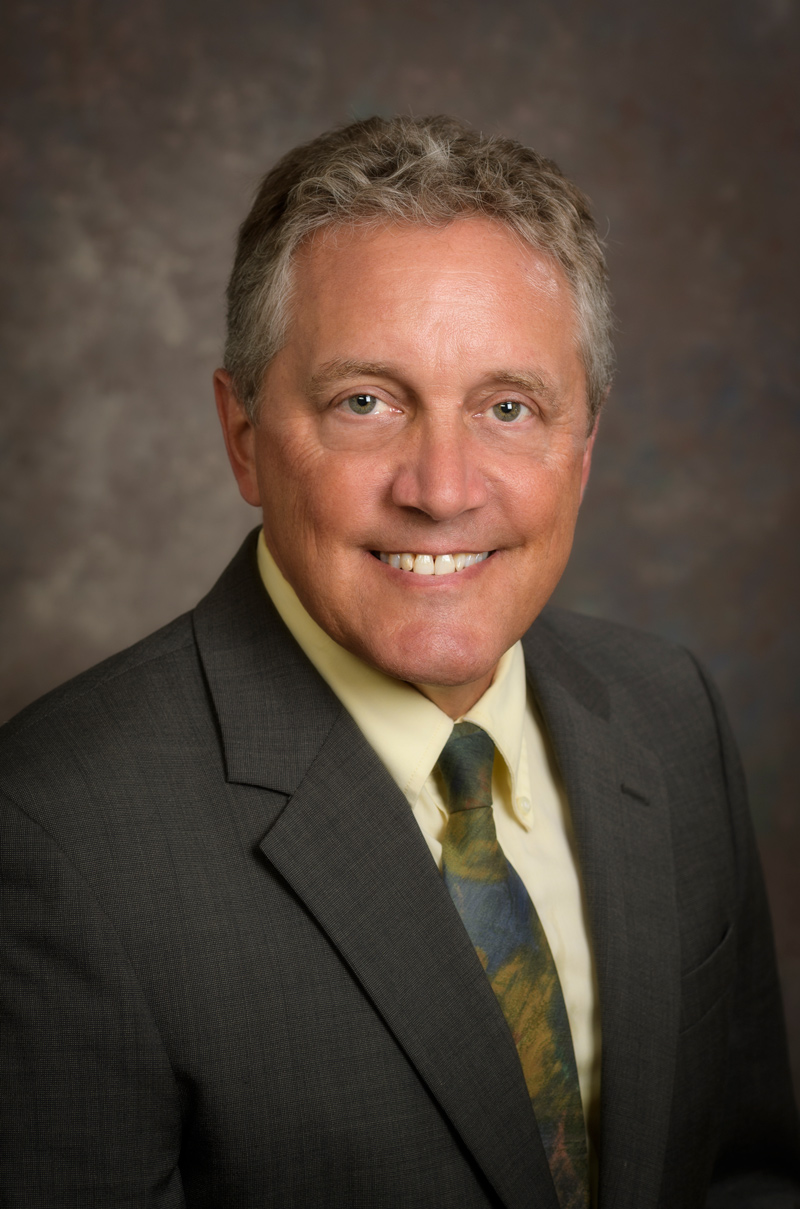 Shenton and Chajes agreed that reconstructing the bridge would take months. Engineers will first need to determine how much of the structure was damaged. While the main portion of the northbound lanes will need to be rebuilt, the southbound section was also damaged and will likely need to be replaced as well. Likewise, material testing will need done on the piers to see if they need to be replaced or repaired. 
"I think it's going to be several months," Shenton said. "If they could do it in 60 to 75 days, that would be quick. If they have to rebuild the piers, that will extend it even longer."
There is a huge economic cost to a portion of the highway being shut down, so engineers will need to balance the brevity of the construction with the type and quality of design.
"Every day you get the bridge open earlier is worth a lot of money," Chajes said. "They're going to want the fastest possible solution to put in there that clearly has the same type of design life that you would want for a bridge. You don't want to repair it with something that may be quick but can't last, because it needs to be there for a long time. So they're going to look for that combination."
One reason the fire was so destructive is because gasoline is highly flammable, which is why trucks hauling gasoline or other hazardous materials are banned from driving through tunnels. While Chajes said he doesn't think it's feasible to ban tankers from driving under highway bridges, he proposed that a solution could be to add a mechanism to tankers that could prevent fires from getting out of control.
"As opposed to saying the bridge should be able to withstand it, maybe that tanker should have a system that activates and suppresses the fire," he said. "That's because the tanker could cause problems in many different scenarios. If a tanker catches fire, it causes problems wherever it is." 
Indeed, it's that innovative mindset that's at the heart of what an engineer does: apply scientific and mathematical principles to develop solutions for various problems.
"Within engineering, when you have something that goes wrong, we always try to learn from it," Chajes said. "Whether it's a material that maybe isn't so expensive that could withstand this heat, or whether it's doing something with the vehicles to keep them from having big fires, whatever it is, we always try to analyze the situation and learn from it for the next time."