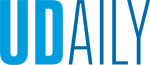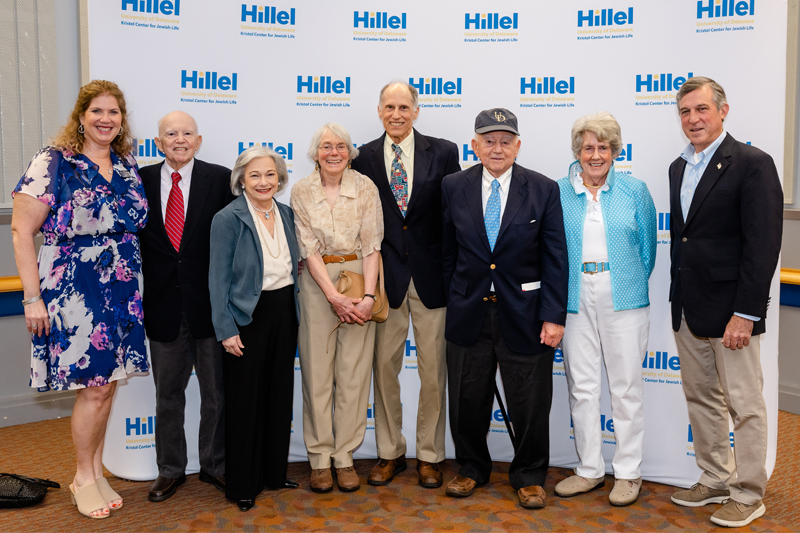 A home away from home for UD's Jewish students
Article by Amy Wolf Photo by Christopher Ginn June 05, 2023
UD Hillel's Kristol Center for Jewish Life celebrates 30th anniversary
For 30 years, the Kristol Center for Jewish Life has been the home away from home for the University of Delaware's Jewish students — a gathering space for fellowship, holidays and celebrations, and weekly Shabbat dinners.
While there has been a Hillel group on UD's campus since 1948, it wasn't until 1993 that the group received a permanent space. Named for Abe and Pearl Kristol, who were instrumental in acquiring the property, the Kristol Center is located on Delaware Avenue within walking distance of the entire campus.
On Sunday, May 21, UD Hillel celebrated the 30th anniversary of the Kristol Center for Jewish Life and honored the Kristol family for its tremendous contributions to Jewish life at UD. Several government officials — including Gov. John Carney, Lieutenant Gov. Bethany Hall-Long and Delaware Sen. Dave Sokola — attended the event, held at Trabant University Center.
"It's a little ironic that we're celebrating the 30th year of the Kristol Center not at the Kristol Center. But that is a testament to what's going on at Hillel and the support that we have from our local and broader communities," said Wendy Goldberg, UD alumna and president of UD Hillel's Board of Directors, who was a sophomore when the Kristol Center opened. "Starting with my generation of students, many generations of students have benefited from the work that the Kristols did 30-plus years ago."
Abe and Pearl Kristol's three sons, Howard, Daniel and David, attended the event, as well as several of their grandchildren and great-grandchildren.
"As a board member, I've seen firsthand the incredible growth of this organization over the past few years," said Todd Kristol, Abe and Pearl Kristol's grandson who serves on UD Hillel's board of directors. "All the Kristols are excited to ensure that the legacy that our grandparents helped shape and our parents helped support will be even stronger in the next generation."
In a video presentation, UD President Dennis Assanis and his wife, Eleni, expressed gratitude to the Kristol family for three decades of supporting UD's Jewish students.
"Congratulations to everyone on the 30th anniversary of the Kristol Center for Jewish Life at UD," Assanis said. "For three decades, the Kristol Center has been a warm and welcoming space for UD's Jewish students. Here, they connect with their cultural heritage, and they form strong bonds with one another and the entire Jewish community."
Carney recognized May as Jewish American Heritage Month and congratulated UD Hillel on the 30th anniversary of the Kristol Center.
"[Hillel] enables all these students to have friends and folks that they can associate with, live out their Jewish life, deepen their faith and become great citizens here in the state of Delaware and across the country," Carney said.
During the celebration, Donna Schwartz, executive director of UD Hillel, presented Daniel, David and Howard Kristol with a Gary Rosenthal Torah. The Torah is the sacred text of Judaism that contains profound teachings and guidance and is a source of wisdom and knowledge that encourages lifelong learning and personal growth.
"The Torah contains moral and ethical principles that guide individuals in making righteous choices," Schwartz said. "The Kristol family has been our Torah all of these years. You have taught us, guided us with vision and purpose, and shared your wisdom and knowledge with us, and we are all better because we've had the opportunity to learn from you."
Hillel at UD is the focal point of Jewish student life on campus. With 2,250 Jewish students on campus — about 13% of the undergraduate population — Hillel paves the way for students to have meaningful Jewish experiences.
"As the daughter of a rabbi, college was the first time I had to navigate creating and maintaining my own Jewish network for holidays and celebrations," said Gefen Galfand, a senior psychology major who has been involved with Hillel since her first year on campus. "I was grateful to find a Jewish home at Hillel."
With a library, lounge, kosher kitchen and large multi-purpose room, the Krisol Center accommodates the meetings of several student groups, including Blue Hens for Israel, Hillel Student Life, Challah for Hunger and Jewish Religious Life.
"To the Kristol family, thank you for role modeling what a lifelong commitment looks like for our community. You have made the difference in thousands of students' lives," Schwartz said. "To our students that are here, remember this moment. These people in this room, for decades, have ensured that you feel safe and welcomed at UD. One day, you will have the opportunity to be just like them and do this for the students on campus. Don't forget this moment."