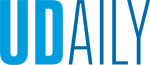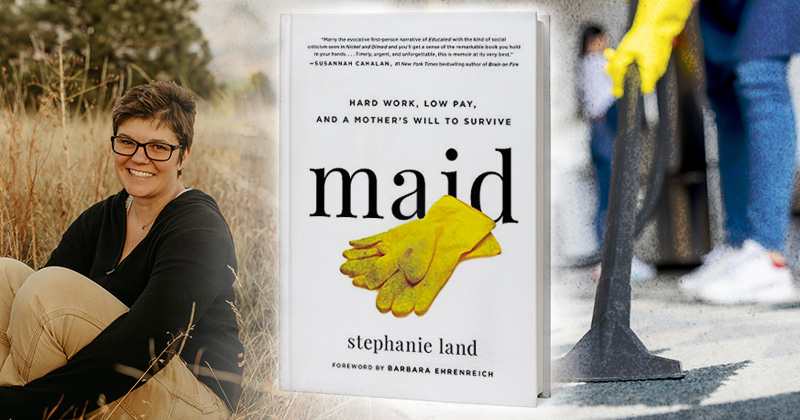 2023 UD Common Reader event
Article by Office of the Provost Photo courtesy of Stephanie Land | Illustration by Jeffrey C. Chase September 26, 2023
Stephanie Land, author of "Maid," will speak at UD on Oct. 3
Editor's note: The First Year Common Reader is an important and early part of life for students at UD and the author of that book visits campus as part of the experience. Author Stephanie Land will visit UD on Tuesday, Oct. 3 to speak to students at 5 p.m. in Mitchell Hall. Admission is free. Closed captioning will be provided.
Addressing important topics such as class division, domestic violence and systemic poverty, the University of Delaware has selected Stephanie Land's Maid: Hard Work, Low Pay, and a Mother's Will to Survive as its 2023 Common Reader. 
Land's experiences as a single parent escaping an abusive relationship inform her compilation of essays about motherhood, poverty, domestic violence and higher education. Recently adapted as a Netflix series, the book was chosen for its complicated and poignant narrative.
Since 2009, UD's First Year Seminar Program has shared the Common Reader Program that provides first-year undergraduates an opportunity to engage in meaningful conversations with fellow students and begin sharing in the intellectual life of the entire University community.
The aim of the Common Reader Program is to challenge first-year students to read and discuss a book about a topic that they may not have otherwise explored. Common Readers help students stretch and develop the academic rigor and critical thinking skills necessary to be successful in college.
Ismat Shah is a professor of materials science and engineering and physics, and Shah serves on the UD Common Reader committee.
"Maid shares the journey of a woman through domestic violence, parental neglect, and poverty with a positive ending showing her strength and conviction," Shah said. "It will surely be a great read for the first-year students." 
Avron Abraham, interim vice provost for Undergraduate Education, added that, "UD has a rich history of sharing books that expand first-year students' awareness of the world. Maid continues that tradition."
Next Steps for New Blue Hens
Meghan Biery, program manager for the First Year Seminar Program, encourages new Blue Hens to purchase a discounted copy of the book at New Student Orientation, courtesy of the University Bookstore. 
"I encourage students to spend part of the summer reading the book," Biery said. "Instructors and peer mentors will lead discussions and other activities in their First Year Seminar courses."
Throughout the fall semester, first-year students will explore themes found in Land's book with speakers and other cultural events, including an essay contest, library exhibition and an in-person lecture by Land, scheduled for Oct. 3, 2023. More details will be announced at a later date.
About First Year Seminar Program
The First Year Seminar Program provides UD first-year students the opportunity to think critically and develop social skills as they transition to campus life. The program promotes academic excellence and advances students' academic success by providing learning opportunities that enhance students' educational experiences. 
Other programs that support undergraduate students include the McNair Scholars Program, Office of Academic Enrichment, Student Support Services Program and the University Studies Program.
Previous Common Readers include My Beloved World by Sonia Sotomayor, The Underground Railroad by Colson Whitehead and Under a White Sky by Elizabeth Kolbert.
For more information, please visit: commonreader.fye.udel.edu