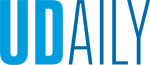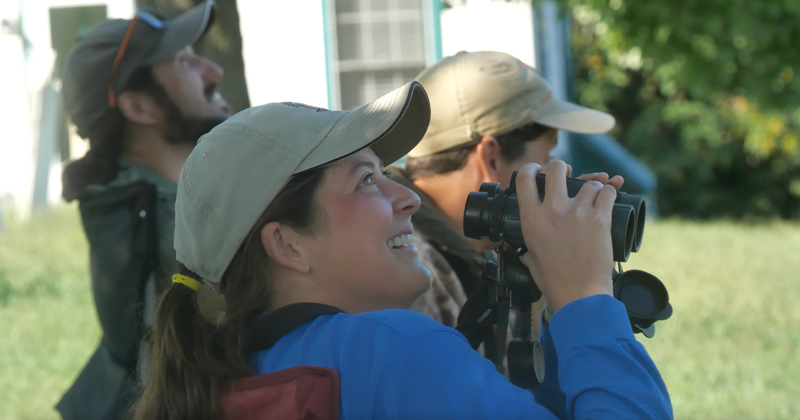 The land's steward
Article by Kate Zincone Photos courtesy of Leah Rudge, Josh Lefever, Midge Flinn Yost and Hannah Redmond July 19, 2023
Wildlife ecology graduate student Leah Rudge researches how nature can thrive in national parks
Most tourists visiting downtown Washington, D.C. spend their time looking at monuments and museums, but national parks are part of that landscape. The music and bustle of the city are in the air, but University of Delaware wildlife ecology master's student Leah Rudge spends her time listening to the birds.
Rudge is interested in land management — the practice of making a habitat as healthy as possible, and ecosystems that rely on dynamic change. These are the main ideas behind the lab work that landed her in Washington with UD faculty member Greg Shriver, professor of wildlife ecology.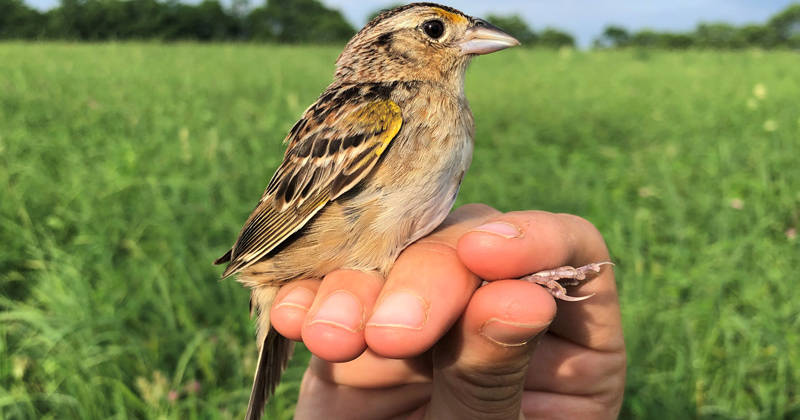 "I'm really interested in using science to help inform good land stewardship," Rudge said. "That's the kind of lens that I try to look through."
Rudge and Shriver are participating in a breeding bird survey of parks in the greater Washington, D.C. region. Bird populations are generally declining, especially grassland birds. In places like Rock Creek Park, George Washington Memorial Parkway, and National Capital Parks-East, which encompasses smaller parks like Anacostia, Greenbelt and Fort Washington, the team is investigating just how steep the decline is. (The National Park Service's District of Columbia website has information about national parks in that area.)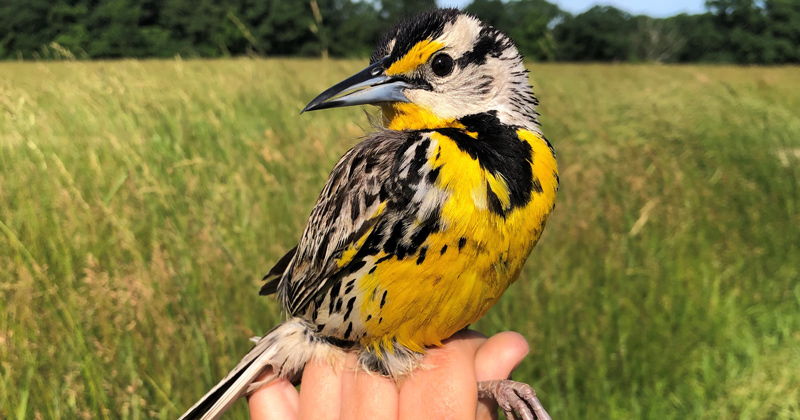 Prior to this research, Rudge worked alongside Shriver on a grassland bird project at Harpers Ferry National Historical Park Service in West Virginia. During this intensive assessment, Rudge focused on grassland bird use of different Harpers Ferry grasslands.
National parks, especially national battlefields, foster bountiful grasslands with great habitat potential. Rudge's work at Harpers Ferry helped determine which management practices best benefit grassland birds. As the crew leader, she was responsible for the logistics and data collection during the spring and fall migration and breeding seasons.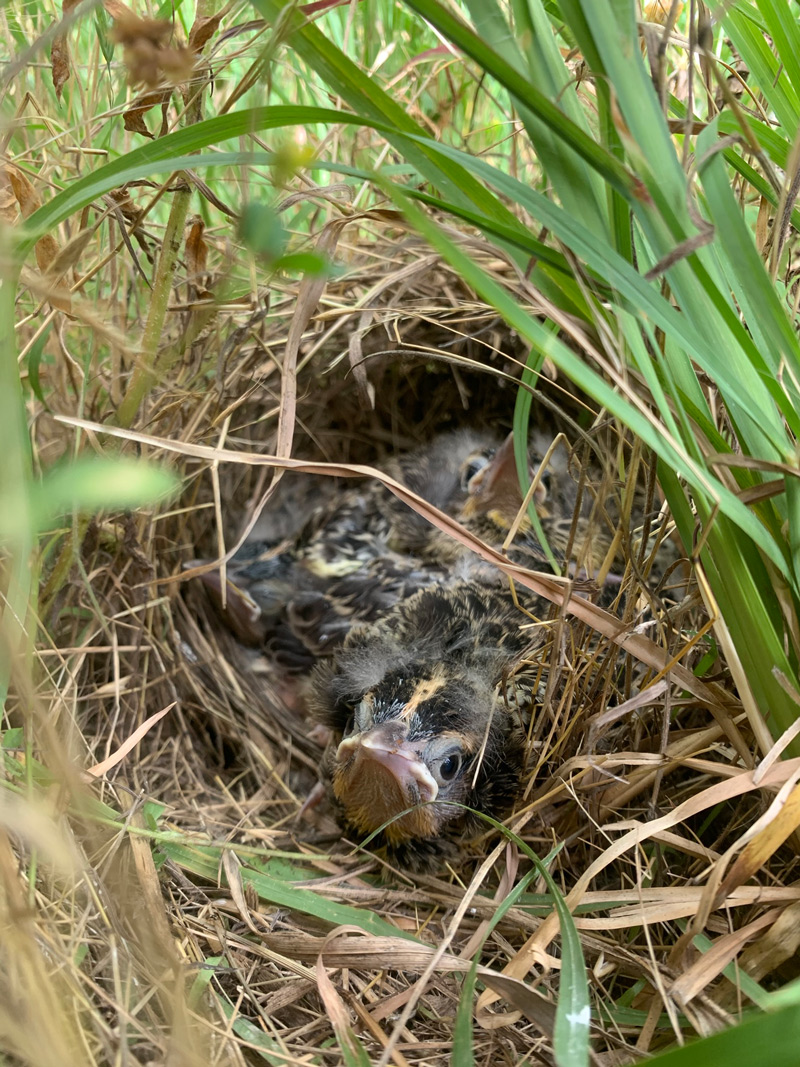 "I worked pretty closely with the staff at Harpers Ferry and also wanted to communicate with them to make sure they knew what we were learning about, what was going on in the grasslands at their park, and how that all was changing throughout the seasons," Rudge said. "I was able to work a bit with some of the higher-ups in the National Parks Service who are in charge of the larger-scope projects."
Rudge credits these opportunities to talk about her work as the reason why she was nominated for the 2023 Chesapeake Watershed Cooperative Extension Studies Unit (CHWA CESU) Student Award. She took home first place for her work, which was nothing short of a good time.
"I get to look at birds and other cool things in nature, and make observations," Rudge said. "Work doesn't feel like work because I'm learning and having fun." 
This research rolled into the larger, ongoing project with Shriver. Since 2007, a procession of UD graduate students undertook long-term monitoring of the 11 national parks in the National Capital Region.
Rudge's current project at the D.C. parks requires her to schedule and deploy automated recording units (ARUs) to identify nearby wildlife. Her findings draw conclusions about ecosystem integrity and biodiversity patterns using only the soundscape.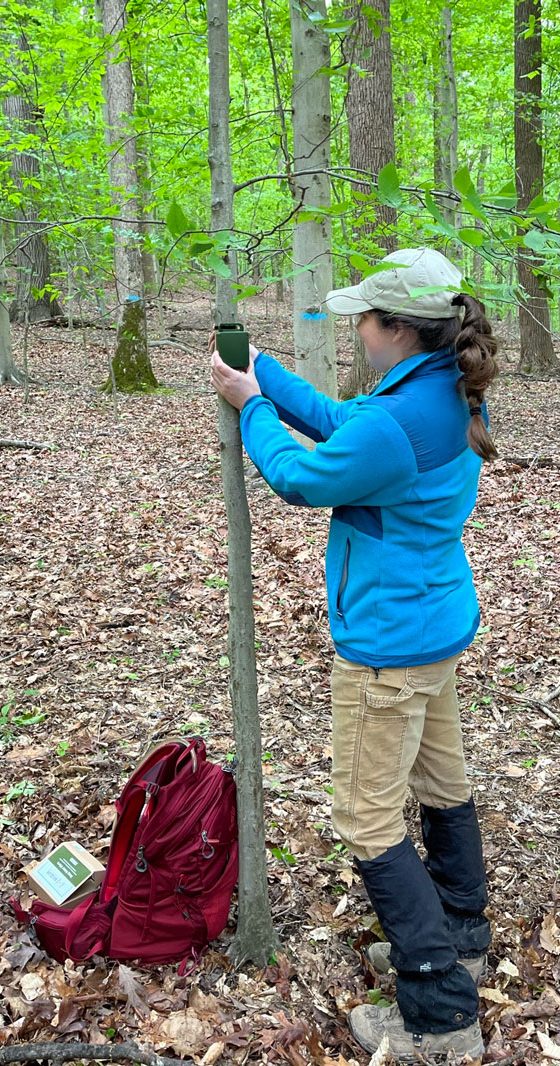 "She's a traditional wildlife scientist, so she's been all over the country from the time she graduated with her bachelor's until now coming to UD for her master's," Shriver said. "That's the path of the wildlife scientist." 
Getting to interact with unique wildlife has been a common thread throughout several of her professional experiences, though her daily field work is vastly different from the environment where she originally grew up.
A native of Pittsburgh, Rudge noted that growing up in a city is perhaps not the best place to garner a love of wildlife, but she emphasized that even cities are an important part of nature. 
"It's important to leave the world a better place than we found it," Rudge said. "Environmentalism is important to me, whether it's in a big city or pristine wilderness."