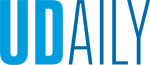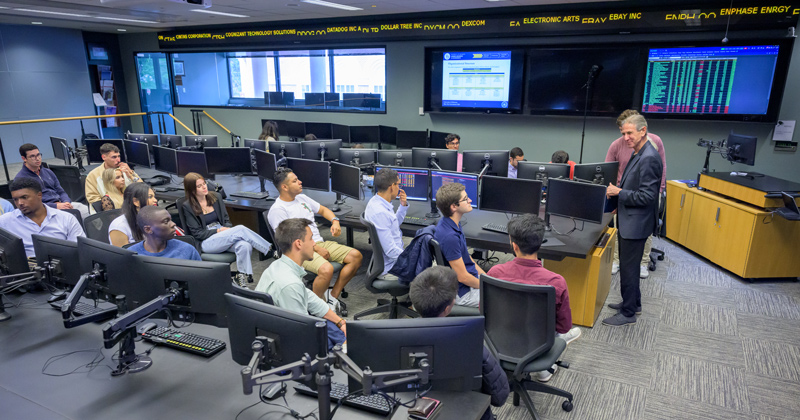 Portuguese students get a taste of the U.S. stock market
Article by Andrew Sharp Photo by Evan Krape July 21, 2023
Lerner professors share their expertise in cultural exchange
For a few days in June, the University of Delaware's Purnell Hall saw a sudden spike in conversations in Portuguese.
The building, which houses lecture halls and training facilities for students at UD's Alfred Lerner College of Business and Economics, hosted about 30 master of finance students from the University Institute of Lisbon (ISCTE), who came to learn about stock trading and get a first-hand taste of the United States financial system. Much of the learning took place in the Geltzeiler Trading Center, which is set up to provide a similar experience as Wall Street trading floors, with real-time stock feeds, workstations and access to the Bloomberg trading terminal.
The program, which has been running on and off since around 2011, has its roots in cultural exchange. Paul Laux, a professor of finance and JP Morgan Chase senior fellow in the Lerner College, served as a visiting professor at ISCTE at different times, starting in the early 2000s under a Fulbright fellowship. Those connections eventually helped lead to the partnership.
During their trip, students heard from Lerner professors on the U.S. financial system, studied the Bloomberg Terminal and took part in trading simulations. They also visited regional cities like Washington, D.C., Philadelphia and of course New York, where they got to see the NASDAQ exchange and Bloomberg headquarters, along with tourist sites like Times Square. Students also had the chance to take in a Wilmington Blue Rocks game this year.
It's a chance to benefit and inspire a group of eager, smart students, Laux noted, while enhancing UD's reputation in Europe at the same time.
Laux is one of the teachers, along with finance instructor Richard Jakotowicz, associate professor of finance Matt Fleckenstein, and outgoing Dean Bruce Weber.
"Bruce Weber has supported this program since his first day here," Laux said.
While Lisbon does have a Euronext stock exchange, it's not the international hub of the New York markets and the business culture is different. The country's economy is more bank-centered, Laux said.
When it comes to exchanges, "the top of the top is here," said ISCTE student Juan Urdaneta.
His journey here was roundabout — from Columbia to Portugal to study, and from there to the U.S. with this group. He's already worked as a teacher, he said, so it was helpful to see how a U.S. classroom works. But the best part is how the professors here tie theory with practice, he said. "They … really do the effort of tying both ends together. I think that's where the real value is."
The energy and drive of the U.S. market inspire students to realize what they can do, Laux said. "The things they learn here really do launch them in their careers."
ISCTE student Joana Espinheira said, "I think this is a great opportunity for us to learn a little bit more. And especially Bloomberg (system), because we never use Bloomberg in our university. So it was a really different platform."
At a ceremony Wednesday, June 21, the students each were awarded a certificate recognizing their work with Lerner's professors over the previous days. The next day they planned an early morning departure for New York City to wrap up the trip.
ISCTE student Diego Rolo said he has a degree in computer finance, so a presentation on machine learning was particularly useful. He was also excited to visit Bloomberg and Nasdaq headquarters "to see how it is in real life. Because nowadays everything is (via) the computer."
This program with UD is important to help the students put together theory and practical application, said Antonio Miguel, the faculty leader of the group and an associate professor of finance at ISCTE. "It's important for them as well, to see how a university in the United States works."
Miguel said they do have access to Bloomberg in Portugal, but in a more limited fashion than what UD is able to offer. Miguel also mentioned outings like the day trip for an event at CFA Society Philadelphia as great experiences.
"We've been really pleased," Laux said of how this year's event unfolded, praising the Lerner professors for their efforts. "We really present a well-crafted program to add on to what the students learn back home."