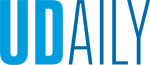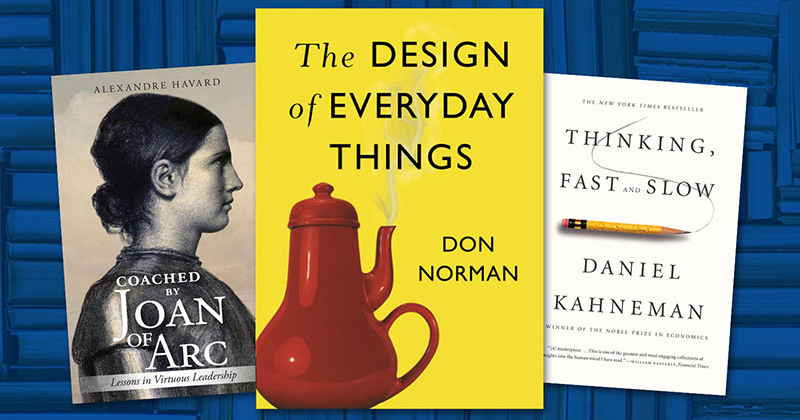 The stories within book collections
Article by Allison Ebner Photo Illustration by Kris Raser February 01, 2023
Award-winning book collections reflect the journeys of their student collectors
A book collection speaks volumes about its collector. Much like the unfolding of a story in a book, these collections reveal twists, turns and truths as the collection and its collector grow. This is certainly true for the winning entries of the 2022 Seth Trotter Book Collecting Contest, an annual bibliophile competition sponsored by the Friends of the University of Delaware Library.
In these collections, UD student book collectors Nora Ellen Carleson, Anne Laurilliard van Zelst and Kelsey Bianca, respectively, reflect on an interest in decorative arts and design that was bolstered by friends and loved ones; the lifelong admiration and inspiration of French heroine Joan of Arc; and a desire to debunk misconceptions about psychology. The thoughtfully and carefully curated book collections create a wealth of knowledge on the topic at hand as well as the personal and professional journeys of the collectors themselves.
Dedication to decorative arts and design
When doctoral student Nora Ellen Carleson was in middle school, she purchased two books for a quarter each from her school library's book sale, beginning her book collection on decorative arts and design. Since then, her collection has grown to nearly 250 books and a small collection of related ephemera. Carleson began collecting in earnest during her first master's program. The collection grew substantially from her course readings, becoming tailored to her primary interests and research questions, including material on dress and fashion history, arts and crafts, art nouveau, and art deco.
While Carleson primarily uses the books in her collection for research or loans them to friends for projects, they have personal significance for her. Many additions to her collection are gifts from her family. Carleson's husband's late grandmother would give her books, discuss them with her, and share stories of experiences and fashions. The tradition has since continued with other family members, imbuing the collection with a personal reflection of the collector.
"The theme of decorative arts and design is broad," Carleson wrote in her application essay. "However, I feel the collection follows my eclectic path to where I am today as a person, a museum professional and a historian. In my education, jobs and leisure time, I have always managed to bridge seemingly different or divergent interests together. Decorative arts and design history do the same thing. They are all connected."
Brave New Girl: A Jehanne d'Arc book collection
Doctoral student Anne Laurilliard van Zelst has admired Joan of Arc for most of her life. When she was a child, Laurilliard van Zelst said she thought she might even be related to the Maid of Orleans. Her interest in Joan of Arc was born of her late father's fascination with the French heroine. She built upon his collection of books on Joan of Arc to curate her own. (Joan is the anglicized version of the heroine's name, which took several forms through French history, including Jehanne.)
Her impressive collection now includes fiction, non-fiction, plays, used books, new books and children's books as well as VHS and digital films, photographs, jewelry and more. Today, Joan of Arc continues to inspire Laurilliard van Zelst to overcome adversity and defy the odds, particularly in her experiences as a first-generation college student and non-traditional doctoral student. She hopes one day to give her collection to a library so others can be similarly inspired by Joan of Arc.
"My ultimate ambition for the collection is to one day gift it to a library where many may read about [Jehanne], awaken their own courage and certainty of purpose, and find their unique, audacious voice," Laurilliard van Zelst wrote in her application essay. "It is my hope that [Jehanne's] life, humble beginnings and incredible feats will comfort those with severe anxiety and depression. That to those reading about Joan, she can be a model of overcoming fear and living out their destiny."
Mind Matters: A psychology stash
Doctoral student Kelsey Bianca is on a mission to show how psychology plays a meaningful role in everyday life. In collecting books on topics like cognition, social psychology and mental illness, she aims to debunk common but incorrect ideas about psychology and share the books in her collection with others.
While studying at UD, Bianca also teaches psychology at Cecil College in Maryland. She often loans titles from her collection of psychology-related books to her students and discusses them in the courses she teaches. While the collection initially grew from her own psychology textbooks to include titles of personal significance, it has evolved over the years into something much more.
"This collection is a stockpile I refer to when my students are interested in a topic," Bianca wrote in her application essay. "I consider this collection my go-to book recommendation list, and indeed many of these books have been passed back and forth to students and most show the wear and love of being read by many. This collection is quite active, moving between hands and being discussed often with students."
Seth Trotter Student Book Collecting Contest
Since 2019, the Seth Trotter Book Collecting Contest has celebrated student book collections to encourage reading and research, the creation of personal libraries, and an appreciation for printed and illustrated works among UD undergraduate and graduate students. Sponsored by the Friends of the University of Delaware Library, the contest is named after Seth Trotter, a UD graduate of the class of 1994, who passed away suddenly in November 1995. While a student at UD, Trotter frequently visited Special Collections exhibitions and Library lectures as a member of the Friends of the UD Library. If you'd like to support the Friends and the future of this contest, you can do so at this website.