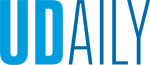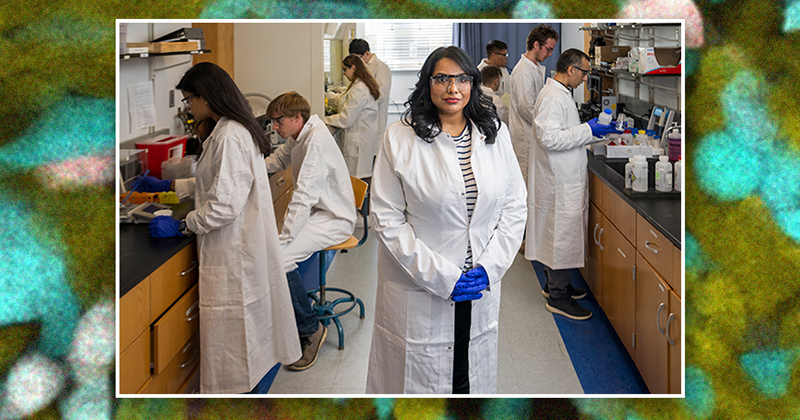 Mechanical cures
Article by Maddy Lauria Photo by Kathy F. Atkinson | Photo illustration by Joy Smoker January 04, 2023
UD Prof. Sambeeta Das earns $2 million NIH grant for research on microscale robotics
Imagine a tiny robot, just a quarter of the width of a strand of hair, delicately maneuvering the vascular system to reach a potentially life-threatening blood clot. In a matter of minutes, the technology could reach its target and save someone's life.
While this scenario might sound like something out of a science fiction novel, it's just one of the fascinating types of research underway in the lab of Sambeeta Das, assistant professor of mechanical engineering at the University of Delaware, who was recently awarded a $2 million grant from the National Institutes of Health (NIH) Maximizing Investigators' Research Award program, which is part of the National Institute of General Medical Sciences.
The funding will not only support her team's work creating these microrobots — which are typically smaller than a human cell — but also with using them for biological processes and working with "active matter," which is essentially exploring how to embed the rudimentary intelligence of single-cell organisms into these robotic creations. The NIH program aims to help promising early-stage researchers pursue novel ideas through the grant funding.
Max Sokolich, now a graduate student who has been working in the Das lab since his junior year of undergraduate mechanical engineering studies at UD, said he's had the chance to work on a broad swath of research involving microrobots, from simple efficiency projects to cancer-focused applications.
"My big focus is coming up with the actuation systems and control policies to manipulate these little robots," he said, simplifying his work by explaining that he's essentially figuring out different ways to move them around. While the medical application of microrobots isn't necessarily new, the single-cell manipulation he's working on is relatively novel.
One of the biggest challenges is figuring out how to control the robots individually rather than "globally." For example, if there are several microrobots working on a task, they're all driven by the same global signal — so they'd all move left or right as designed. How to make them separately move in different ways is a challenge.
"It's such interdisciplinary work. It basically involves all the scientific disciplines, with aspects from biology, chemistry, computer science, physics, robotics," Sokolich said. "I'll never not learn something new. I'll always be stimulated and thinking of cool ideas. I'm only really limited by my imagination."
What the robots are doing could have important implications in future medical technologies, even if it all seems like science fiction and conjecture for now. For instance, those pesky trips to the dentist for a cleaning could one day be replaced by snowplow-like microrobots capable of removing plaque from teeth. Or they could help cells speed up the healing of a broken bone.
These researchers are also working on organoid development, linked to Das' life goal of making organ donation as we know it today obsolete. Organoids are mini organs developed in a Petri dish, a predecessor to producing full-sized, working organs.
"Every year, we have 11,000 people who die waiting on the waiting list," she said. "If you're able to make fully functional organs, then we don't have to worry about that any more. I want to have a world where we can make organs in a lab."
Not only is the work being done in the Das lab on the forefront of future medical technologies, but she also strives to have students at all levels involved in the groundbreaking research — even those still in high school, like Tanmay Garudadri.
At just 13 years old, the Charter School of Wilmington student, who is now a junior, was able to dive feet first into his love of mechanical engineering after his first year of high school, thanks to Das' willingness to have him help out in the lab.
"I just emailed Dr. Das one day, and she said sure," Garudadri said. "It's a really fun lab, and it was a really great opportunity."
Garudadri worked with a graduate student in Das' lab on data analysis and experiments related to surface tension — work that was included in a published scientific paper that was nominated for a robotics award. They utilized a computer program to measure the speed and distance of salt particles, fundamental research that would help inform delivery methods.
It was Garudadri's first time working in a university lab, and it provided a lot of experience and knowledge about physics that helped in his high school classes the following year. After graduation, Garudadri plans to study mechanical engineering or computer science, possibly at UD.
For senior mechanical engineering student Rocky Li, working with cells was a bit out of the norm. The first time he handled cancer cells, there was a mix of anxiety about the newness of the experience but also excitement at the prospect of the potential impact of the work.
"I'm so glad I reached out to Dr. Das," Li said. "She's very encouraging with research, which I didn't think I was going to get into. Coming in my freshman year, I was really intimidated about having to do research later on, even for some of the mechanical engineering classes. But now you can look back and see you're leaps and bounds beyond what you thought you were capable of. Doing research with Dr. Das is just icing on the cake."
Das joined the UD College of Engineering faculty in 2019, but due to the COVID-19 pandemic shutting down labs like hers in the spring of 2020, most of the work done has been completed in the last one and a half years, she said. Currently, she has five undergraduate students, three graduate students and three postdocs working in her lab.
From the high school level to postdoctoral candidates, all students have an opportunity to work in a very dynamic, productive lab, Das said.
"We can use these robots for drug delivery, tissue engineering and for making organoids," she said. "We're working on using them for applications like clot removal, bone repair and a variety of projects."
The real-world impact of the work is precisely what Sudipta Mallick was looking for in a postdoc appointment. The India native joined the Das lab last June and will be working on UD's campus through 2024, focusing on organoid engineering and microrobotics in biomedicine.
"Research was becoming monotonous for me since I was working in the nanomedicine field for the past 10 years. When I joined Dr. Das' lab, I was thrilled to see engineering aspects of biology and possibilities that lie ahead in terms of biomedical applications," she said. "There are hundreds of applications for microrobots, and I have so much fun working in the lab every day. There's so much to learn, and since this is a comparatively less-explored field, we will always find new ideas and new applications to work on."