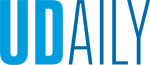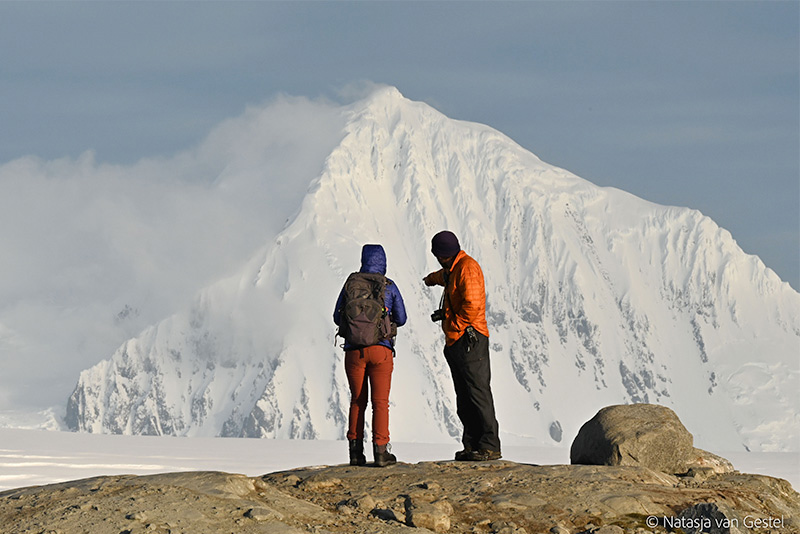 Penguins, robots, the ocean and more
Article by Karen B. Roberts Photos by Kathy F. Atkinson and courtesy of Matthew Breece, Evan Quinter, the Moffat Lab and Natasia Van Gestel | Illustration by Jeffrey C. Chase January 26, 2023
UD researchers among scientists in Antarctica conducting fieldwork on penguins, ocean currents
Fieldwork in Antarctica is tricky, just ask University of Delaware scientist Matthew Breece. There is the 10-day trek to get there from Delaware, which includes a sometimes stomach-revolting four-day sail through Drake Passage, heavy research equipment to manage, limits on what you can pack. The temperatures are cool, averaging just above freezing at around 36 degrees Fahrenheit in the austral summer from October to February. Weather can change rapidly, too, relegating researchers indoors when conditions are poor and making for very long days in the field when conditions are pristine.
But if you ask a scientist…or student…if the effort is worth it, the answer is a resounding YES!
Marine biology students at Caesar Rodney High School in Camden, Delaware, got a firsthand look at what it's like to conduct field research on penguins in Antarctica on Tuesday, Jan. 24, during a live video call with Matthew Breece, a research scientist in marine science and policy at the University of Delaware.
"It's fun, but also a lot of hard work," said Breece, who guided the nearly 50 students through a virtual tour of Palmer Station, a United States research station situated on Anvers Island, Antarctica.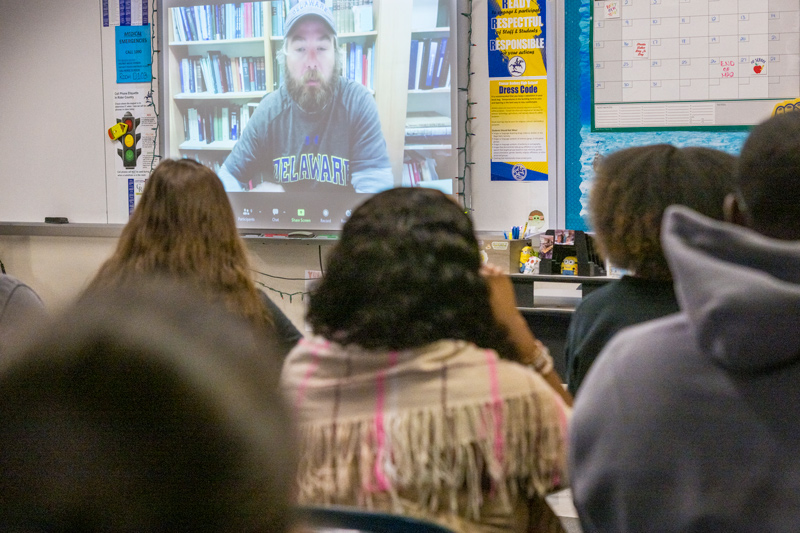 Breece showed the students glaciers, laboratory experiments, research equipment and common areas, like the library, and shared stories and answered questions about living among wildlife including penguins, whales and seals. 
"Wildlife have the right of way here," said Breece, explaining how researchers were scrambling over rocks to get to their research vessels earlier in the week, while a crab-eater seal sunned itself on the boat dock. Gentoo penguins can swim 22 miles per hour, which is faster than the research boats can go, while Adélie penguins can only swim 10-12 mph.
Breece and his colleagues are examining the feeding habits and predator-prey interactions of Adélie and Gentoo penguins in the region using an autonomous underwater vehicle (AUV). The AUV, called a REMUS, is equipped with a high-resolution echosounder that uses sonar to collect data about food resources that are available to marine animals in Palmer Deep Canyon on the West Antarctic Peninsula.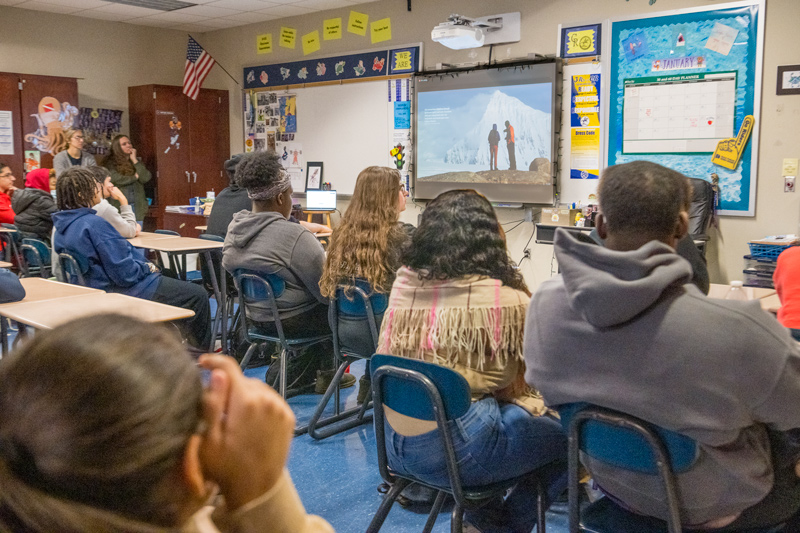 The new echosounder gives researchers a birds-eye view of what's for lunch in the water. It was developed by Mark Moline, Maxwell P. and Mildred H. Harrington Professor of Marine Studies at UD and principal investigator on the project, and project co-PIs Kelly Benoit-Bird, senior scientist at Monterey Bay Aquarium Research Institute and Megan Cimino, assistant researcher at the Institute of Marine Sciences and assistant adjunct professor of ocean sciences at the University of California, Santa Cruz.
"We switched to shorter wavelength frequencies to look at smaller things," said Moline. "So, not only looking at the oceanography, but also the high-resolution food distribution of krill, copepods, fish and the species that eat them, like penguins."
The UD work complements the National Science Foundation's ongoing Palmer Station Long-Term Ecological Research (LTER) study related to penguin population sizes and foraging ranges. The seabird component of the Palmer LTER research is led by Cimino, a UD alumna.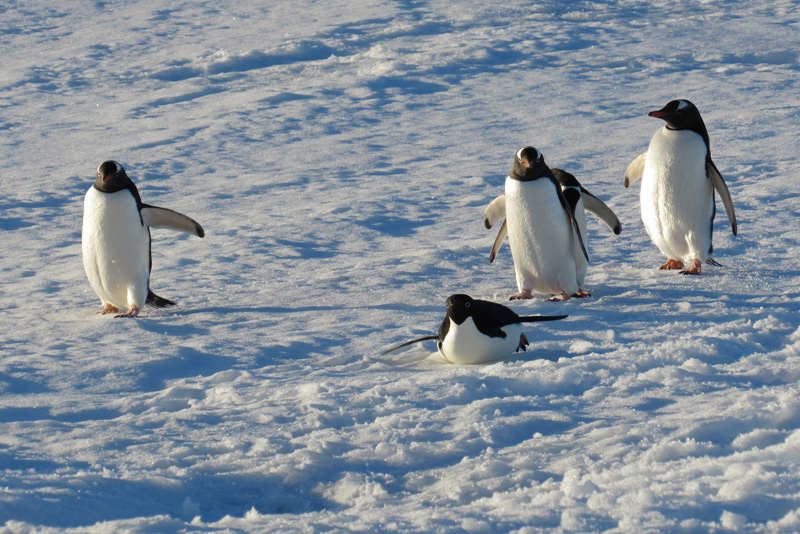 Cimino has a second project with Carlos Moffat, a UD coastal physical oceanographer who also is in Antarctica serving as chief scientist of the Palmer LTER program, which has been collecting long-term ecological data for over 30 years. Collaborating institutions on the broader Palmer LTER study, led by Rutgers University and the Virginia Institute of Marine Science (VIMS), include researchers from UD, University of Virginia, Woods Hole Oceanographic Institution, University of Colorado, and University of California, Santa Cruz.
Moffat also is conducting physical oceanography work as part of his NSF CAREER award to understand the dynamics of melting glaciers and how that impacts the ocean circulation and properties, such as salinity and temperature of the coastal ocean.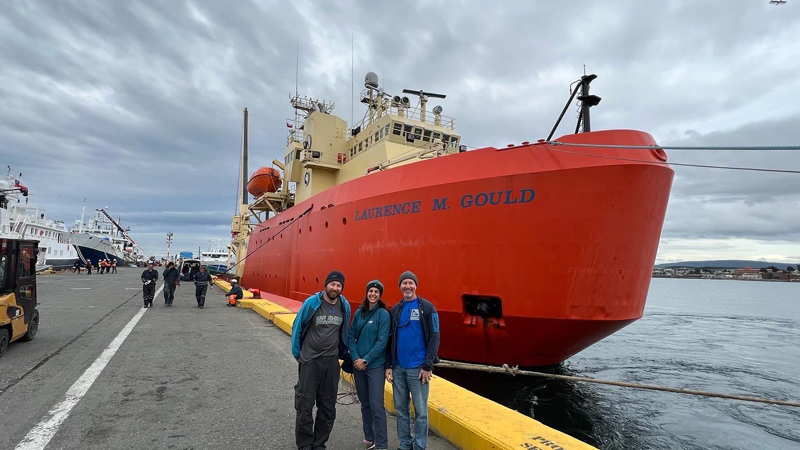 "As the atmosphere is warming in this region of Antarctica, sea ice is decreasing and more glaciers are melting from the coast, physically changing the environment marine organisms are living in," said Moffat. "One big question is what this means long term for marine organisms that live in these places, such as penguins, whales, seals and other wildlife. I see my contribution as trying to help them understand how the physical environment impacts the entire ecosystem."
From Antarctica to Delaware
Lessons learned in Antarctica can help shed light on uncertainties about how sea level rise will evolve in other parts of the world, too. For instance, Delaware is a low-lying state with no area of the state more than eight miles from tidal waters. It is considered a big hotspot of sea level rise along the U.S. East Coast. And while sea levels are increasing on average around the world, due to ocean warming and melting ice from the continents, the distribution of sea level is very uneven. 
"To understand what is going to happen in the future, we need to understand why sea levels are increasing and how it's going to change over time," said Moffat. "Antarctica is a good place to study this because change is happening very rapidly."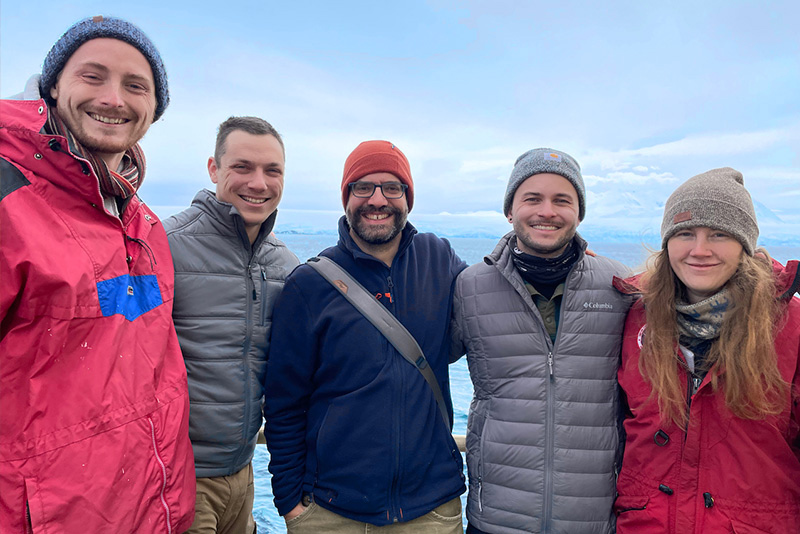 For most of the 20th century, the Palmer Station region was considered the fastest changing region in the southern hemisphere, while the Weddell Sea, which is located just around the corner of the Antarctic peninsula, had not changed as much. Over the last few years, researchers have begun to wonder whether the Weddell Sea has any influence on the West Antarctic Peninsula region or whether the regions are changing independently.
To better understand these processes, Moffat's team deployed two AUVs called gliders to sample the circulation close to the coast along the Antarctic peninsula, which is heavily influenced by the melting of glaciers. He and his students recovered oceanographic moorings that have been capturing data, such as water circulation currents, temperature and salinity, since early 2022. This is part of the West Antarctic Peninsula that has never been sampled before, so the team is eager to analyze the data.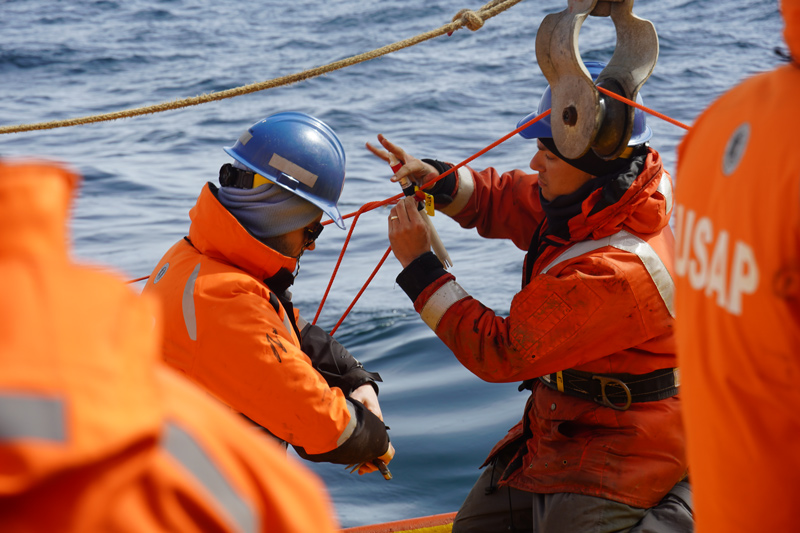 "I am particularly excited about the glider measurements, which I plan to add to my dissertation," said Frederike (Rike) Benz, a doctoral student in the Moffat lab. "It is especially interesting to be involved in the whole process from preparing, shipping and deploying to publishing."
Classrooms beyond campus
For students, field research offers the opportunity for hands-on experience with sophisticated research instruments, data collection and analysis, troubleshooting and networking with researchers from other institutions. Sometimes those activities occur in remote regions of the world — like Antarctica.
"The rarity of this experience comes with a sense of humility and responsibility to not take any moment for granted, a responsibility to ensure more opportunities are available for future students and scientists," said Evan Quinter, who is pursuing a master's degree in physical ocean science and engineering in the Moffat Lab.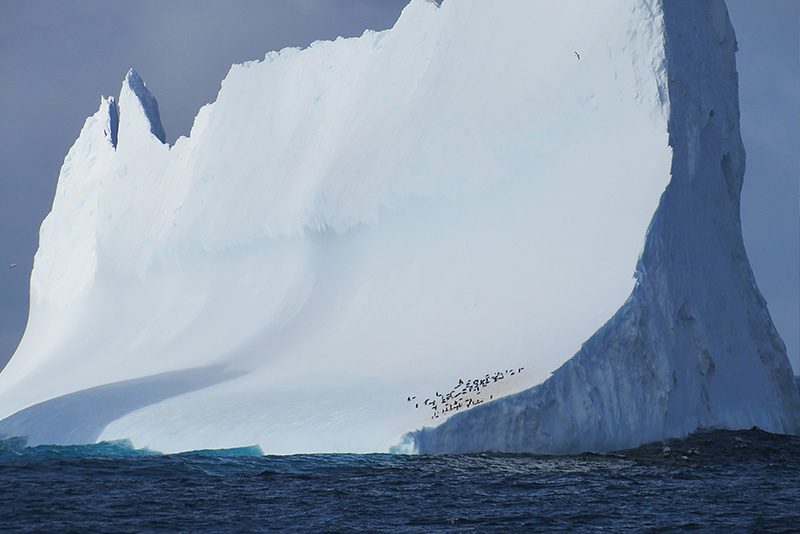 At Caesar Rodney High School, marine biology teachers Cristine Taylor and Sandra Ramsdell have just begun covering marine animals with their students. It is a fitting coincidence that made the live call with UD researchers both timely and meaningful.
"Spending a day in class speaking with researchers was an awesome experience for our students," said Taylor. "We are trying to encourage them to look at everything that goes into marine careers. Not every person is a marine biologist, there are computer scientists and engineers, ship captains and crew, and so many more people who can work in marine research."