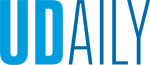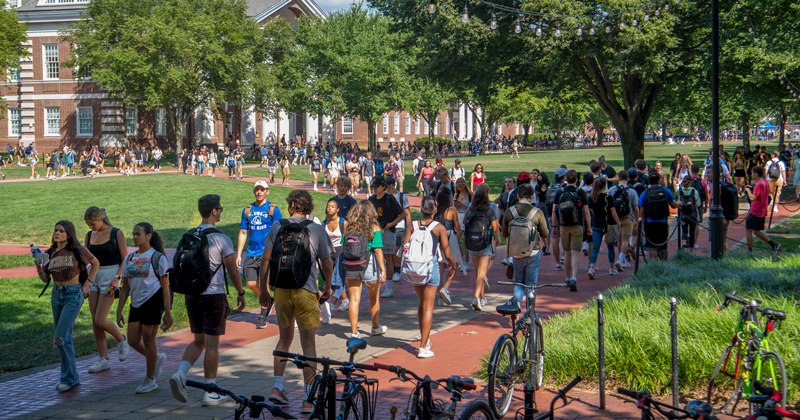 Interest in UD increasing
Article by Adam Shutz Photo by Kathy F. Atkinson August 25, 2023
Applications to UD broke last year's record and applicant test scores and GPA also rose
At a college fair in Mumbai, India, attended by dozens of universities from the United States, a long line of students stretched past adjoining booths waiting to speak to a representative from the University of Delaware. Such scenes are not unusual when admissions counselors travel abroad.
"We've seen a healthy bounce back of international applications after the pandemic," said Song Hoffman, director of international admissions. Undergraduate applications from international students increased this year by 30%.
Closer to home, staff from the Office of Undergraduate Admissions traveled tens of thousands of miles across the U.S., logging hundreds of hours presenting in high school classrooms, speaking to families at college fairs in dozens of states, and meeting with organizations and leaders in the area community.
"We are continuously developing unique ways to engage with the community," said Darrell Edmonds, deputy director of admissions, "working with organizations that help first generation and underrepresented students and their families who often aren't as familiar with the college application process. These organizations and families are excited to be working with UD."
The recruitment numbers this year reflect that excitement.
Students from every state in the continental U.S. and over 130 countries applied to UD, bringing in a record 37,000 freshman applications for the fall of 2023, a 6% increase over last year's record-breaking year. The heightened interest has netted a class with the highest test scores and cumulative grade point average in the last five years, with admitted students averaging a 1,335 on the SAT and a 4.1 GPA on the weighted 5.0 scale, which grants additional points for advanced placement (AP) and honors courses.
The demand isn't limited to students beginning as first-year students, or even to students entering the Newark campus. UD also saw an increase in transfer applications and nearly doubled last year's number of committed transfer students, from 323 in 2022, to 570 this year. Similarly, the UD Associate in Arts Program increased its number of committed students by 33%.
"It's the fifth year in a row of record applications," said Rodney Morrison, vice president for enrollment management. "The academic quality, the diversity of experiences and accomplishments of this class are among the best we've ever seen. The students' resilience while navigating a pandemic and achieving these accomplishments is astounding."
Last year, after enrolling its largest first-year class ever, the University strategically scaled back slightly from approximately 4,600 students entering UD for the fall of 2022, to approximately 4,200 this year. "While our reputation continues to grow nationally and internationally," Morrison said, "the University is becoming more selective, especially for students applying from out of state."