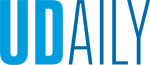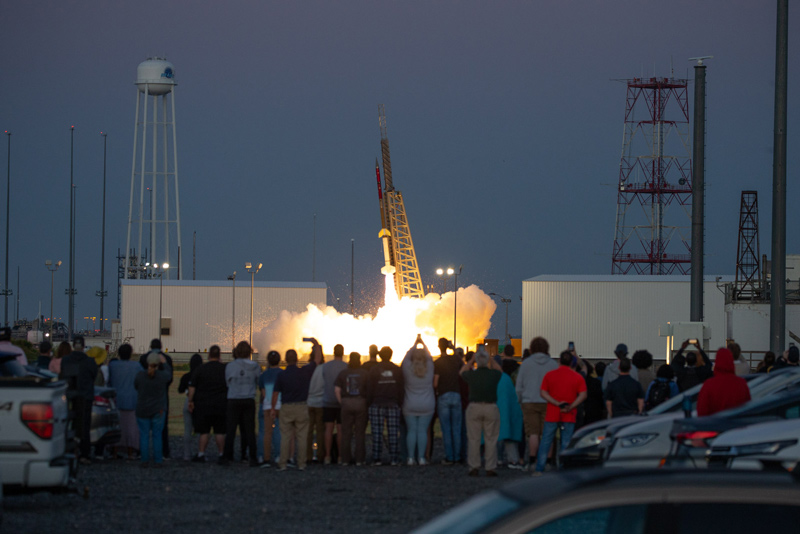 Aiming high on plasma research
Article by By Beth Miller Photo by Kathy F. Atkinson and courtesy of Bennett Maruca and NASA August 14, 2023
UD's Bennett Maruca helps student teams prep experiments for NASA rocket launches
Plenty of research happens in labs, at computer stations, in libraries and coffee shops and in fields of many kinds.
Some of it must happen far beyond the beaten path.
Such is the case if you are a student of Bennett Maruca, assistant professor of physics and astronomy at the University of Delaware, who studies space physics and plasma physics.
For the past three years, Maruca's undergraduate students have been designing, building and testing devices to help them understand plasma in a region of the Earth's upper atmosphere called the "ionosphere."
The ionosphere starts about 30 miles above the Earth's surface and extends hundreds of miles to the edge of space. Free electrons are moving around in this plasma environment, having broken away from atoms charged by solar radiation, and all of those moving charged particles can have a big impact on communication and navigation systems — on the ground, in the air and in space, Maruca said. But fortunately, he said, the ionosphere's ever-changing structure can be measured by instruments carried through it on rockets.
Maruca's students have such an instrument — a Langmuir probe — ready for launch into the ionosphere aboard a sounding rocket from NASA's Wallops Flight Facility in Virginia. The launch, planned for Wednesday, Aug. 16, was originally scheduled in June but was scrubbed because of unfavorable weather conditions. This week's forecast appears favorable so far and the launch window extends to Friday, Aug. 18. (Sounding rockets take their name from the nautical term "to sound," which means to take measurements. Since 1959, NASA-sponsored space and earth science research has used sounding rockets to test instruments in lower altitudes for later use in satellites and spacecraft that go deeper into space.)
More than 30 university teams were set to participate in the June launch — through the RockOn and RockSat-C programs. Students in the RockOn program participate in a one-week workshop for students with little or no experience. They assemble a kit for a Geiger counter that flies on the rocket. RockSat-C is a nine-month project in which students design and build their own experiments. The programs give students a chance to experience what it's like to prepare experiments that meet NASA's exacting specifications. With support from the Delaware Space Grant Consortium, UD had teams in both events this year.
"Safety is of course paramount," Maruca said. "The students had to prove that the probe (which protrudes a few inches from the rocket) won't fall off during flight and damage the rocket. Special consideration also had to be given to the extreme acceleration and vibration of the rocket. The students had to screw and/or glue together all of their experiment's components."
The experiments fly on a Terrier-Improved Orion sounding rocket, reach suborbital space more than 70 miles above Earth, then return to Earth and are recovered from the Atlantic Ocean.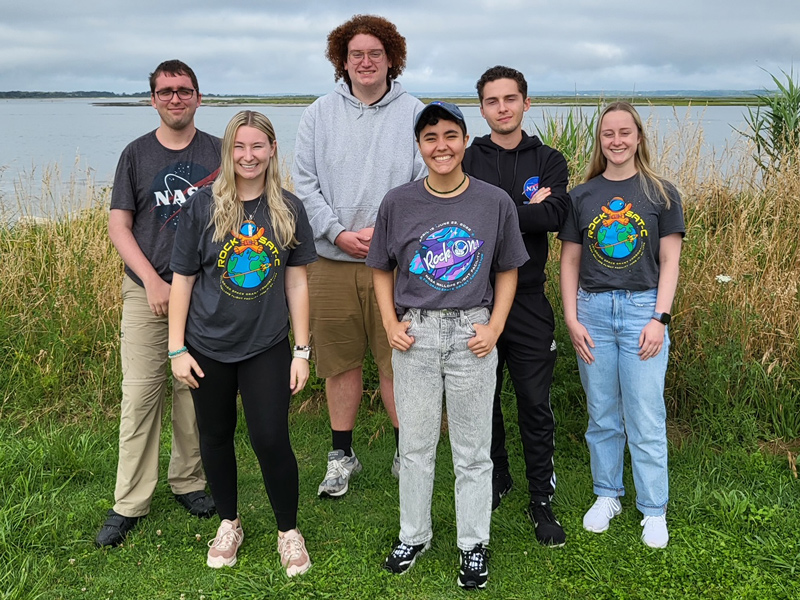 Preparing for such a launch sharpens students' understanding of plasma and space physics and gives them an opportunity to experience the rigorous effort invested in NASA missions.
"None of us really knew anything about plasma physics from the beginning," said Jason Kalaygian, who was a senior majoring in applied mathematics and physics when he led Maruca's first team in 2020.
Now, they are collecting and analyzing data with the Langmuir probe they built. The probe uses electrodes to gather information about the temperature and density of the plasma in the region.
Kalaygian described the probe as "a hunk of metal hanging off the rocket." It is built to withstand the harsh conditions outside the rocket and it is designed to capture very small signals quickly.
From launch to splashdown is only about 30 minutes and the probe is seeing plasma for only five minutes or so, said Jarod Dagney, who led the 2021 team and graduated last year with a degree in physics.
"We're measuring one nanoamp of current," Maruca said. "To put that into perspective, an incandescent lamp pulls about one amp through its power cord. We're measuring a billionth of that."
The ionosphere has many fascinating characteristics.
Near the Earth's surface, you don't find many electrically charged particles, Maruca said. But the higher you go, the more you find. The ionosphere is a changeable region, with no fixed boundary, that starts about 30 miles above sea level and extends about 600 miles. Beyond that is the magnetosphere, with particle density so low that the magnetic field becomes important to the dynamics, he said.
Drawing on Maruca's guidance, hours of calculations and design and figuring things out, plus the skills of master machinist Derrick Allen of the Department of Physics and Astronomy, the team won approval to add their first experiment to the 2020 RockSat-C rocket.
A few major complications arose that year, though. The University shut down most operations in March after the World Health Organization announced that the COVID-19 virus had become a pandemic.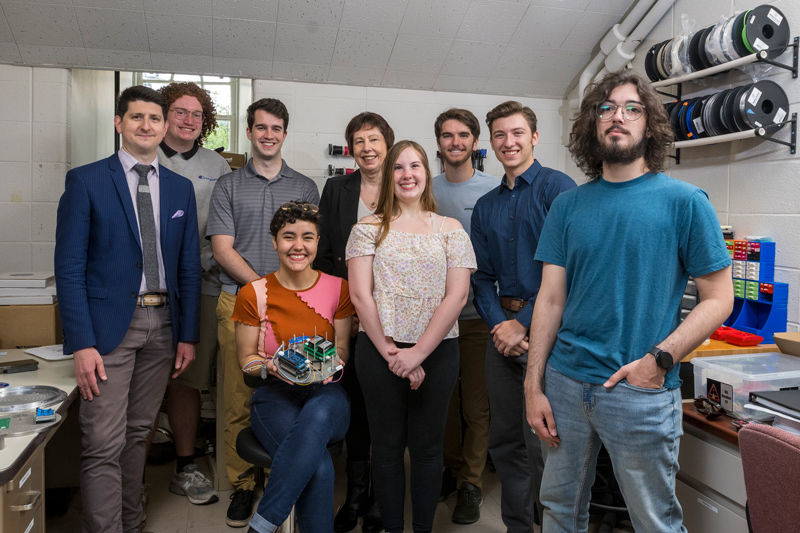 Many sudden changes had to be made if the team was to be ready for a planned June launch.
Kalaygian drove to campus from his home in Milford, Delaware, to pick up equipment and materials Maruca thought he might need to continue the work. He set up a workshop in his basement and — using Zoom and other communications — the team worked together virtually, "with me being the hands," he said.
No one wanted to quit.
"None of us was OK with that," Kalaygian said. "We all put in so much work. It was push forward, no matter what."
Ultimately, COVID forced the cancellation of the 2020 launch, and the torch was passed to the 2021 team, led by Dagney, who designed the software to run everything.
The extra year gave the team opportunities to refine their designs and by June 2021, Maruca's team converged near Wallops Island to watch the rocket shoot into the sky with their Langmuir probe aboard.
Lessons learned produced further refinements for the 2022 team, led by Jeffrey Neumann, who had graduated a few weeks before the June launch with a degree in mechanical engineering.
"It's been great to be able to build on progress from prior years," Maruca said. "I've been very insistent — I'm trying to avoid the word 'nagging' — about documentation."
Good recordkeeping is a great help to subsequent teams.
"It is very helpful," Neumann said. "We were able to refer back to documentation, particularly in regard to our analog board, and that was very important for our development work."
The team was able to collect relevant data in both launches, which is not a given.
"To have successful measurement on the first go is very rare," Maruca said.
And progress has been steady.
"I am so proud of these students," he said. "They have done a tremendous job."
UD's RockSat-C team now has a new headquarters in the Patrick T. Harker Interdisciplinary Science and Engineering (ISE) Laboratory, where Maruca is establishing the Delaware Space Observation Center (DSpOC), a collaboration of UD and Delaware State University that was announced in 2022. Dagney is now the DSpOC lab manager and Maruca is leading the research component, which includes a high-performance computer cluster for analyzing large data sets.
The team changes each year, with some students graduating, some moving on to other kinds of research and some joining the effort for the first time. Some participate in the RockOn workshop, which gives students experience building a launchable payload, including a computer board, experiment materials, programming and mechanical integration — all in preparation for a RockSat launch the following year.
Senior Dax Moraes and sophomore Isaac Chandler participated in RockOn in 2022. Moraes then led UD's RockSat team.
The experience helps students work through challenges, disagreements, complications, unexpected delays and obstacles — real-life stuff, Maruca said.
"In research in general, there's not always agreement on the best way to do things," Maruca said. "It's not always obvious. And if you're going to work at an engineering company, you'll be in a meeting and present an idea and someone will say, 'What about doing it this way?' Who is right? Who has the better way? You have to explain your reasoning. And your boss may not be an engineer."
In addition, all team members learn a lot about working in a high-level system that requires careful planning and precision. They learn the nomenclature and design review structure used for many missions in NASA, said Maruca, who is the principal investigator of the Solar Wind Experiment on NASA's Wind spacecraft, which aims to characterize the particles in solar wind plasma.
"This is quite literally, NASA-level stuff that students are able to participate in," Neumann said. "It's a cool opportunity, but along with that comes the NASA-type deadlines. The deadlines always seem far away, but then you always barely make it in time. Deadlines are very, very important for an aerospace-grade mission like this."
This week, they hope all systems are "go."
"It's quite cool seeing the rocket launch," Neumann said. "It's nothing like the space shuttle or the SpaceX Falcon 9. It's basically a missile, moving at 20Gs — very fast. At the same time, the moment it starts lifting off, our payload starts collecting data. So in addition to seeing this massive object launch, our payload turns on and starts observing data."
About the researcher
Bennett Maruca is an assistant professor of physics and astronomy at the University of Delaware. (He will advance to associate professor officially on Sept. 1.) His research focuses on space physics, plasma physics, turbulence theory and computational physics.
He is an associate director of the Delaware Space Grant Consortium, coordinating student experimental activities across the consortium, which includes UD, Delaware State University, Wilmington University, Swarthmore College, Villanova University and Delaware Technical Community College.
Before joining UD's faculty in 2016, Maruca was a postdoctoral fellow at the University of California, Berkeley. He earned his doctorate at Harvard University, where he was advised by Justin Kasper.
How to watch the launch
University of Delaware students and Bennett Maruca, assistant professor of physics and astronomy, are among dozens of teams hoping to launch experiments aboard a sounding rocket Wednesday, Aug. 16 at NASA's Wallops Flight Facility in Virginia. The launch window for the missions is 6-10 a.m. EDT. The Wallops Visitor Center's launch viewing area will open at 5 a.m. The launch also will be visible from multiple sites along the Delmarva Peninsula, including some Delaware beaches. Livestream coverage of the mission, starting 15 minutes before the launch, will be available on the Wallops YouTube channel. Updates also will be available on the Wallops Facebook and Twitter sites.