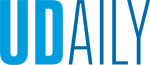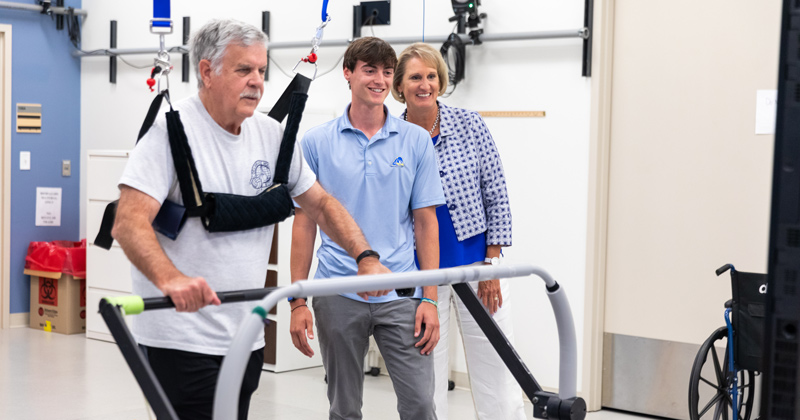 Stroke recovery research
Article by Amy Cherry Photo by Ashley Barnas August 17, 2023
UD human physiology major awarded Peter White Fellowship
University of Delaware rising junior Matt Carr, an honors human physiology and liberal arts double major, spent his summer conducting data collection and analysis as part of ongoing research in the Department of Physical Therapy. He volunteered in Professor Darcy Reisman's lab this past spring and was awarded the Peter White Fellowship, which allowed him to dive deeper into research over the summer. For the past 10 weeks, he's worked alongside Reisman, who is the department chair, in her research on stroke recovery.
"Stroke is a huge issue in the world, and people are not walking as well as they'd like to, and we want to help them walk better," Carr said. "I found that fascinating and a worthy research cause that I wanted to contribute my time to and enjoy it."
Carr also works with Reisman to examine the relationship between cognition and motor learning in stroke patients. He called her an excellent mentor.
"Dr. Reisman is such a busy person, but she's always been there," Carr said. "Her guidance and commitment to helping me succeed has been a huge help."
Reisman looks forward to seeing Carr's continued growth as a researcher.
"Matt is incredibly inquisitive, detail-oriented, thorough and careful in his work," said Reisman. "This, coupled with his interest in pursuing a career in medicine, made him a perfect fit for the Peter White Fellowship."
Carr plans to continue to work in Reisman's lab in the fall.
"Data collection should be done by the middle of the fall semester, so I'd love to learn more about the publishing process," he said.
From a young age, Carr knew he wanted to be a doctor.
"Growing up, I loved science and the body, so I chose classes aligned with that throughout high school at Salesianum."
He jumped at the chance to join UD's Medical Scholars Program, where director Saskia Richter helped connect him to a summer research opportunity at ChristianaCare.
"The Med Scholars Program has been a huge help. Since day one of my freshman year, they've helped me with networking and shadowing opportunities," Carr said. "At ChristianaCare, I'm reviewing medical records and collecting data for a study on the safety of four different IV iron formulations in pregnant women. I'm working to determine the formulation they received and whether a reaction to the medication occurred so we can document patient outcomes for both mother and child."
His experience at ChristianaCare, being named a Peter White fellow, and working in Reisman's lab will help Carr stand out as a medical school applicant.
"For many people, research is being in a lab and doing benchwork, but for me, it's more about the critical thinking piece," Carr said. "I go to weekly lab meetings and contribute, and I think about the reasoning and the logic between the tests we're doing and the paradigms we've set up. I'm grateful for these experiences that have made me a confident researcher as I continue the journey to medical school."