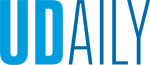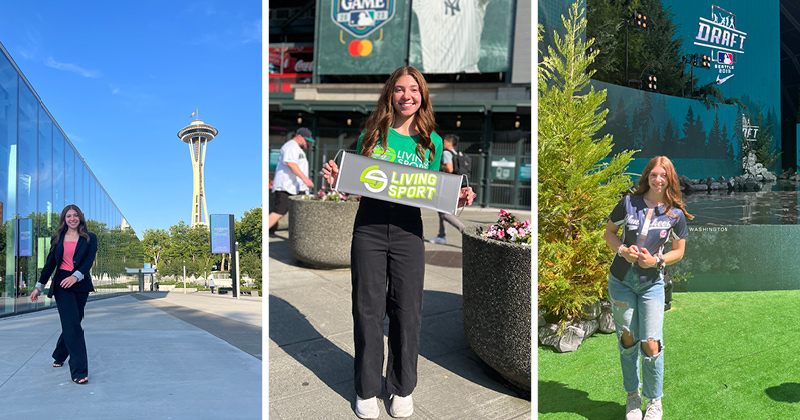 Baseball fan's dream internship
Article by Andrew Sharp Photo courtesy of Andrea Plumser | Photo illustration by Julie Morin August 31, 2023
UD Lerner sport management student gains marketing experience at Major League Baseball All Star Game
Andrea Plumser said she thought her chances of getting the internship were slim. It was a dream gig for the sport management major entering her senior year in the University of Delaware's Alfred Lerner College of Business and Economics — a chance to spend a week in Seattle working at the festivities surrounding Major League Baseball's All-Star week and draft.
"I'm like, 'It's not actually going to happen. But why not throw in my application?'" Plumser said. "When I finally heard back and then heard that I got it, I was shocked."
Plumser not only landed the internship, but a chance to connect with MLB Network executives and get a behind-the-scenes peek at production of its All-Star week coverage.
The internship that caught Plumser's eye was with a company called Living Sport, which puts on entertainment for fans at sporting events around the world, and at major events in the U.S. including the Super Bowl and the NCAA men's basketball Final Four.
While the Super Bowl is among the most prominent single sporting events in the world, for Plumser, a devoted baseball fan from New Jersey who roots for the Yankees, the chance to work around the All-Star Game was even more appealing.
"There were so many celebrities, and players, and just baseball fans there," Plumser said. "It was incredible."
She was determined not to waste the chance.
"I spent the whole trip just trying to make the most of it," Plumser said. Here's how she did that.
A build-your-own internship experience
The interns take tickets and otherwise lend a helping hand at fan entertainment. For its part, Living Sport offers professional development with pros from major sports leagues like the NFL and Major League Soccer, as well as chances to take in the local culture. It's tailored for sport management students like Plumser, said Connor Herlihy, director of digital media at Living Sport.
But Plumser went beyond just taking advantage of these perks after another long shot effort paid dividends.
One of her cousins had a connection to Susan Stone, senior vice president of operations and engineering for MLB Network. Plumser reached out to her, and was elated when Stone agreed to meet.
While she hasn't settled on a clear picture for her career goals yet, Plumser wants to work in sports, particularly in professional baseball in some capacity.
When Plumser had some free time during her internship, she shadowed Stone on multiple occasions, getting advice and a chance to see how MLB Network produced its broadcasts.
"She really took me under her wing and wanted to help any woman in sports," Plumser said. "She said that I get to pass it on and mentor someone else."
While she was in Seattle, Plumser also made sure to seize chances to network. At the end of the evening at the MLB draft, as the crowd drained away, she spotted a couple of MLB executives. Plumser convinced a fellow intern to join her in approaching the executives, and the pair were able to introduce themselves and have a chat.
Laying the groundwork
"She was fantastic," said Herlihy, who supervised Plumser during the week and called her "a driving force" on the team.
"We have a digital media team on the program," Herlihy said, "tasked with creating social media content throughout our journeys. And she really took it on and ran with it."
Plumser brought more than enthusiasm — she had plenty of experience in that arena, having worked in UD's athletics communications department during the last two years. There, she's helped out with marketing, social media, website updates, analytics and more. She's also an executive producer of Hens Sports Night, a regular, student-run sports talk show on STN 49.
Plumser also makes a practice of building business connections. "I love the career center at [UD]," she said. "I use every job shadow program that they have, winter and summer and in between." She also mentioned the helpfulness of her sports marketing class at Lerner, where she built skills in creative presentation and sales.
Despite all that experience, Plumser said she doesn't always feel confident. She was out of her comfort zone in Seattle, she said, but "I'm around every MLB executive … Take those chances, because why not?"
A passion project
One of Plumser's jobs in Seattle, though she didn't consider it work, was to show up to the MLB draft in the uniform of her favorite team and cheer them on. "Definitely the best job I could ever dream of," she said.
Dressed in Yankees apparel, she joined fellow fans in screaming and singing (and shouting hello to iconic Yankees pitcher C.C. Sabathia, who was strolling the grounds). She also managed to make it on camera in ESPN's broadcast of the event.
Even jobs during the week that some of her cohorts found dull, like helping out with lines of fans, appealed to Plumser because of her passion for the sport.
"I think I enjoyed it more than most people," she said, adding it's a job where "I just talk to everyone about baseball."
Herlihy said that excitement made Plumser stand out among the intern candidates. "I think it was really just her being herself and showing that she has this genuine passion and curiosity for the industry."
In order to stand out in the first place, though, Plumser had to take that shot at the internship despite her low expectations.
"Honestly, just put yourself out there, apply for the opportunities that you expect nothing of but want the most," Plumser said.