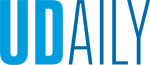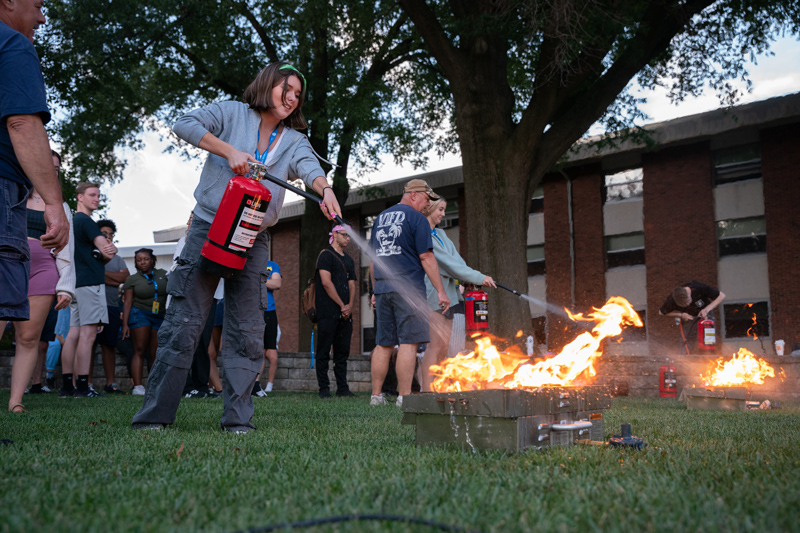 Safety training
Article by Amy Wolf Photos by Evan Krape and Michael Reeves August 24, 2023
Resident assistants attend annual Safety Training Night, learn how to respond in case of fire emergency
Bryan Tiamson, a resident assistant at the University of Delaware, has never had to put out a fire, and hopefully he will never need to. But should an emergency occur in his residence hall, now he is prepared.
Tiamson and about 200 other resident assistants (RAs) attended UD's annual Safety Training Night on Tuesday, Aug. 22, where they learned how to be prepared and respond in case of an emergency. The event brought together UD's police department, environmental health and safety personnel and the local Aetna Hose, Hook and Ladder Company to conduct emergency drills in advance of students moving into residence halls.
The training night was broken into four modules, including a fire response scenario with a simulated fire in Louis L. Redding Hall. Additional modules included fire extinguisher training — which taught RAs to use the P.A.S.S. method (pull, aim, squeeze and sweep) with water extinguishers to douse certain types of fires — and cooking safety, where RAs were shown how to put out a stovetop fire with a pot or pan lid.
"It was good to practice, so that if a fire happens, you realize it's not something to freak out about," said Tiamson, who had the opportunity to wear fire gear and put out a stovetop fire. "Being able to do it in a controlled environment was helpful so that if it does happen in real life, you're prepared and you don't panic."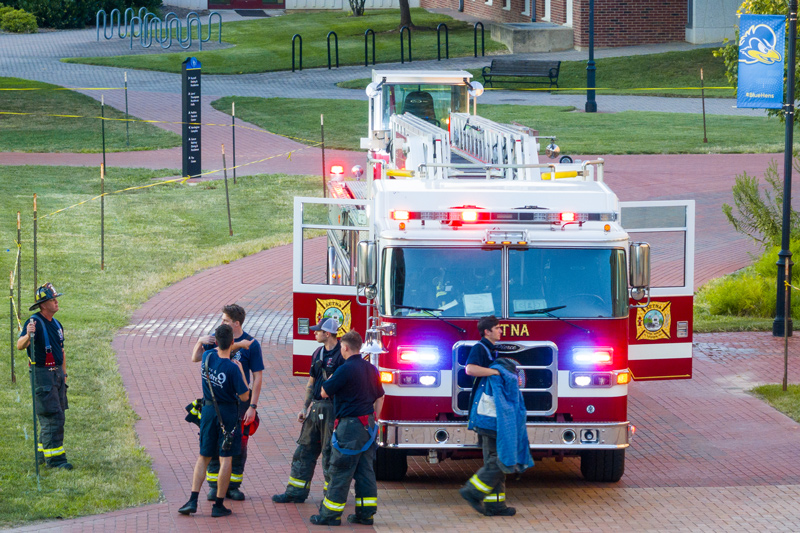 At the event, UD's Department of Environmental Health and Safety provided information to resident assistants to help them avoid and prepare for emergency situations. Bill Wentz, a UD Police Department sergeant, led another module on campus safety topics, including a bomb dog demonstration. He also fielded questions from the Residence Life and Housing staff.
The primary role of an RA during an emergency or fire is to call for help and communicate proper procedure with residents. While the purpose of the training was to ensure that there are individuals in each community who have fire safety knowledge, RAs are not expected to act as first responders.
"This is one good way to make sure that a member of every community knows the information, because RAs live dispersed across campus, one on every floor, so that guarantees some knowledge that can transfer out," said Christina Stauffer, senior associate director for residence life and housing. "We take safety very seriously on campus, so it's important to make sure that the campus is educated and prepared in the event of an emergency, and it makes everyone safer if an emergency occurs."
UD was recently recognized on Princeton Review's Fire Safety Honor Roll as one of 36 universities to receive the highest possible Fire Safety Rating score.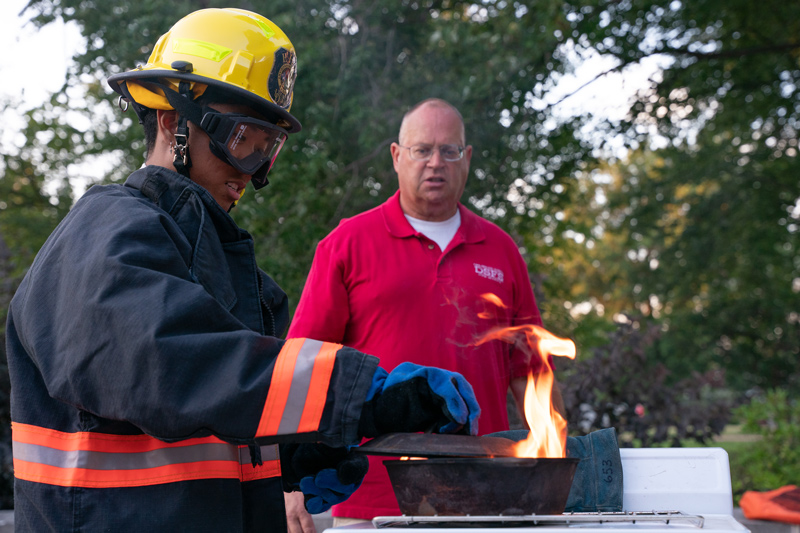 Training RAs is particularly important because students look to them for leadership in the event of a crisis or emergency, UD Fire Marshal Kevin McSweeney said. The event was designed to be interactive so that the RAs could really get an idea of what to expect in an emergency and how to respond.
"You can read about how to use a fire extinguisher, but to actually have a chance to use a fire extinguisher and put a fire out, you feel a sense of accomplishment and a sense of confidence," McSweeney said. "These are the folks that we really trust to be the leadership in the residence halls and in the middle of the night. I tell these guys, you're mother, father, sister, brother to all the residents who are living here, and they're going to come to you for help."
Anna Delaney, a sophomore and first-year resident assistant, had never used a fire extinguisher before, so being able to experience it was helpful information to have.
"This definitely gives you more of a perspective of what you'll actually be doing in this scenario," Delaney said. "It's a lot easier to say what you're going to do instead of actually doing it and not really knowing when the time comes, like the feelings and emotions you get. But this is a deeper look into it instead of pictures on a presentation that don't give you the whole idea."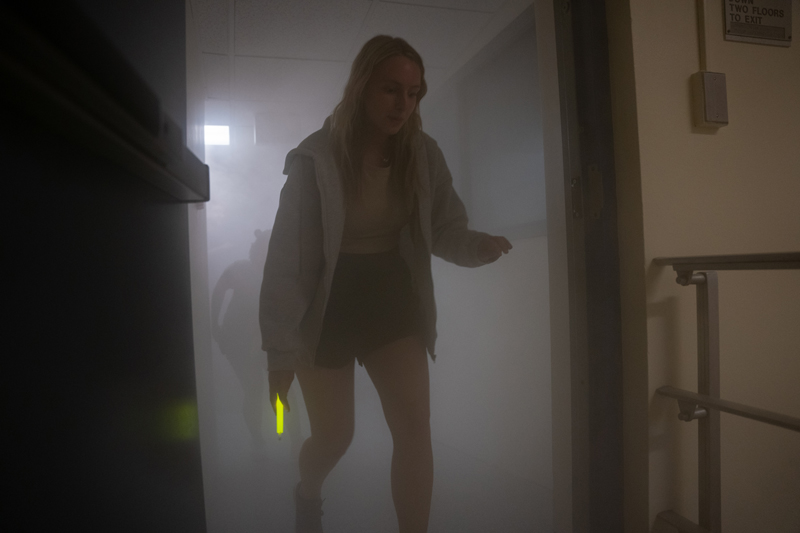 As part of the event, students also had the opportunity to crawl or walk through a simulated smoke-filled hallway.
"It was really interactive and was definitely like the real thing," said Thomas Cardenas, a sophomore and first-year RA. "You don't know where you're going, and I was the first in my group, so there was no one in front of me. Even though we know it's not high-risk, it definitely teaches you the best way to get out in that kind of situation."
Jeff Work, UD's assistant fire marshal, referred to RAs as "the eyes and ears" within the residence halls, which is why it's so important that they're trained on fire safety and what to do in an emergency situation.
"A lot of our residence halls have hundreds of students in them, so the RAs are the guides that help our students evacuate the buildings and know what to do if there's an incident taking place," Work said. "It's important that we train the RAs because they are the go-to for our residence halls. They are like the home base for our residents. They're the ones that the residents go to if they have a problem, and they're the ones who can get information out to keep our communities safe."