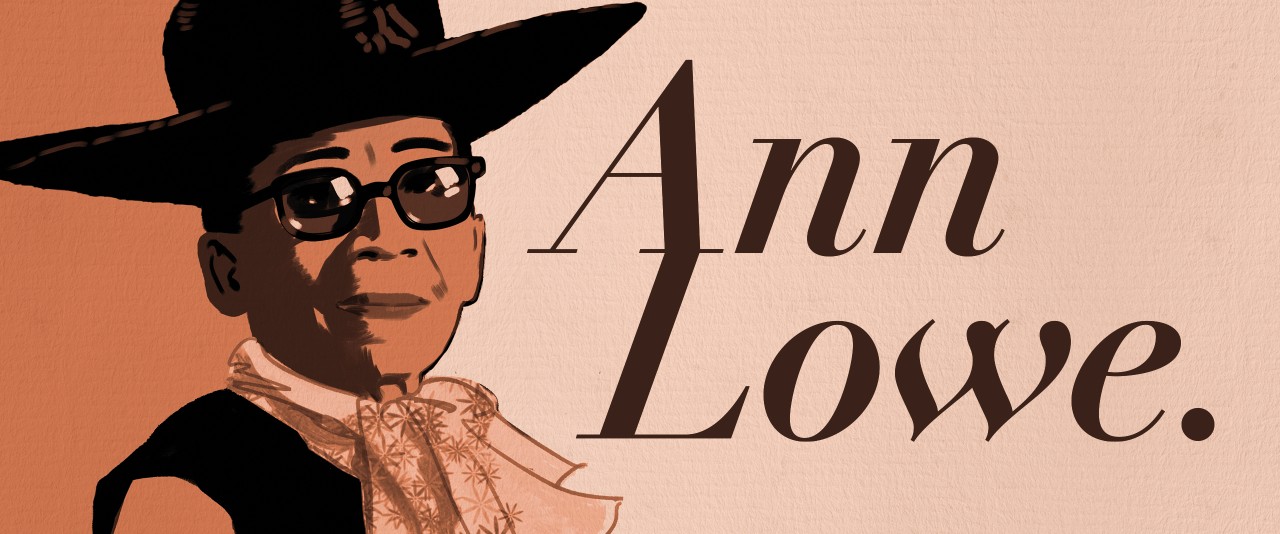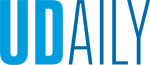 American Couturier
The designer of Jacqueline Kennedy's wedding dress was virtually unknown. Blue Hens are working to change that.
By Diane Stopyra September 28, 2023
Editor's note: The University of Delaware Department of Fashion and Apparel Studies will host a panel discussion on the life and legacy of designer Ann Lowe on Wednesday, Oct. 4 at 3:30 p.m. in Trabant Theater. Registration is required. The Ann Lowe exhibition — and all of the Winterthur exhibits — can be seen for free on Saturday, Sept. 30. The UDaily story below was first published in the UD Magazine in August 2023.

The famed wedding between John F. Kennedy and Jacqueline Bouvier had all the elements of a fairy tale: dapper groom, dewy-eyed bride—and a fairy godmother who conjured a dress as if by magic before disappearing into thin air.
Her name was Ann Lowe. 
Among the world's first Black high-fashion designers, the artist hand stitched—under impossible conditions—the future First Lady's enchanted silk taffeta gown. The final product cast a spell over 900 elite attendees, frenzied media and an entire industry. But much like the satin bow she carefully affixed to the underside of the dress—the bride's 'something blue'—Lowe remained hidden from view. She received scant credit for this iconic garment or any of the others she designed during a trailblazing career. 
Until now.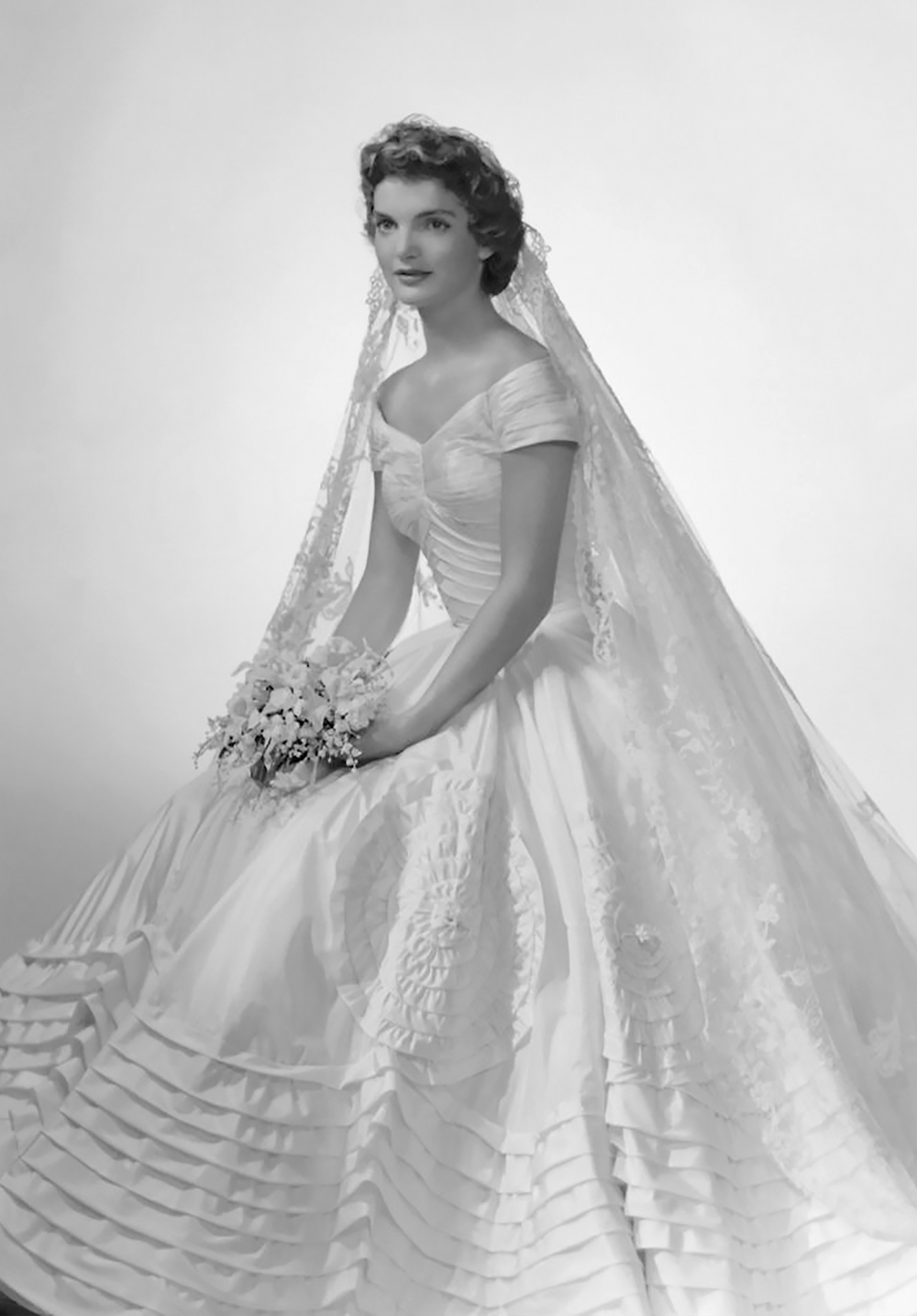 Experts from the University of Delaware and the Winterthur Museum, Garden and Library are teaming up on the largest exhibition of the artist's work to date: Ann Lowe: American Couturier. The showcase, running at Winterthur from September 9, 2023, through January, 7, 2024, will feature 40 dresses custom designed for some of America's most prominent figures. The piece de resistance: Jackie O's legendary wedding gown. Not the original (that's too fragile to display) but a near-exact replica built one stitch at a time by fashion instructor Katya Roelse and a small team of undergraduates. 
Hard-won calluses aside, the Blue Hens have gleaned much from the process, including renewed appreciation for the power of fashion to teach not just about the style and culture of a given moment, but about the passion and persistence of the human spirit.   
"This is a dress that's full of glamor and, once you know the history behind its creation, drama," Roelse says. "But this is also so much more than a dress. When you look at this gown, there are the stories you can see—and so many more just below the surface."
Society's best kept secret
As former slaves, Ann Lowe's mother and grandmother had no wealth or privilege to impart. But they had something much more valuable: their knowledge. While the "property" of affluent white women in need of hoop skirts and bustles, they'd honed their sewing skills. Later, as free people, they'd opened their own design business in Montgomery, Alabama. As a child in the early 1900s, Lowe internalized their techniques and soon developed her own. By age 6, she was shunning hopscotch and babydolls in favor of shaping decorative flowers from pieces of scrap fabric found on the workroom floor. 
Then her mother died. Around 16 at the time and a high school dropout, Lowe took it upon herself to complete an unfinished New Year's Eve gown for a high-profile client, the first Lady of Alabama. From there, it didn't take long for word to spread—elite women in the state and beyond sought out the young design prodigy.
Lowe married as a teenager, but she refused to acquiesce to her husband's desire for a housewife. So, when the opportunity arose to serve as live-in-seamstress for an affluent woman in Tampa, she left her spouse for Florida, where she built a considerable client base. Later, Lowe attended New York City's S.T. Taylor School of Design, but once he discovered her race, the school's director fumed about a Black girl in his ranks and segregated her to her own classroom. (Still, her designs were upheld as examples of exemplary work to the institution's other, aggrieved attendees.) Eventually, Lowe worked for large design houses in Manhattan, including Saks Fifth Avenue, and became the first Black person to open her own Madison Avenue studio.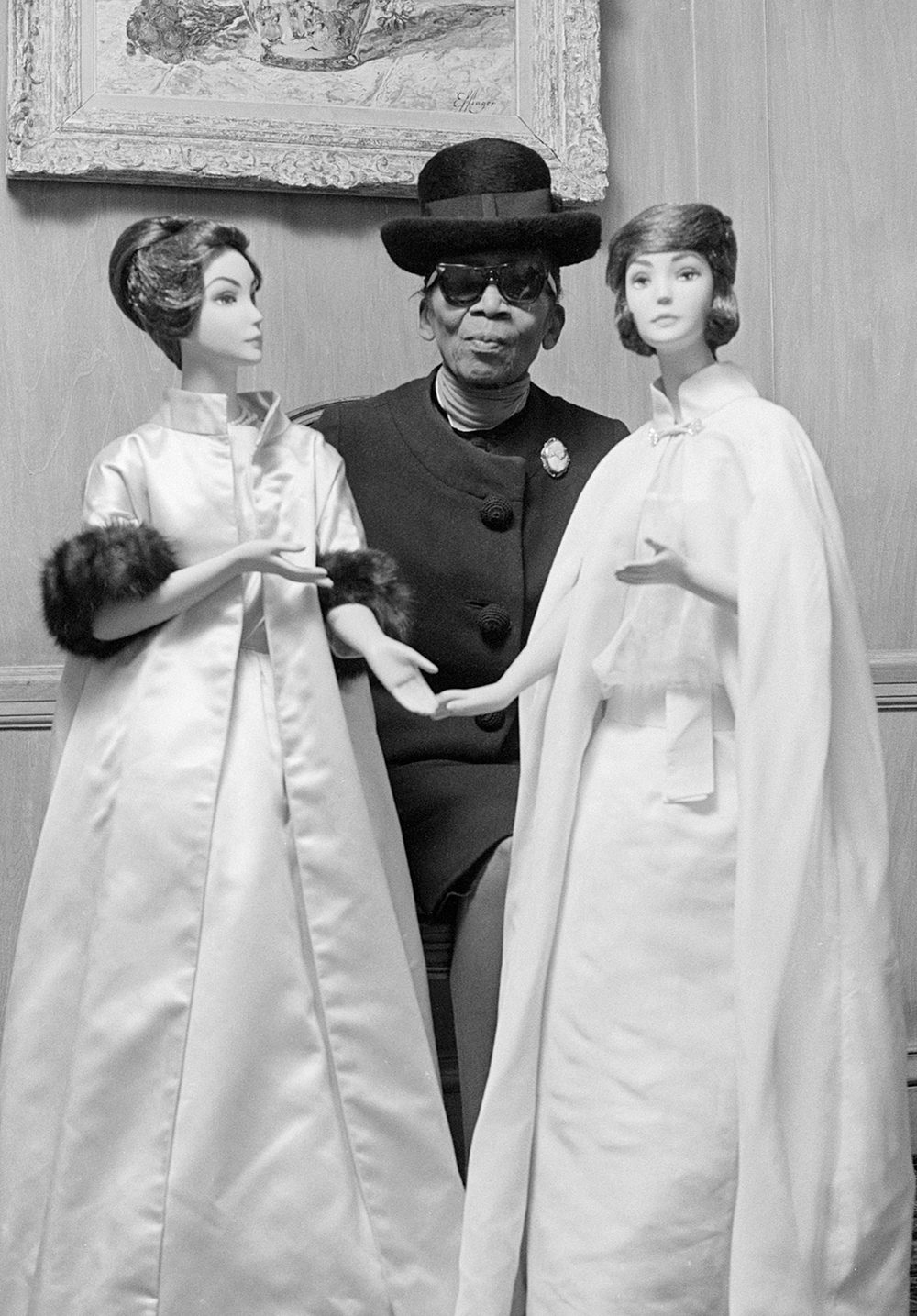 At the time, ready-to-wear clothing—pieces made for a mass market and sold in stores—defined the New York City fashion scene. But Lowe specialized in haute couture, one-of-a-kind items that are custom fit for specific individuals. Her garments embodied a fairytale princess aesthetic—ethereal skirts, embroidered lace cutwork, her signature flower appliqués. 
"Lowe's feminine style was very much in keeping with current fashions of the time," says Elizabeth Way, AS08, associate curator of the Museum at FIT and guest curator of the Winterthur exhibit. "But It was the delicacy of her work and the uniqueness of her embellishments—including those beautifully rendered flowers—that really set it apart." 
On Lowe's client list: the Rockefellers, the DuPonts, even actress Olivia de Havilland. The latter wore a hand-painted gown in 1947 to accept her Academy Award for To Each His Own, though the starlet's designer received no credit on the red carpet. This type of oversight became a recurring theme in Lowe's career, and she never became a household name in the vein of, say, Christian Dior (an admirer of Lowe's). The anonymity is attributable partly to Lowe's lack of advertising (a self-described "snob," she had no interest in appealing to the hoi polloi) and largely to racial prejudice—Black designers are cut from history with the celerity of a seam ripper. 
Nevertheless, Lowe pressed on, motivated by her passion for the work ("I feel so happy when I am making clothes," she once said, "that I could jump up and down with joy.") And also, perhaps, by her own brand of fashion-enabled resistance. She may not have been welcome in the grandiose spaces frequented by her white clientele but, when they wore her designs, she, too, was present.
"I think an important part of protest is merely survival," Way says. "And Lowe didn't just survive. She thrived." 
America's royal wedding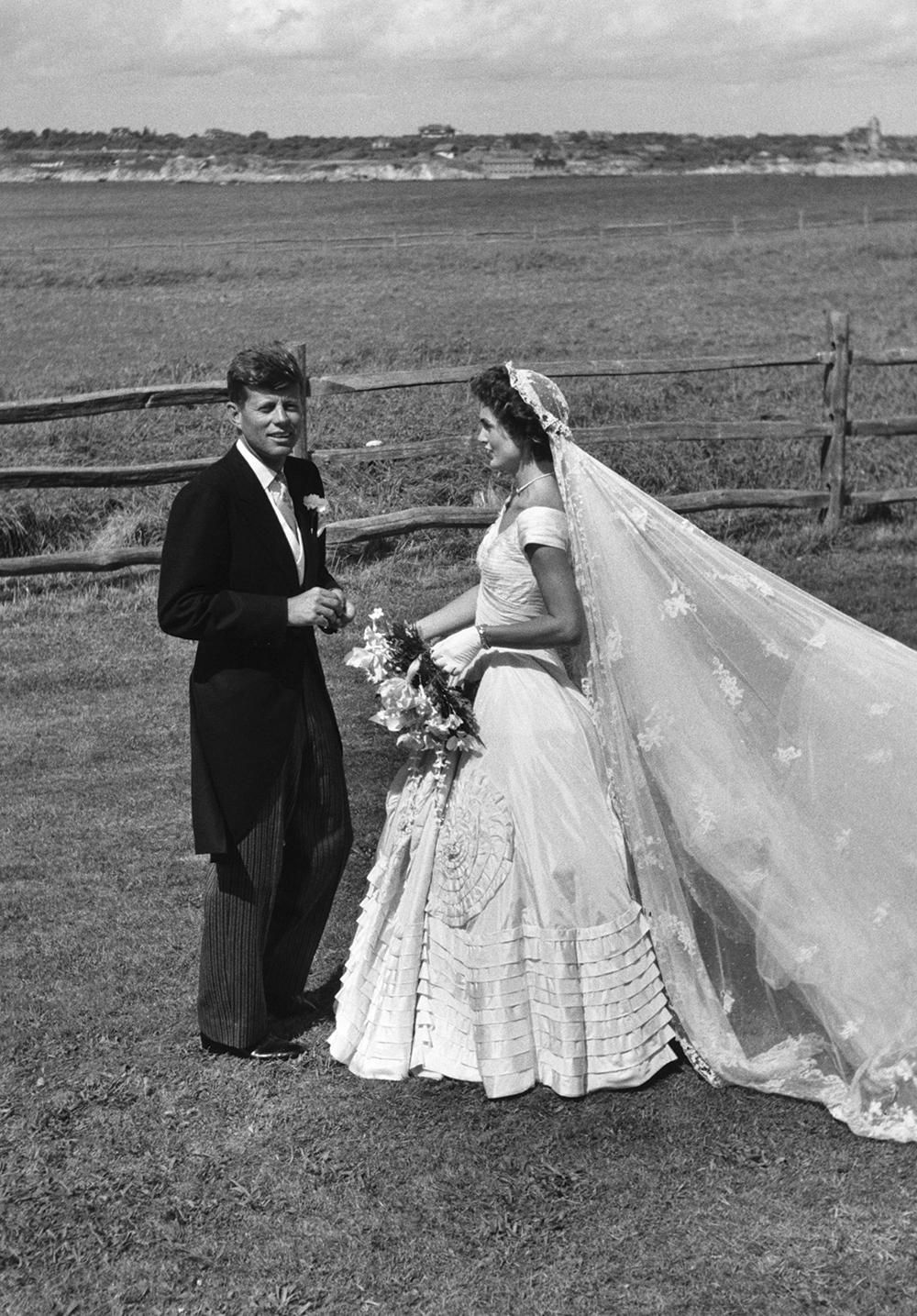 When news that the country's most eligible Senator would settle down with a former debutante of the year, America waited with baited breath for the golden couple's Newport affair. With political considerations factoring in, the groom's father nixed Jaqueline Bouvier's hope for a svelte, French-inspired dress, insisting instead on a more traditional bridal gown custom made by a domestic designer.
For four months, Ann Lowe labored over the dress (and those of Bouvier's 10 bridesmaids). The portrait neckline, the bouffant skirt, the pleated bodice—this was set to become the most photographed bridal gown in history. 
And then, disaster struck. 
Ten days before the wedding, a pipe burst in Lowe's atelier, destroying each garment. Lowe made no mention of the tragedy to the Kennedys; instead, she purchased new fabric, assembled a team of seamstresses and worked around the clock to recreate her designs in time—at a loss of $2,200 (or $27,000, in today's money). When she showed up to the event with her ensembles, Lowe was told to use the servants' entrance, to which she replied: "If you want the dresses, this is the door I am coming in."
Although the bride herself lamented feeling "like a lampshade," the gown sent shockwaves through the fashion world—similar to those created, according to Way, by Kate Middleton's wedding look in 2011 or Jennifer Lopez's green Versace dress in 2000, which inspired the invention of Google Image Search. Yet, once again, Lowe received no credit for her work.
One journalist reported asking the new Mrs. Kennedy for the name of her designer and hearing back only: "a colored woman dressmaker." The First Lady later denied this, but it no longer mattered. In breathless reminiscences about the dress—discussions that resurfaced with every major personal and political event of Jackie O's career—Ann Lowe's name had been lost. 
Katya Roelse, the Blue Hen instructor tasked with remaking the iconic wedding gown and helping bring this name into public consciousness, did not initially have a peace about taking on the work. She's not a historian, after all, and she'd never been a particular devotee of First Lady fashion. Was she the right person for the job? But when she visited last January the John F. Kennedy Presidential Library and Museum in Boston, where the original garment is kept, her anxiety turned to wonder.
"The dress was humming with mythology," she says. "This became an irresistible project." 
Roelse had only three days, from 9a.m.-5p.m., to take measurements and photos of the gown and glean as much as possible about its construction (How much fabric did it require? At what stage was that zipper attached? Could Jaqueline Kennedy's arms possibly have been that petite?). Upon returning to campus, she set to work sourcing all of the necessary parts—six types of silk, hooks and eyes, snaps, boning and more. To stay as faithful to the original dress as possible, this three-month process required 30 vendors, some of them based as far away as Japan, and a complicated spreadsheet where Roelse tracked her ordering. "It felt like sleuthing," she says.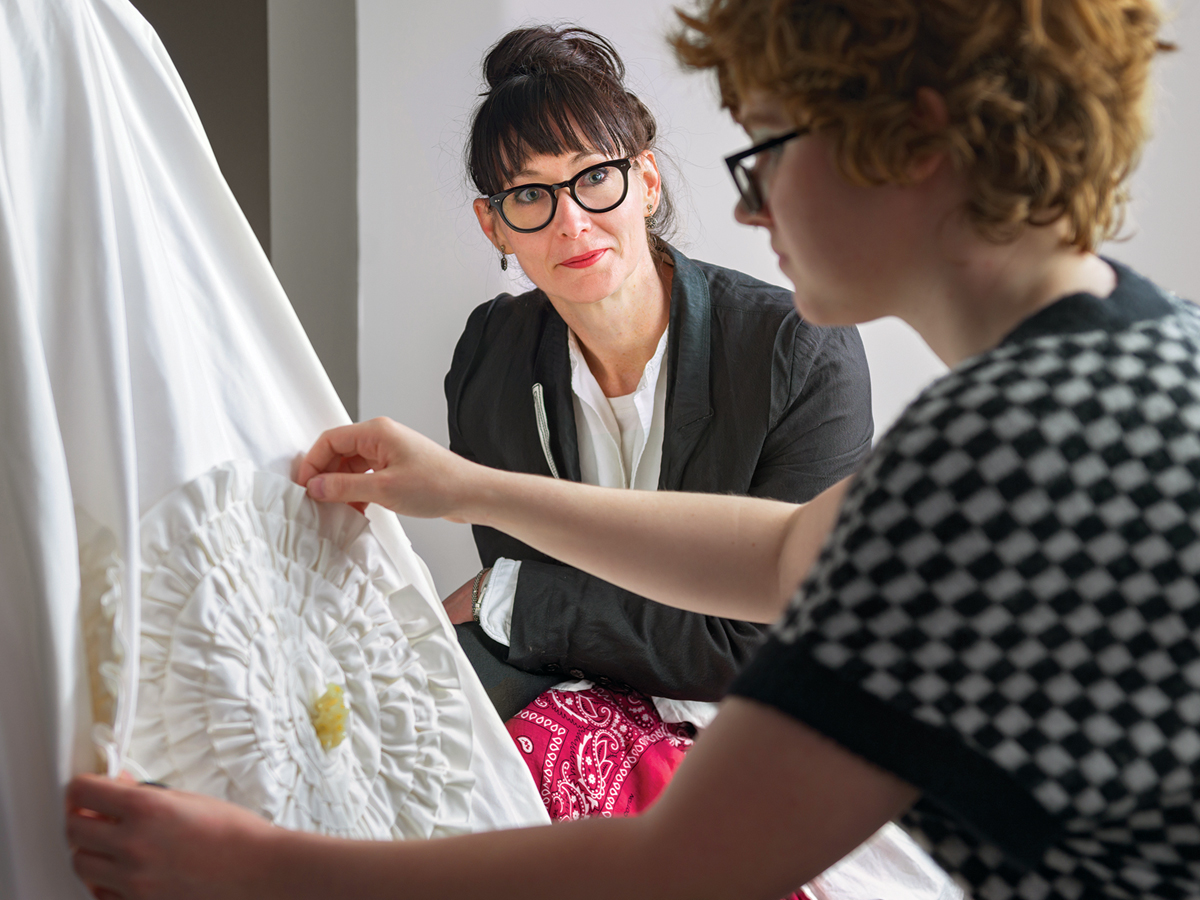 From April through July, over the course of 250 hours, the professor toiled over her recreation, hand-sewing 70% of it.  Most of the work happened at her Newark home studio, but she did enlist the help of three undergraduate students on campus to assist with particularly tedious parts of the job—sculpting and applying the seven rosettes that swirl around the dress as well as the 10 strips of silk taffeta fabric that encircle the skirt. The latter piece took so long, the team made it through all eight Harry Potter films while laboring. 
"I come from the fashion industry, where it's like: How can we make this as fast and efficient as possible?" Roelse says. "But I quickly learned there is no 'fast' when making an Ann Lowe garment. You put in the work, and it gets done when it gets done."
The designer admits to experiencing moments of oh-God-what-have-I-gotten-myself-into? Times when fabric swags showed up in her dreams, or when she felt panic at the thought of her cat making his way into the studio and jumping on the gown. Roelse's most persistent anxiety? That she's not doing enough justice to the story of Lowe, "the heartbeat" of the project (It's not lost on her that she's done more interviews about this dress than Lowe ever did). It's a fear that's driven the Blue Hen instructor to do arguably illogical things.
Take the supply chain issues that forced Roelse to get resourceful. For one layer of the dress's petticoat, she couldn't find the exact right shade of tan, so she conducted an experiment on fabric samples dyed with tea. This was an unnecessary step—no one will even see this part of the dress once it's displayed. But this project is meant to be an homage to Ann Lowe, and Ann Lowe never skimped on details.
"It just felt like the right thing to do." 
A legacy by design
On the one hand, Lowe's story has a tragic ending. Because she did not have a mind for business—and because she acquiesced whenever wealthy clients balked at a fair price—she struggled to keep her business afloat. In the early 60s, her financial troubles escalated to the point of bankruptcy when her son, who'd done her bookkeeping, died in a car accident. Shortly after, the designer developed glaucoma and cataracts that cost her vision. From then on, she could only dictate her designs to assistants.
On the other hand, Ann Lowe's story isn't over. 
She's been excluded from fashion textbooks, never before honored in a large-scale exhibition of her own, but with each up-and-coming designer who discovers her passion for the craft, Lowe's legacy inspires.
Among this new generation of artists is Alex Culley, AS25. The sophomore fashion major says the "massive thumb muscle" he developed and "countless needle pricks" he experienced working on the gown are worth the sense of compassion for Lowe he discovered while feeling the pain of walking (and sewing) in her footsteps. That compassion is more than a warm-and-fuzzy sentiment—it's an important tool Culley will carry post college, when the Blue Hen hopes to design clothes made specifically for trans bodies.
"Without compassion, you can create something beautiful,"  he says. "But it won't necessarily be loved." 
Making way for this type of inclusivity in the present is essential for telling a more holistic story about the fashion industry's past—a past that includes Black, Asian, and LatinX contributors who never got their due. It's a truth on which Kayla Brown, AS24, has spent much time reflecting recently. As a Black designer, the UD senior says she felt hurt learning about all the ways her industry did Ann Lowe wrong. But, in recreating one legendary wedding gown, Brown also found renewed commitment to her own role in the world of fashion design.
"Ann Lowe didn't give up, and neither will I," she says. "I want to create a pathway for myself, so that I can one day be honored and recognized for my work—the way she should have been."
Until Brown figures out where, exactly, that pathway leads? She and her fellow Blue Hen designers want the world to know one thing:
Her name was Ann Lowe.