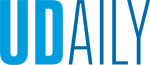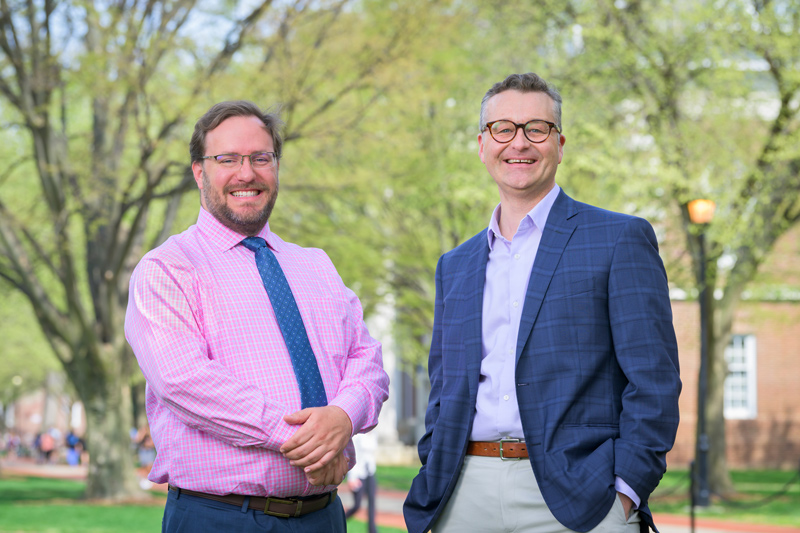 Ready to roll
Article by Beth Miller Photo by Evan Krape April 18, 2023
New leaders of UD's Office of Sustainability gearing up to tackle urgent agenda
No ribbon-cutting ceremony has been held yet, but the University of Delaware's new Office of Sustainability is open for business on the third floor of Hullihen Hall.
And judging from the "to-do" list its new directors are developing, it's not a moment too soon.
The new office, established in 2022 by President Dennis Assanis at the recommendation of UD's Sustainability Council, is charged with advancing sustainable approaches in every aspect of life at UD. The office will define goals and measure progress, report challenges and successes, and will ensure that sustainability is both a priority and consistent focus throughout UD's domain.
Anchoring the work are two new leaders announced by Assanis earlier this month — Jeffrey Summerhays, who was appointed director of sustainable operations, and Chris Williams, professor of wildlife ecology, who was appointed associate provost and academic director of the new office.
"Our two new co-leaders of this important initiative will bring not only deep knowledge and extensive experience in sustainability, but also great enthusiasm for making UD a leader in this field," Assanis said. "Advancing sustainability through our academic programs, research enterprise and campus operations are key strategic priorities for UD, and I look forward to working with Jeffrey and Chris to achieve these critical goals."
Sustainability is defined as work that meets the needs of the present without compromising the ability of future generations to meet their own needs.
Between them, Summerhays and Williams have the expertise necessary to tackle a comprehensive "to-do" list, with projects that range from developing new academic programs to fixing drafty windows, ensuring proper and optimal handling of recyclables, and tracking the University's progress in all areas measured by the Association for the Advancement of Sustainability in Higher Education (AASHE).
The AASHE ranks institutions on a five-point scale ranging from platinum — the top tier — to gold, silver, bronze and the lowest level "reporter." UD is unranked now, but its previous rank (now expired) was bronze. The University received just 70 points of a possible 215 in that round of ranking. The new directors are preparing to apply for a new ranking soon.
That previous bronze rank might have surprised many who recognize UD's leadership in research related to the environment, climate, agriculture, sustainable energy and other endeavors to address threats to the future of Planet Earth and all of its inhabitants.
But while UD has launched environmentally thoughtful programs and sustainable initiatives in the past, the AASHE ranking indicates there is much room for improvement and a need to move from aspiration to achievement.
To address that gap, the University established a Sustainability Council in April 2020, including students, faculty, staff and alumni — representatives of each of UD's colleges. Former Provost Robin Morgan included sufficient funding for the council to hire a graduate student to help develop its plan.
That student, Thomas Benson, went on to win top national recognition from the AASHE, which presented him with its 2022 Student Sustainability Leadership Award for his work on the UD council's plan.
"From a student perspective, the establishment of the Office of Sustainability is an institutional breakthrough that will undoubtedly serve to enhance and create innovative educational programs that support student success," said Benson, who successfully defended his doctoral dissertation April 11.
"The office recognizes the social, economic and environmental value of interdisciplinary education, operations, holistic wellness and quality of life. In practice, this means the office will work across operations, academics, student life, research and community engagement — a reflection of the true intersectional nature of sustainability."
Provost Laura Carlson and Executive Vice President and Chief Operating Officer John Long oversaw the search and found leaders with strong complementary skills and the know-how to help UD practice what its scholars and researchers have been preaching.
"Through scholarship, research and innovative ideas, UD's students and faculty have advanced our understanding of the changing climate and the perils our planet faces from pollution, poverty, injustice and disease," Carlson said. "They have developed promising new approaches to renewable energy, sustainable agriculture and ways to conserve our environment, to name just a few. They have invented new materials, methods and products that promote a sustainable future.
"The Office of Sustainability will bring together this expertise, the comprehensive roadmap of recommendations produced recently by UD's Sustainability Council and the strong partnership of the Blue Hen community to have a true impact. Chris and Jeffrey are the ideal inaugural leaders for the office and they will have a transformational impact."
Experience and expertise
Summerhays brings demonstrated success and administrative savvy to the operations front. He joins UD's leadership team from the University of California, where he spent the past two years as co-chair of UC's Zero Waste Working Group in the Office of the President, facilitating efforts on 10 campuses to share, adopt and engage in the best sustainability practices. He also served as sustainability manager for UC San Diego, where he oversaw a $2.4 million budget, developed a carbon reduction strategy and significantly improved recycling practices.
Summerhays understands industrial practices related to waste and recyclables. He understands the challenges of human nature, too, and the ways carelessness can sabotage even the best plans.
He understands why some are discouraged about recycling programs and confused about changing policies and he gets why some are skeptical and dismissive when they hear about sustainability programs that they suspect are mere window dressing or "greenwashing."
"The opportunity is what attracted me to this, honestly," he said. "You can tell when schools are 'greenwashing.' That's not UD. They're clearly interested in doing this and putting the effort into it. It's about opportunity."
Williams, who joined UD's faculty in 2004 and holds joint appointments with the Department of Entomology and Wildlife Ecology and the Joseph R. Biden, Jr. School of Public Policy and Administration, has been at the fore of sustainability efforts at UD. He co-chaired the Sustainability Council and has a long track record of building shared governance relationships, serving two terms as Faculty Senate president.
He is well-versed in the dynamics of global ecology and the many interrelated forces that can destroy or strengthen ecosystems.
He has been a strong advocate for improved policy and practices at UD, describing the need for urgency with the fervor of one who has seen the evidence of climate change and the rapidly increasing dangers on the horizon.
"The house is burning," he said. "And we are running out of time. But with dedicated engagement across the UD community and the Mid-Atlantic, we can rise to meet this grand challenge of our time."
Core objectives
The new office will be the headquarters for UD's strategic sustainability plans and those plans will be adopted and refined in the months to come. But UD's Sustainability Office and Council have identified nine areas essential to focused sustainability work, including:
Education

Energy

Finances

Food

Justice, Equity, Diversity and Inclusion (JEDI)

Landscaping

Transportation

Waste

Water
Performance in these areas also are reflected in AASHE's rankings, which are based on self-reported information from 344 higher education institutions around the nation. The rankings are an attempt to bring accountability to institutions that intend to make meaningful change.
UD ranked in the lower 25th percentile, which places the University at "financial, social and moral disadvantage," the Sustainability Council wrote in its final report.
Improved sustainability practices will save money, preserve valuable resources and be more attractive to prospective students and faculty who expect environmental responsibility to be of high value, the council wrote.
UD's ranking will definitely change, Summerhays and Williams said, as the University adopts new approaches and acts on them.
"Anything you measure will improve," Summerhays said.
"And when you're bronze-rated, you have nowhere to go but up," Williams said.
But it is important to acknowledge how things really are, they said, and move forward with transparency and honesty.
"It's important to say, 'Here's where we are and here's where we need to go,'" Summerhays said.
"UD can be a leader in this area," Williams said, "and we acknowledge that the UD community is disappointed by the lag. But we are committed to ensuring we meet this aspirational goal."
Williams was talking recently to the sustainability director of a platinum-rated institution about the challenges ahead.
Williams said the director told him not to worry and then explained why: "Yes, we're 10, 15, 20 years ahead of you. But we had a lot of failures during that time. Now you can use what we've learned and rocket forward. What's most important is that you've got an administration that is so committed to advancing UD's sustainability mission."
Moving forward
Williams and Summerhays are eager to get it all going. As with any move-in process, it will take awhile to unpack the boxes, set things up and get situated.
"But now we can start to dig in and prioritize and document our wins," Williams said.
The Office of Sustainability is working now to develop a long-term strategic plan to meet the goals and priorities of UD's commitment to enhance sustainability. While that work is underway, Williams and Summerhays are focused on four short-term goals:
Collecting internal data and benchmarks which will be included in UD's next application for AASHE ranking

Facilitating courses and advancing curriculum and student engagement

Evaluating and assisting with improved sustainability in existing operations and facilities

Exploring future sustainability initiatives that are recommended by the UD community
The office plans to include internal and external advisory teams, Williams said.
"Students and faculty have so much passion for this and we want their voices to be heard," he said. "We also want to ensure that our office provides a safe space for the UD community to speak up and share ideas and opinions. We welcome ideas and are committed to exploring how to convert those ideas into action."
Williams pointed to a Princeton Review survey that showed 75% of prospective students would consider environmental commitment as an important factor as they considered which school to attend.
"Communication will be an important part of the effort," Summerhays said. "The new office must shine a light on the University's successes in ways that may have not been done in the past."
Williams agreed.
"There's a lot this school does that is never reported or celebrated," he said. "People want to know about that and we're excited to put our successes in the spotlight."
They also want to know that real change — not lip service — is happening. Summerhays said UD's commitment to sustainability is authentic.
"This office is proof of that change," he said. "Me deciding to move here is proof of that change. Other places have done it. We're not going to be the pioneers, but we are standing on the shoulders of giants."
Joining the ranks of those giants will require strong partnerships and sustained effort. Benson said UD is up to the challenge.
"As an already-excellent institution, the University can draw on the existing strengths of its faculty, students, staff and alumni to promote a flourishing campus," Benson said, "as well as draw on new talents and skills as they emerge to support a thriving and regenerative environment."