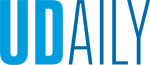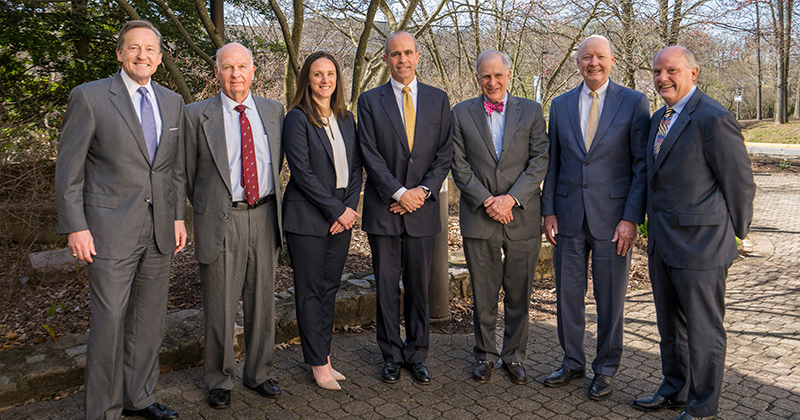 View from the bench
Article by Andrew Sharp Photo by Kathy F. Atkinson April 20, 2023
Panel of current and former Delaware Supreme Court justices fields questions at Weinberg Center event
It might be difficult to cram any more corporate law expertise onto one stage: At the University of Delaware's Clayton Hall on Tuesday, April 4, three of the four living people who have served as chief justice of the Delaware Supreme Court answered questions about the legal world and their time on the bench.
While the Supreme Court handles cases of all kinds, corporate law is Delaware's specialty and featured prominently in the day's discussion, hosted by UD's Weinberg Center for Corporate Governance as part of its annual Distinguished Speaker event.
The center's mission is to bring together those with an interest in corporate law, including business leaders, judges, academics, lawyers and more, to make a positive impact in the field.
This year, instead of a single speaker, the center brought in sitting Chief Justice Collins J. Seitz Jr., along with former chiefs Myron T. Steele and Leo E. Strine. Together, they represented nearly 20 years at the helm of the Delaware court system.
That, noted former Delaware Chancery Court Chancellor Andre Bouchard, represents a substantial portion of the history of the modern state Supreme Court since it began in 1951.
"It would be impossible to overstate the Supreme Court's influence on corporate law," Bouchard, chair of the Weinberg Center's advisory board, said in his introduction.
(Bouchard's former venue, the Chancery Court, is the one primarily concerned with business cases in Delaware, but the Supreme Court has the final say and therefore plays a crucial role.)
Of the three justices on stage, two are UD alumni, and one, Steele, is a former chair of the Weinberg Center's advisory board. (Seitz graduated in 1980 and Strine in 1985.) They opened with reflections on the University's influence on their lives.
"It was a place where I could grow and get my footing and find mentorship," Strine said.
In turn, they contributed their knowledge to the University and the members of the legal community gathered to hear their thoughts during the day's event.
The justices emphasized Delaware's place at the pinnacle of corporate law, with some highlighting the importance of a careful judicial approach that keeps Delaware's prominence by not overstepping or dictating business decisions.
Steele spoke of the goal to "keep Delaware on track and make us still, and forever, the place (companies) wanted to charter."
One of the duties of all chief justices, he said, is to "keep an eye on where we are nationally … to make sure we are three or four steps ahead, not three steps back."
Integrity is key to maintaining that position, according to Strine. He urged judicial restraint. "It's when we overreach, and we compromise our integrity, that we maximize the chances of federal intervention to the detriment of our community."
Potentially undermining Delaware's justice system, Strine warned, is inequality. "I don't believe we can be strong as a corporate law state if we're not strong as a state — and the level of inequality in our state is not acceptable," he said. "And it has grown at a time that we have become more prosperous as a bar." He added, "I think we're really missing the big picture."
Seitz, the lone judge still serving on the bench, was cautious in his remarks. He did reinforce his predecessors' statements about continuing Delaware's prominence in corporate law. He framed the judiciary's relationship with the federal government as positive, but, "As Myron says, you always have to be on guard."
He also spoke frankly about what he sees as a declining desire for people to give up their law careers for public service.
"It pains me when we have to work so hard to find people (who) want to join the judiciary," Seitz said, adding, "I worry that people are very comfortable in their law firms right now, but aren't willing to step forward when there is a need like happened in the past."
He also warned about a potential vast change in the legal world with the coming of artificial intelligence. "Technology is outpacing everything that we're talking about today. And the AI is writing legal briefs, AI is being used in discovery, AI is going to be used in decision-making," Seitz said, "and if we don't continue to operate at the speed of business, as the expression goes, we are going to get left behind." He suggested an office of innovation to help the court system keep up with tech trends.
A second panel followed the justices with an update on trends in Delaware law, featuring analysis from Corinne Amato of Prickett, Jones and Elliott, P.A.; Rolin Bissell of Young Conaway; Gary Bornstein of Cravath, Swaine and Moore, LLP; and the moderator, Blake Rohrbacher of Richards, Layton and Finger, P.A. They unpacked the nuances of cases like one involving an inappropriate workplace culture at the upper level of McDonald's and the ripple effects that had on concepts of personal liability and oversight responsibility for company officers. Other topics included the plethora of cases arising from disputes over special purpose acquisition companies and how they make their decisions.
Bornstein said he fielded a lot of inquiries after the McDonald's case from people worried about how this would impact their liability.
"People pay attention to what gets said in Chancery Court," Bornstein said. The outcome in this particular litigation "had a real impact in the world, in terms of people thinking about what their responsibilities were."
Justin Klein, director of the Weinberg Center, said with the concentration of companies headquartered in Delaware, Tuesday's event drew interest from across the United States and overseas. The video of the program will be posted on the center's website for those not able to attend in person.
"This is an impressive group of people," he said of the chief justices, "and the Delaware Law Update comes with an impressive group of real practitioners." While the speakers are usually prominent corporate leaders, Klein said, this event was similar to last year's in having a judicial bent and multiple speakers. The 2022 event featured current and past chancellors of Delaware's Chancery Court.
This year's panel offered insight into how the Supreme Court works and its culture, Klein said.
William Lafferty, a UD alumnus and partner in a Wilmington law firm, moderated the judges' discussion along with Amato. Lafferty, who serves on the Weinberg Center's advisory board, said lawyers want to hear what judges are thinking. It gives them insights on how to approach an issue before the court or argue a case.
"To have three chief justices, the last three of this court, to have a dialogue in front of an audience, it's a real treat," he said.
It's also a chance for attorneys to communicate what's on their minds to judges through the questions they ask, he added.
Merritt Cole, an attorney with Earp Cohn P.C. in Philadelphia who attended the event, said, "The discussions of Delaware law developments and recent case law were particularly informative and succinct."
"I thought it was a great program," said Kimberly Evans, a partner at Block and Leviton. It's informative to see what the justices think of trends in the law, helpful in weighing what work to focus on, she said.
Of the lawyers' panel, she said, "It's always great to see the people that we work with on a daily basis … getting up there and talking about what's really important and what's going on, and their views about what might be going on in the future."