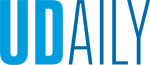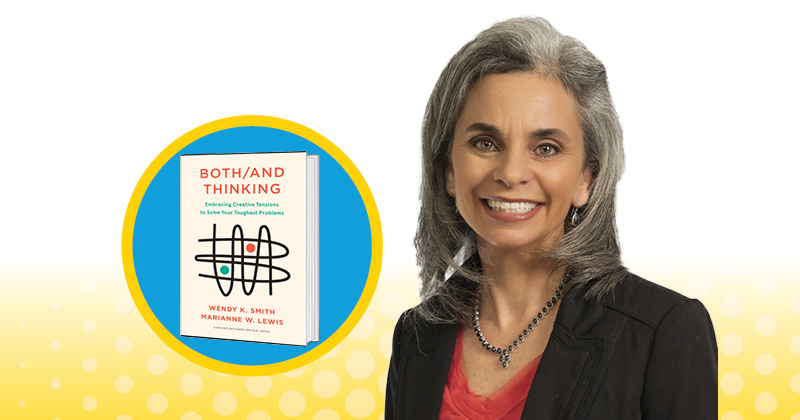 Both/And thinking
Article by Jen Hendrickson Photo illustration by Julie Morin September 08, 2022
UD Professor Wendy Smith embraces tensions to find lasting solutions
For the University of Delaware's Wendy Smith, who is the Dana J. Johnson Professor of Management at the Alfred Lerner College of Business and Economics, making a tough business decision doesn't always have to be either/or, the lesser of two evils, or even a compromise. There's another option, it can be "Both/And."
Smith and her co author, Marianne Lewis, dean and professor of management in the University of Cincinnati's Carl H. Lindner College of Business, explain how businesses have been able to apply this thinking in their recently released book, Both/And Thinking: Embracing Creative Tensions to Solve Your Toughest Problems.
In Both/And Thinking, Smith and Lewis call on 20-plus years of research to reveal that embracing competing demands simultaneously enables more creative and lasting solutions. Both/And Thinking contains practical advice and fascinating stories — including first-hand anecdotes from global companies such as IBM, LEGO and Unilever, as well as from startups and nonprofits. In 2021, Smith and Lewis received the Academy of Management Review's (AMR) Decade Award for their co-authored paper, "Toward a Theory of Paradox: A Dynamic Equilibrium Model of Organizing" published in 2011.
Both/And Thinking has received attention from national media outlets such as Newsweek, MarketWatch and Fast Company. It has been named to The Next Big Idea Club's list of "most promising, must-read nonfiction titles" released in August 2022. Adam Grant, a New York Times bestselling author and host of the TED podcast "WorkLife," put Both/And Thinking on his list of "The 10 New Books to Enrich Your Thinking."
Smith, who is also co-director of the Women's Leadership Initiative at UD's Lerner College, applies the Both/And thinking to her career. In addition to her teaching and research at UD, she has been elected as a fellow of the Academy of Management (AOM), the leading professional organization for management scholars. Smith is also the incoming program chair-elect of AOM's Organization and Management Theory (OMT) division. She shared her inspiration for this research and key takeaways from the book that can be applied to business and to everyday decisions.
UDaily: How did you become interested in both/and thinking and how do you define a paradox?
Smith: My research is in Paradox Theory, Organizational Theory, leadership, senior teams, social enterprises and innovation. I was a leader in a youth group in high school. I saw the impact that leaders had on getting things done and helping bring out the best in others. I wanted to understand what it took to do that and how to study these kinds of ideas.
Understanding the value of both/and thinking begins by understanding paradoxes. Paradoxes are the interdependent oppositions that lurk beneath our dilemmas and persist over time. Underlying so many of our personal and societal dilemmas are these yin-yang's — today-tomorrow, self-other, give-take, intrinsic-extrinsic motivation.
Paradoxes are nothing new. Greek philosophers learned from paradoxes over 2,500 years ago.
UDaily: What does a both/and thinking process look like?
Smith: Both/and thinking enables more creative, sustainable solutions. Valuing opposing sides and seeking connections between them opens us to more creative and sustainable options. Consider Einstein's Theory of Relativity. He developed this idea by trying to figure out how an object could be at motion and at rest at the same time. Or consider Paul Polman, CEO of packaged goods company Unilever from 2008-2018. He used both/and thinking to craft the Unilever Sustainable Living Plan, doubling the company's profits while reducing their environmental footprint.
Both/and thinking invites us to approach our dilemmas by embracing, rather than resisting, these paradoxes.
UDaily: Why is it more successful than an either/or thinking?
Smith: Either/or thinking jeopardizes problem solving. In college, I grappled over my career goals. Did I want to be an academic where I could study compelling issues and teach important ideas? Or did I want to be an organizational leader or consultant where I could have a more direct impact on people's lives? One day I felt so confused by this dilemma that I rode my bike for an hour up the side of a small mountain. Then I sat at the summit, hoping for some divine intervention. None came.
We all face dilemmas that feel like we're caught in a tug-of-war — whether in our parenting or our partnering, our politics or our leadership. These tensions lure us into either/or thinking. We want to make a clear decision — a tradeoff — to reduce ambiguity and uncertainty. To be fair, making tradeoffs can be useful. The problem is that over time, either/or thinking is limiting at best and detrimental at worst. This kind of thinking can lead us into vicious cycles: 1) we focus on one side of the dilemma and lose sight of the other, 2) we over-correct or 3) our groups, teams and organizations become polarized.
UDaily: How can the process of both/and thinking be applied?
Smith: If we want to apply both/and thinking, the first step is to change the question. We usually frame dilemmas as tradeoffs. On the top of that mountain while in college, I asked an either/or question. Should I study and teach ideas as an academic or use those ideas to have impact as a leader and consultant? Rather than wait for divine intervention, I could have just flipped a coin. In time, I came to ask a different question: How can I study and teach ideas to have a positive impact on people's lives? A whole new world of possible answers starts to emerge.
Imagine if we changed the questions that we ask around political issues. Today, even everyday conversations sound like candidates arguing their case. What if we changed the question? What if we stopped arguing over who is right and who is wrong? What if instead, we assumed that people with different political views have valid and values-based perspectives, just as we do. What if instead of telling them about our perspective, we ask them to share their experiences and understandings, and see what we can learn from them?
UDaily: How can this thinking be sustained after a decision is made?
Smith: After changing our questions, we need to start building a set of tools that can sustain patterns of both/and thinking over time. These tools include practices like separating and connecting — pulling apart opposing views or competing demands to understand each, then looking for the synergies between them. Another valued tool is guardrails — building structures in our lives that prevent us from going too far in either direction. Tools also include practices to find comfort in our discomfort with paradoxes, and to build habits that allow for learning and more dynamic responses. Together these tools can enable two patterns of both/and thinking.
When people think "both/and," they're typically looking for ideal win/wins. Consider tensions between work and life, self and others. We might open a daycare so that our work includes caring for our own children; or we charter a fishing boat so that our life passion becomes our work.
Navigating our work/life tensions often involves constant shifting. We shift our time and attention — some nights we stay late at the office, while other nights we make it home for family dinner. If we move too far to overemphasize work, we might burnout. If we overemphasize life, we might find that we're out of a job. Alternatively, consider the product design teams that I studied. The teams that were able to navigate between demands for the present and for the future did so by making lots of ongoing decisions about how to allocate resources, structure their teams, and others.
UDaily: In a way it sounds like you have to make an "either/or decision" to apply "both/and thinking," is that true?
Smith: Either/or involves making clear decisions. We are making clear decisions — but these microdecisions are in service of embracing competing demands over time. We want to embrace both self and other, give and take, work and life — so we adopt patterns of decisions that sometimes focus on one and at other times shift to the other. Every once in a while, we find a creative integration in this process — the moment where work and life, self and others come together. For example, one of our colleagues learned to use travel as a chance for integration. She found that she could sometimes bring her family with her when going to a work conference. Her family could learn a bit more about what she did, while also spending time together, enjoying a new city.
We need to change our mindsets to embrace both/and thinking and shift our emotions to find comfort with the discomfort of paradoxes. Head and hearts, cognition and emotions, rationality and intuition — they sometimes pull us in opposite directions, but can also reinforce one another. Likewise, we need clear static boundaries, such as guardrails, to scaffold our decisions. We also need to experiment and make changes over time. Stability and change, boundaries and dynamism, structure and experimentation. These tools are also oppositional. Yet we also know that more stable boundaries can unleash more creative experimentation, while more change can lead to new and clearer boundaries.