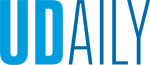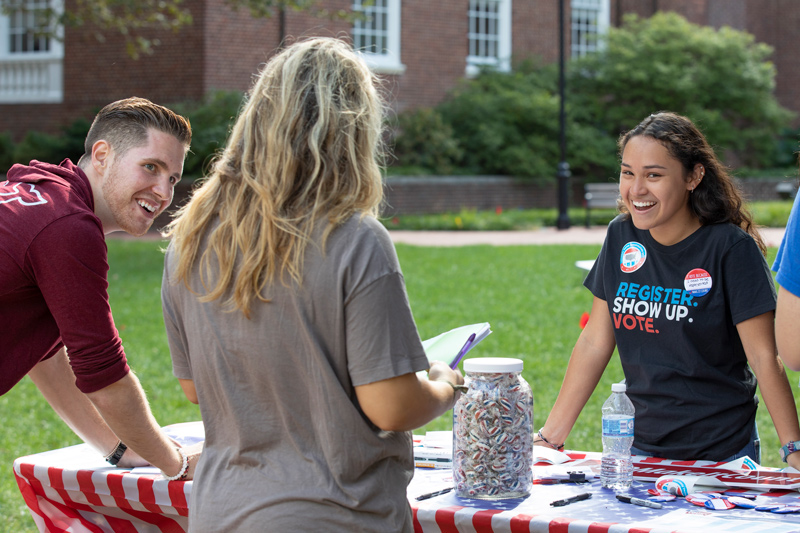 National Voter Registration Day on Tuesday
Article by Amy Wolf Photos by Kathy F. Atkinson and courtesy of Anya Sen September 19, 2022
UD students compete to register voters as part of nonpartisan national civic holiday on Sept. 20
In 2020, 87.8% of University of Delaware students were registered to vote, according to a report by the National Study of Learning, Voting and Engagement (NSOLVE), but Anya Sen, president of the nonpartisan registered student organization Make It Count, hopes to increase that already high figure even more this year heading into the 2022 midterm elections.
"Our main goal is to serve our age demographic — 18- to 25-year-olds — which are actually the lowest voting demographic in the country," Sen said. "I see that as a lot of missing potential, and people my age and our generation — we have a lot of passionate views about where we want the future of this country to go, and I think that we have to back that up by voting."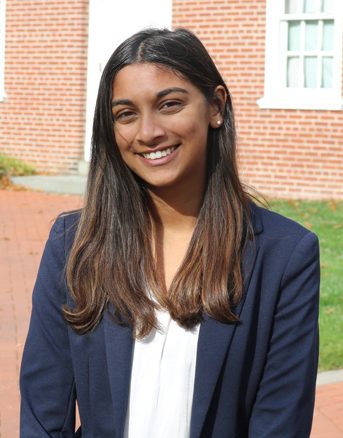 UD student groups and organizations began competing on Sept. 13 to register new voters through TurboVote, a web application that helps eligible U.S. citizens register to vote, request an absentee ballot, and sign up for Election Day text and/or email reminders. The competition, the theme of which is "Devote to Vote" and is organized by Make It Count, is part of the weeklong celebration leading up to National Voter Registration Day on Tuesday, Sept. 20. Between Sept. 13 and 20, students have the opportunity to share their own team links with their fellow students, friends and family to sign up people for TurboVote. The competition will culminate with an in-person event from 11 a.m. to 3 p.m., Sept. 20, on The Green, where the groups can encourage more students to register.
"We have a bunch of different groups to reach out to as many different perspectives and communities on campus as we can," Sen said. "The event on The Green will help [create] that sense of community and hit home why it's so important to be civically engaged."
Cathy McLaughlin, executive director of the Joseph R. Biden, Jr. School of Public Policy and Administration's Biden Institute, which is helping to coordinate the event, said it's important for college-aged students to vote and that their votes can make an impact.
"It's the first step for students to become active members and citizens," she said. "I think more and more people are seeing how close elections are. Students used to think, 'My vote doesn't matter.' And now they've seen that there are sometimes hundreds of votes separating elections, that it's a really important thing, and it makes a difference in their lives."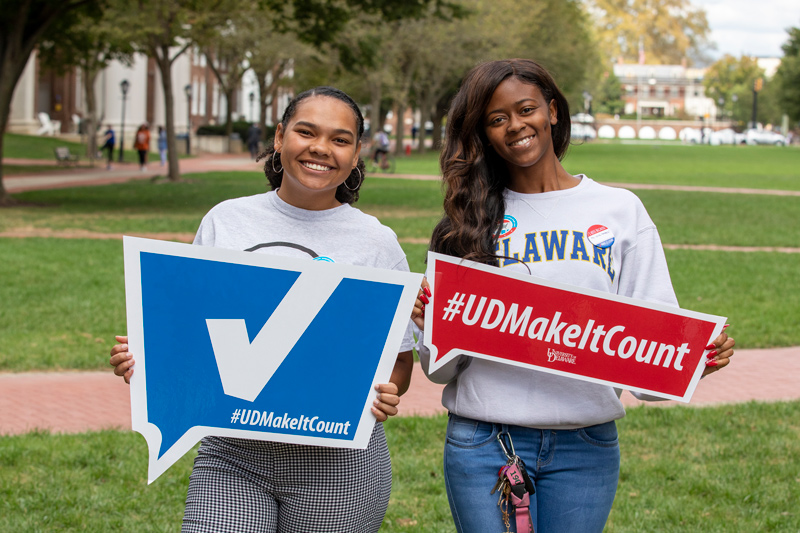 Make It Count, founded at UD in 2017, made voter registration and increased voter turnout in all elections — including midterms — key goals of the organization. The organization provides important voter resources to students and is working to continue supporting the mission in digital formats. Since 2017, it has facilitated more than 8,000 UD students registering to vote through TurboVote.
"I think it's really important [for college-aged students to vote] because we're the ones who have the longest future ahead of us, and I think we have the most at stake for the kinds of policy decisions that are being made right now, especially with issues regarding climate and the economy," Sen said. "Voting is us using our voice and making our views heard and listened to so that lawmakers construct the kind of future government that we want to live in."
Sen and McLaughlin emphasized that the voter registration efforts are nonpartisan.
"We don't care who you vote for," Sen said. "We just want to make sure that you're exercising your civic duty to vote."