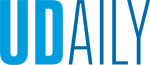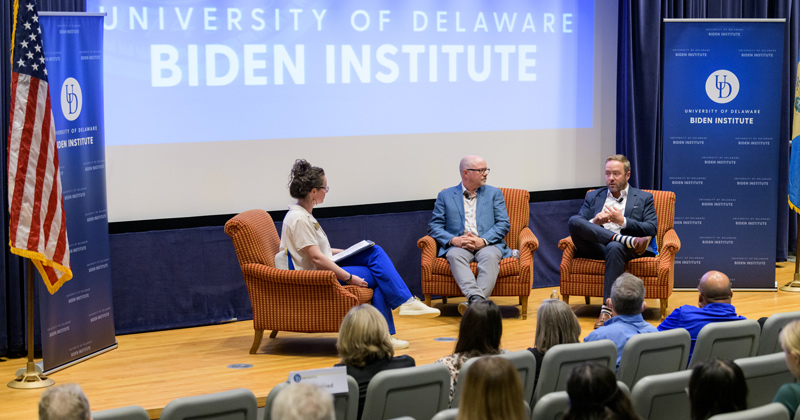 Discussing mental health
Article by Amy Wolf Photo by Evan Krape September 23, 2022
Documentary filmmakers bring awareness to mental illness at Biden Institute panel discussion
The mission of the Joseph R. Biden, Jr. School of Public Policy and Administration's Biden Institute at the University of Delaware is to convene scholars, policy makers, journalists, business and nonprofit leaders, government officials and activists to address the most pressing domestic policy problems facing America today. But before policies can be addressed, the issues first need to be identified.
One of the biggest issues facing college students today is mental health, and on Thursday, Sept. 15, the Biden Institute hosted Christopher and Erik Ewers, co-directors of the documentary film Ken Burns Presents Hiding in Plain Sight: Youth Mental Illness, for a discussion at Trabant University Center.
"We have to think about the policies that can make this world better," said Cathy McLaughlin, executive director of the Biden Institute. "We have to identify the challenges before we can change the policy. That's why we're here today. We're here to have these conversations and talk about the policy issues our students care about. If you don't talk about it, you can't fix it."
Each semester, Biden Institute programming focuses on various policy areas, aiming to engage and inspire the next generation of leaders to shape public conversation and affect policy at the local, state and federal levels.
Following a 15-minute clip from the film, Helen Ann Lawless, director of strategic wellbeing and training at UD, moderated the discussion.
"We know that at this point in the academic year, especially incoming students might start to feel lonely or stressed," she said. "This definitely gives them an opportunity to feel seen and also get connected and learn more about our commitments as a community to support this work."
Hiding in Plain Sight features first-person accounts from more than 20 young people, ranging in age from 11 to 27, who live with mental health conditions, as well as parents, teachers, friends, healthcare providers and mental health experts. The film presents a window into daily life with mental health challenges and confronts the issues of stigma, discrimination and awareness.
"The whole idea of this film is to give young people a voice when they haven't been given one in this conversation, yet they're the ones who are most likely to manifest symptoms early on in their lives," Erik Ewers said.
Christopher Ewers said he thinks that mental illness is a lot more common than many people realize.
"The statistics are that one in four Americans suffer from a mental illness, and that's just outrageous — it's misleading," Christopher Ewers said. "It's four in four, just in the same way that not a single one of us has never experienced a physical illness. And until we have that equity of thought — and then of course equity of policy and treatment — we're going to continue to repeat the same process."
Erik Ewers said that a main goal of the film is to bring awareness of mental health issues that young people face, as well as to reduce the stigma associated with mental illness.
"We tend to cross the street if we see someone babbling incoherently, as opposed to someone who broke their leg, you'd run right over to help," he said. "And why is that? We're not educated. We have people in the film who do have hallucinations and delusions, and you see that they're a real human being as well."
Ellie Lichty, a first-year political science major, attended the event because she said she struggles with her mental health and hopes to bring more awareness to the issue.
"I think discussing mental health in youth is really, really important. I struggle with it, and I have a lot of people around me who struggle with it," she said. "I thought the questions were very relevant to today's society. I also liked how [Erik and Chris] put the film together with relevancy to right now instead of what mental health was like 50 years ago. And it of course doesn't hurt to be reminded of ways to help other people."
The need for mental health care is greater than ever, Lawless said, and UD has made great strides to help students and staff prioritize mental health. She reminded students of the mental health services offered at the Wellbeing Center at Warner Hall and that most services are available both in-person and virtually. Students can also reach mental health support 24 hours a day on the UD Helpline or the Crisis Text Line.
While mental health services are essential, Christopher Ewers said it's important not to discount the impact that empathy can have.
"The more that we can relate one to one with empathy and respect, that will bleed over into everything, certainly, but in terms of mental health, absolutely," he said.
Resources
For any student in need of support or assistance, the Division of Student Life provides a variety of resources.
Students can connect with the Center for Counseling and Student Development at 302-831-2141. The UD Helpline is available at 302-831-1001 at any time, night or day, for students feeling anxious, overwhelmed, depressed or otherwise in need of counseling.
In addition, staff members in the Office of the Dean of Students are available to assist any student who wishes to talk. Call 302-831-8939 to schedule an appointment.
Mental health support for UD benefited employees is provided from ComPsych® GuidanceResources®. The link gives steps on how to access services or call 1-877-527-4742 for support.