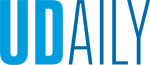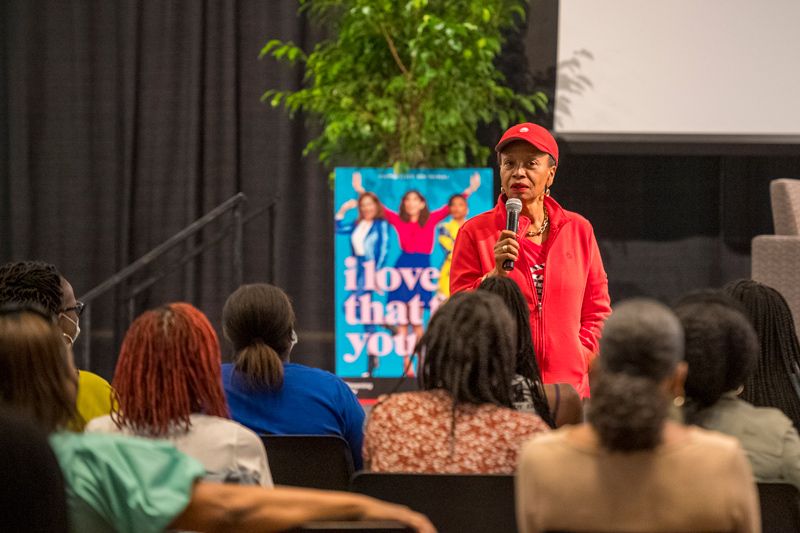 Cultivating Black joy
Article by Amy Wolf Photo by Kathy F. Atkinson September 23, 2022
Actress and author Jenifer Lewis shares inspiring message at UD
Jenifer Lewis certainly deserves an introduction, but that doesn't mean she needs one — or is willing to wait for one.
Kasandra Moye, director of the Center for Black Culture at the University of Delaware, was almost finished introducing the actress and author, who is best known for starring on Black-ish, before Lewis kicked open the door and walked across the stage at Trabant University Center.
"Girl, just let me come out here," Lewis said, to which the audience replied with cheers.
Moye had been trying to get Lewis to come to UD for more than two years, so when the opportunity came up just two weeks before the event on Friday, Sept. 16, she knew she couldn't say no. Lewis was going to be in Wilmington as part of a tour for her recently published book Walking in My Joy: In These Streets, so if she was going to speak to students and staff at UD, it had to be that day. Moye said yes without hesitation.
"What I think Jenifer Lewis offers to us all is an example of what living authentically in all environments looks like, an example of liberation," Moye said. "She offers us an example of how joy can help you rise above many situations. Today I hope you begin the process of living more freely — and I'm talking about everybody — and using your voice to enact necessary changes for Black people and communities."
Lewis gave an honest and humorous retelling of her life of growing up in poverty, her romances, chasing her acting dreams in New York City and Hollywood, and advocating for mental health and survivors of sexual assault.
"How did I get to walking in my joy? Where did I get the audacity to name my book Walking in my Joy? Because I do," Lewis said. The book, which was published in August, details her life during the pandemic and her activism work and includes short stories about her friends and travels. "I never thought I'd walk around quoting the Constitution, but you have a right to pursue happiness."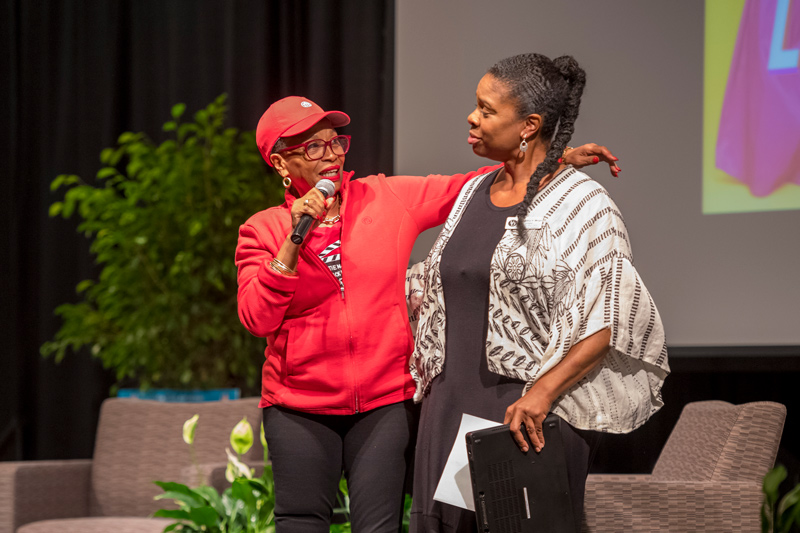 In her four-decade-long career, Lewis has starred on Broadway, in nearly 70 movies and on hundreds of TV episodes and has become a fixture in Hollywood and Black culture, but she said it was seeking help for her bipolar disorder that was vital to her success.
"You know I didn't need that star to tell me I'm a star," she said, referring to the star on the Hollywood Walk of Fame that she received in July 2022. "On that day when I accepted it, I didn't say, 'I earned this.' I didn't have to. Everybody knew I earned it. But what I did tell them was it wasn't the work I did on camera and on stage. It's what I did off stage and off camera."
The event at Trabant wasn't what Afiya John, a UD graduate student studying Africana studies, expected, "but in a good way." Lewis didn't sit down for more than a few seconds throughout the 90-minute presentation and spent most of her time on the floor level instead of on the stage. She engaged the audience by talking directly to them, even calling out anyone who dared to leave early, arrive late or glance down at their phone.
"I thought it was great. It was very uplifting," said John, who watched all of Lewis' movies and shows growing up and referred to her as an icon in the Black community. "The biggest takeaway I think was just to definitely lean more into taking care of myself and prioritizing my own joy."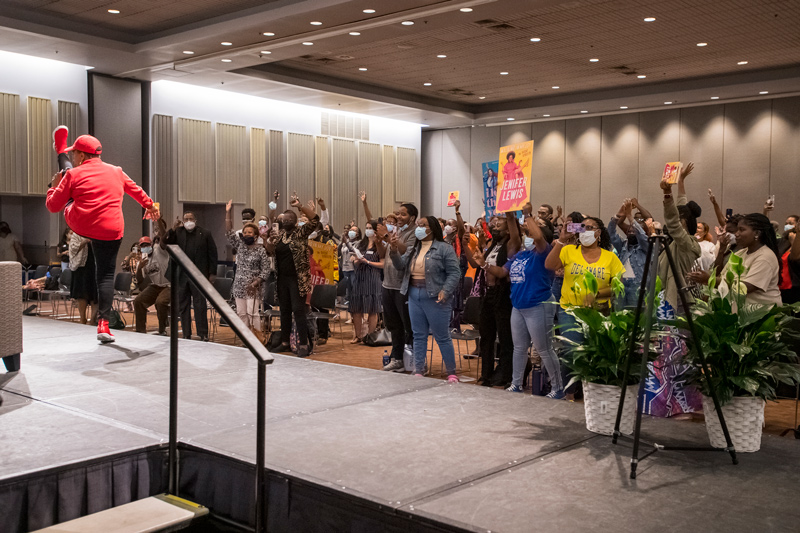 Jeanine DeSouza, a senior sports health major, said she loves watching Lewis on Black-ish and couldn't wait to hear her speak.
"No matter what she says, she draws you in," DeSouza said. "She's really entertaining, and I love her energy."
Chidi Nwogbaga, a graduate student studying public policy, agreed that the presentation was very engaging.
"She lives out her happiness every day and reminds us to do it. That really spoke to me," he said. "Even after all she's been through, she reminds herself to be happy."
Lewis ended the presentation with a song, her signature leg kick and an inspiring call to action: "Go look in the mirror and say you love yourself," she said. "It ain't easy, but do it anyway."
Supporting the event
The event was co-sponsored by these UD organizations: African Heritage Caucus; Black Student Union; Cultural Programming Advisory Board; Library, Museums and Press; Office of Institutional Equity; and Wellbeing Center at Warner Hall.