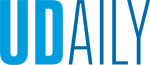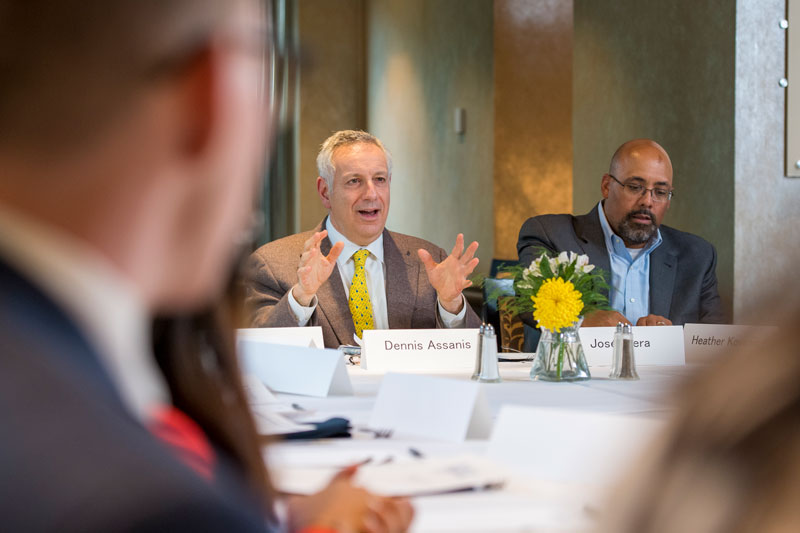 Strengthening connections between UD students and leaders
Article by Mike Chalmers Photos by Kathy F. Atkinson October 03, 2022
President's Student Advisory Council created to explore important topics
An initiative to build and strengthen connections between University of Delaware students and President Dennis Assanis got underway last month with the first meeting of the newly formed President's Student Advisory Council.
The 16 members of the council will meet with Assanis regularly throughout the academic year to offer their insights and feedback on important student issues.
"Collaborating directly with a diverse group of UD students about the topics that matter most to them is extremely important to me so we can ensure that the University continues to provide a great experience for everyone, both inside and outside the classroom," Assanis said. "I'm grateful for the thoughtful input that council members have already provided at our first meeting in September, and I look forward to many more productive conversations this year."
The council is composed of 12 undergraduate students and four graduate students who reflect the broad range of backgrounds, perspectives and aspirations of the UD student body. The presidents of the Student Government Association, Tori Glover, and the Graduate Student Government, Bill Repetto, were automatically appointed to the council. Through an application and interview process, the other members were chosen from among 60 students who had been nominated by various leaders at UD.
"The goals and interests of our students are constantly evolving, so President Assanis and I are always eager to connect with them and work together on ways to meet their needs," said Vice President for Student Life José-Luis Riera. "This council provides one more way to do so and will help us make better decisions for everyone at UD."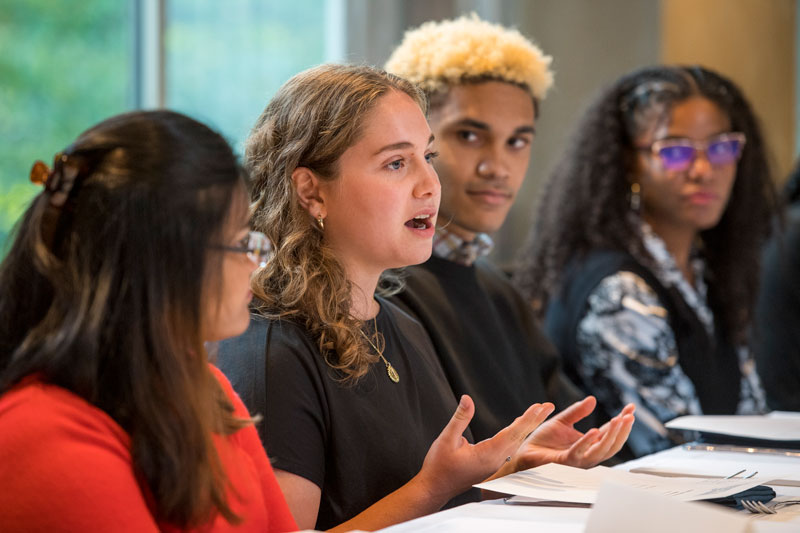 The first meeting, on Tuesday, Sept. 27, focused on orienting students to the new council and discussing topics that students would like to address in future meetings. These topics include mental health and wellbeing, environmental sustainability, diversity and inclusion, the Associate in Arts Program and ways to foster greater Blue Hen pride among current and prospective students.
Assanis said these are many of his top priorities, as well.
"The whole University can benefit from our work in these areas, and I believe we can make real progress on these issues this year through dialogue and collaboration," he said.
In the spring, a nomination and application process will open to identify members of the 2023-24 council. 
The members of the 2022-23 President's Student Advisory Council are:
Undergraduate students
Aniya Brown — Newark, Delaware; College of Agriculture and Natural Resources and Honors College
Caldonia Carmello — Reading, Pennsylvania; College of Earth, Ocean and Environment and Honors College
Camron Chappel — Dover, Delaware; College of Agriculture and Natural Resources and Biden School and Honors College
Alex Dewey — Felton, Delaware; College of Arts and Sciences and Biden School
Tori Glover — Middletown, Delaware; College of Health Sciences and Honors College; president of Student Government Association
Kayla Hayes — Morton, Pennsylvania; College of Education and Human Development
Jacob Herz — Stamford, Connecticut; College of Arts and Sciences
Olivia Kelly-Quigley — Morristown, New Jersey; Lerner College of Business and Economics
Daniel Lin — Dover, Delaware; College of Arts and Sciences
Megan Smith — Delmar, Delaware; College of Arts and Sciences
Brenden Swanik — Moorestown, New Jersey; College of Engineering and Honors College
Samsara Wlue — New Castle, Delaware; College of Arts and Sciences
Graduate students
Vidhika Damani — Navi Mumbai, India; College of Engineering
Chelsia Douglas — Jackson, Alabama; Biden School
Patricia Hurley — Howell, New Jersey; College of Engineering
Bill Repetto — Chadds Ford, Pennsylvania; College of Arts and Sciences; president of Graduate Student Government