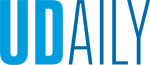 UD Professor Jon Cox led a group of Delaware K-12 teachers on a trip to the Amazon rainforest: youtube.com/watch?v=7RP6SoOH-nY
Bringing the Amazon home
Article by Amy Wolf Photos courtesy of Jon Cox and Ben Hemmings | Video courtesy of Ben Hemmings and Dylan Francis October 14, 2022
Delaware Teachers Institute trip to Peruvian Amazon inspires lessons in Delaware schools
Sleeping in was always an option, but most of the 11 teachers on a recent trip to Peru woke up each day at 5 a.m. to watch the sunrise on a canopy walkway, with nothing but the vastness of the Amazon in their sightlines.
After a 7:30 a.m. breakfast, the teachers — who were exploring the Amazon as part of seminar through the University of Delaware's Delaware Teachers Institute (DTI) — would then head into a remote village where they met with members of a local Maijuna Indigenous community and learned about everything from making clay pots, to building canoes, to weaving hammocks from palm fronds to using medicinal plants.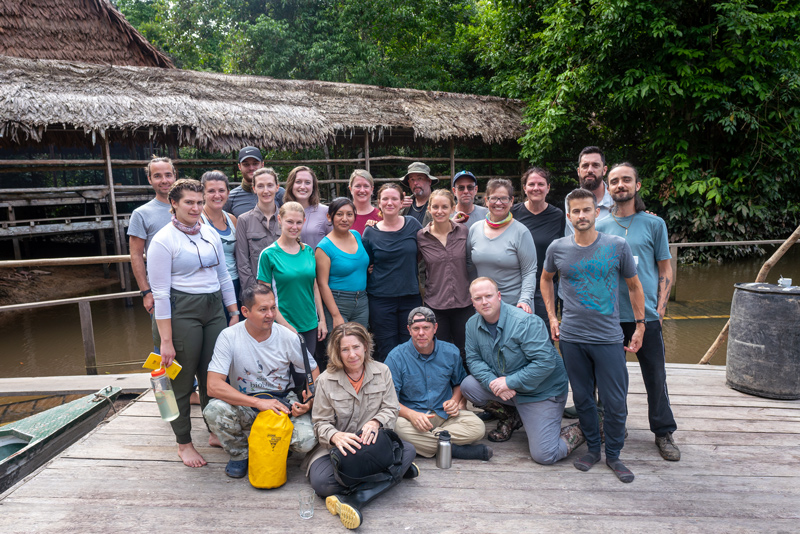 After dinner, the teachers would enjoy a lecture by a scientist or expert who accompanied them on the trip, or they would go on a night walk where they would see all sorts of snakes, frogs, insects and birds.
Most described it as the trip of a lifetime and an experience they'll never forget.
"Just watching the teachers was my favorite part of the trip. I've experienced this many times, so now I get a lot of my joy from watching other people experience this for the first time," said Jon Cox, associate professor of art and design, who led the DTI Bringing the Amazon Rainforest Home seminar and organized the trip. "Having the teachers experience that — it's really a phenomenal experience. Just seeing the curiosity that they have and being able to be part of that firsthand was incredible. These are experiences they're never going to forget. I think these memories will always stick with them, and they'll be able to pass that down to their students."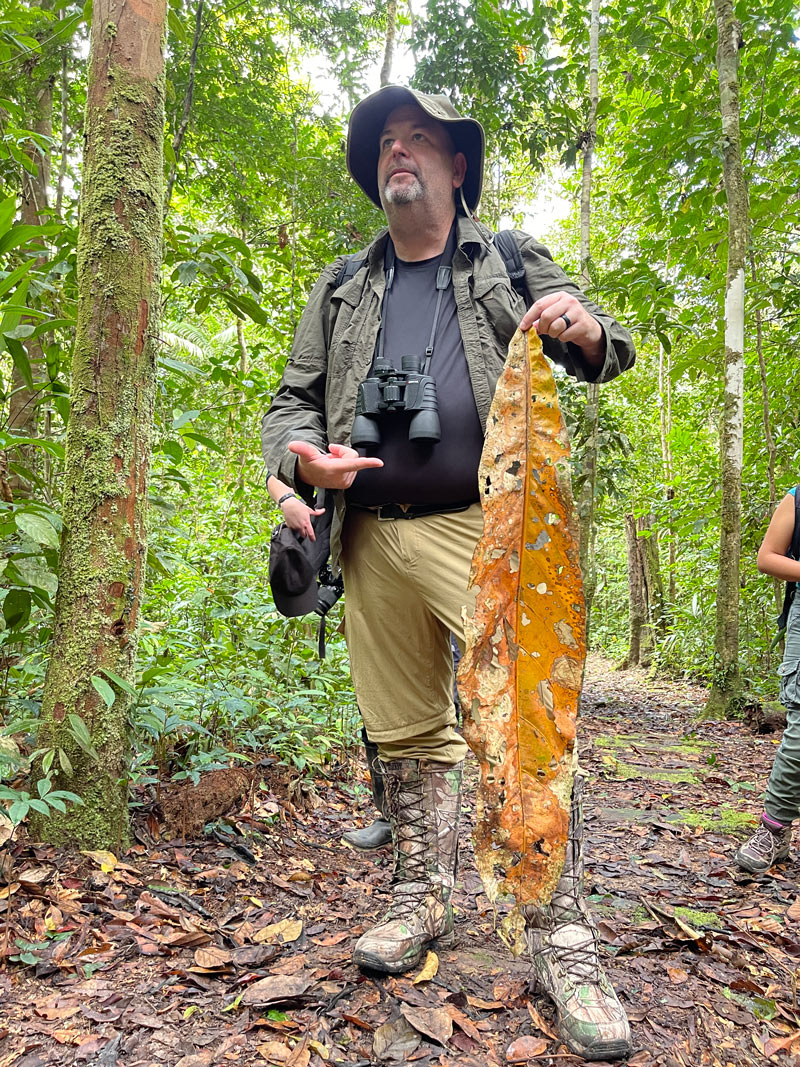 The trip, which was funded by a grant from the Longwood Foundation, was part of a two-year DTI seminar on the Amazon rainforest. Seminar participants worked closely with the Amazon Center for Environmental Education and Research (ACEER), an experiential learning organization in southeastern Peru, to develop curricula that not only meets the robust standards of the United States education system, but also fosters mutual understanding between cultures and allows teachers to engage directly with ACEER's network of experts working in the Amazon rainforest. The goal was for teachers to take the lessons the Amazon offers for how to live sustainably and bring it home to their schools and communities in Delaware. The grant from the Longwood Foundation also made it possible for teachers from Kent and Sussex Counties to participate in the program (DTI is typically a partnership between UD and five New Castle County school districts).
"We took DTI to a new level with this experience," said DTI Director Trish Hermance, who also went on the trip. "When teachers understand their content in such a meaningful, personal way, they're able to bring it back to the classroom and differentiate it in more ways than they ever could if they were just using a piece of curriculum purchased for them that they didn't have experience creating. They're ready for any questions children may ask. They're ready to lead inquiry experiences. We need to be ready for those things — to be ready for children's curiosity and their innate sense of wonder about the world. This experience allows teachers to feel better prepared for that."
Throughout the course of the seminar, teachers heard from experts on topics such as biodiversity, research, teaching techniques and more. Using that information learned, teachers each wrote a curriculum unit that will be used in their own classrooms and shared with other teachers in both their home schools and across the country through both print and online publication.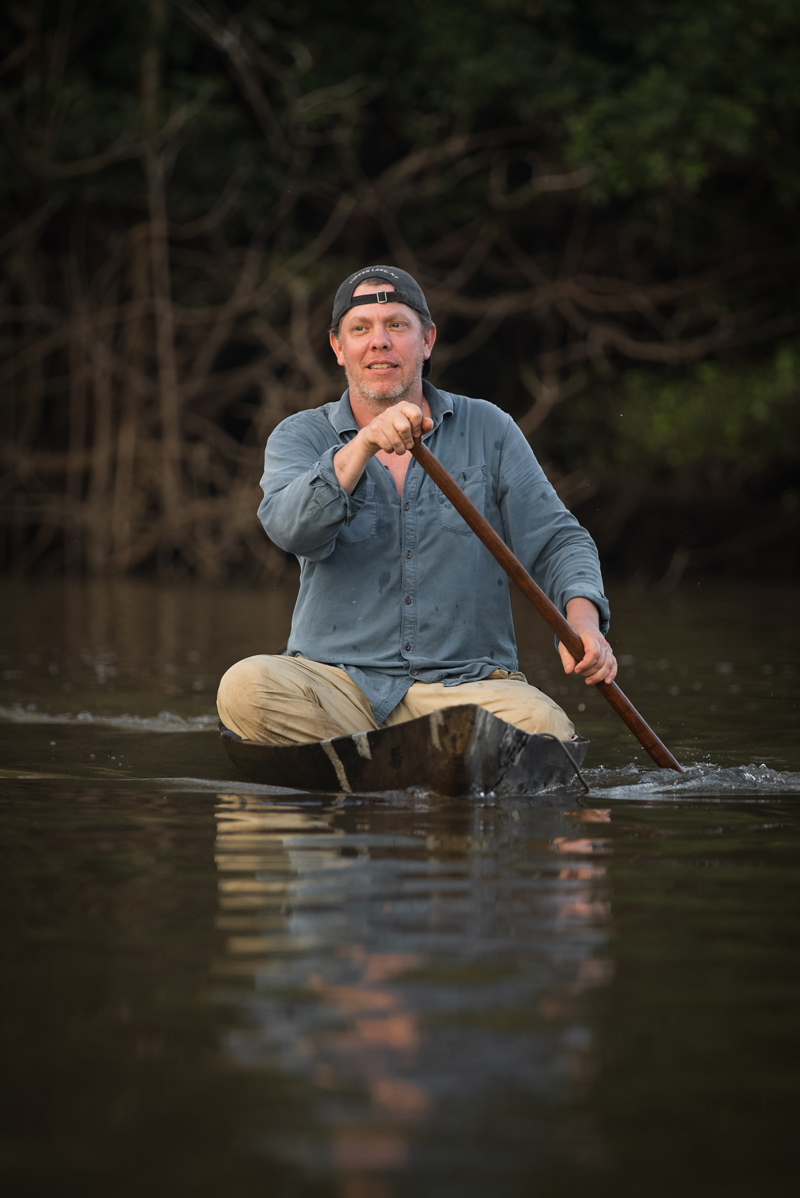 To make counting and other basic math skills more interesting, Joe Parrett, a kindergarten teacher at Kathleen Wilbur Elementary School in Bear, wrote a math unit that involves the giant Coccoloba Gigantifolia leaf found in the Amazon. The lesson begins with presenting a life-sized (as large as 8 feet long by 4 feet wide) replica of the giant leaf and having students measure it using nonstandard tools like shoes, hands and notebooks, as well as with a ruler.
"Any time you can make something more real for them and hands on, they're very into it," Parrett said. Though the unit he chose to create through DTI was a math lesson, he incorporates conservation lessons into his classroom as well. "Ultimately the biggest takeaway is we have to do a better job protecting our natural resources, and I think the best way to protect those natural resources is not reaching out to the people in power — it's reaching out to the next generation."
The mission of ACEER, of which Cox is the president, is to create the next generation of conversation leaders. Brian Griffiths, a UD alumnus, Fulbright Fellow and assistant professor at Georgetown University, and the director of research for ACEER, helped organize the seminar and program in Peru. Griffiths first traveled to the Peruvian Amazon with Cox in 2014 as a UD undergrad, and in 2017 he began working with the Maijuna while helping to teach a George Mason University field course on conservation and sustainability. He continues to work in Maijuna lands studying mammals and Maijuna hunting practices and managing outreach with a local ecotourism company — work that was inspired by his first trip to Peru.
By bringing the group of Delaware teachers to the Amazon, Cox said he'll be able to inspire potentially thousands of students over the next few decades.
"When you work with teachers, you're not impacting just one person," he said. "That one teacher then goes back and teaches many students each year for the next 10, 15, 20 years, so I think the impact can be great."
Reaching out to the next generation in those large numbers is necessary in order to make the changes needed to reverse climate change, Cox said.
"The challenges that we face today are not individual problems anymore," he said. "Climate change is not [the problem of] an individual state or county or country — or continent, for that matter. These are challenges that we face on a global scale, and helping to create the next generation of conservation leaders is going to help solve these problems. I don't think it works to work in silos anymore. [Climate change] is undeniable at this point, so I think connecting students to the Amazon allows them to connect to what's happening in their own backyard. Making these local changes will help the global issues that we see today."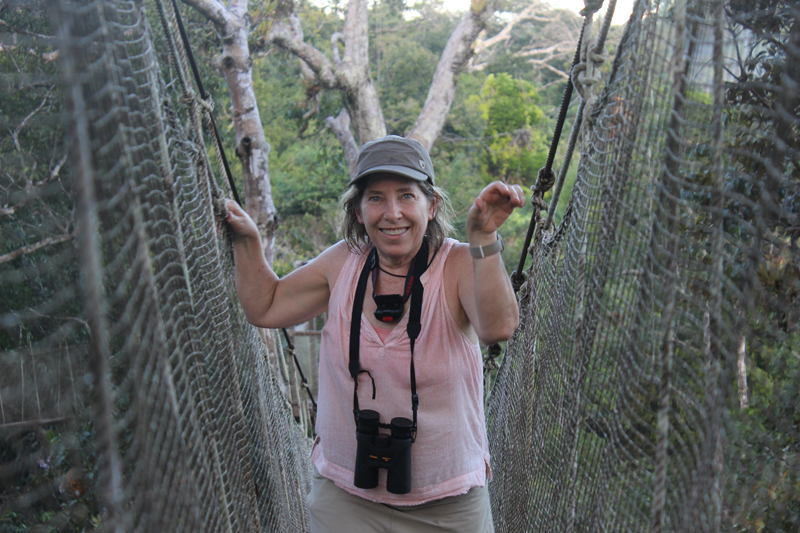 Seminar participants — and all DTI teachers, in general — range in grade level from kindergarten through 12th grade, so Cox made sure there was a lecture topic for everyone and that the information provided was relevant and could be incorporated into all of the teachers' units and classrooms. Because the seminar took place via Zoom, Cox was able to invite experts from all over the world to give lectures.
Michael Doody, a chemistry and environmental science teacher at William Penn High School in New Castle, said he already had an expansive knowledge of different ecosystems and biodiversity but that the trip reignited his passion for environmental education.
"It's not just another subject. It's not just a skill that students are going to use when they go to college," he said. "It's not that algebra isn't important and not that being able to write a five-paragraph essay isn't important. From my perspective as a teacher, this class is not about getting a good grade. It's about understanding the world around you, and how to be a better steward of it. I feel like I've reignited that passion from having gone on this trip."
Merry Ostheimer, a second grade teacher at West Park Place School in Newark, created a unit on why forests matter — both locally and globally — with the hope that her students will recognize that their connection to nature is powerful and that trees are vital to the human world.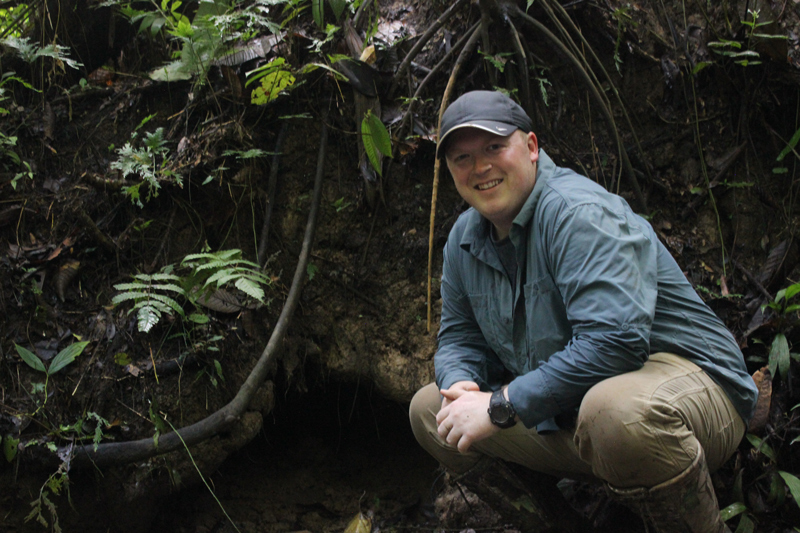 "When we care about something, we're going to protect it," she said. "So for my children, I want them to learn about nature. I want them to learn about our forests, learn about the forests globally — like the Amazon — and see the impact that the Amazon rainforest has on our daily life and take that knowledge back to their homes and start talking about the importance of the Amazon rainforest. It's real and it's beautiful and, left undisturbed, it does its job. Without it, I don't know what our world would look like."
Cox refers to the Amazon as "the lungs of our planet" and says we're at a tipping point in the Amazon, with about 20% of the rainforest already lost due to deforestation.
"If we continue on this track, we either give up or we do something extremely drastic to change the way that we're living," Cox said. "When the Amazon rainforest fails as a large, intact ecosystem, we'll have unbelievable repercussions of that. Keeping the Amazon rainforest conserved and intact, and working with the Indigenous people of the area, is crucial for us to move forward. As a global society, it's one of the resources that we can't just ignore. Yes, it's not in our backyard, but we all rely on the Amazon rainforest — for water, for climate, for temperature change, for carbon sequestration. We need that; we rely on that."
About the Delaware Teachers Institute
The Delaware Teachers Institute in New Castle County (DTI) is an educational partnership between the University of Delaware and five New Castle County school districts: Christina, Colonial, New Castle County Vocational-Technical, Appoquinimink and Red Clay Consolidated. The Institute is designed to strengthen teaching and learning in the community's public schools. DTI is situated in the College of Arts and Sciences at the University of Delaware, and is led by a University faculty group and a committee of teacher leaders. The Institute is coordinated and administered by a director.
DTI offers seminars on subjects that school teachers request in the humanities and sciences, and which best fit contemporary needs among the student population.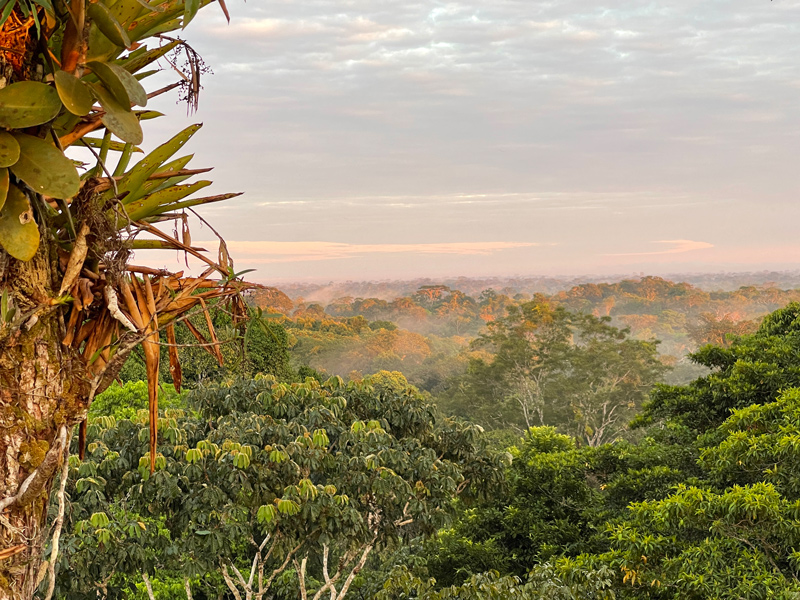 Following a rigorous application process, K-12 teachers are admitted into small seminar groups organized around the content topics. In seminars, University faculty members contribute their knowledge of and expertise in a subject, while teachers apply their knowledge of elementary and secondary pedagogy, their understanding of the students they teach, and their grasp of what really works in the classroom.
Successful completion of a seminar requires that teachers, under the personal guidance of University​ faculty leaders, each write a curriculum unit to be used in their own classrooms and to be shared with other teachers in both their home schools and across the country through both print and electronic publication.
By developing teacher leaders in individual schools serving high-need student populations, DTI strengthens the schools' learning environments. DTI is also part of a national network of local teacher institutes from New Haven, Connecticut; Philadelphia Pennsylvania and Tulsa, Oklahoma.  Pittsburgh, Pennsylvania;  Richmond, Virginia; Chicago, Illinois​; the Dine Nation of Arizona and New Mexico; and several locations in the San Jose area are working to establish local institutes.