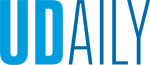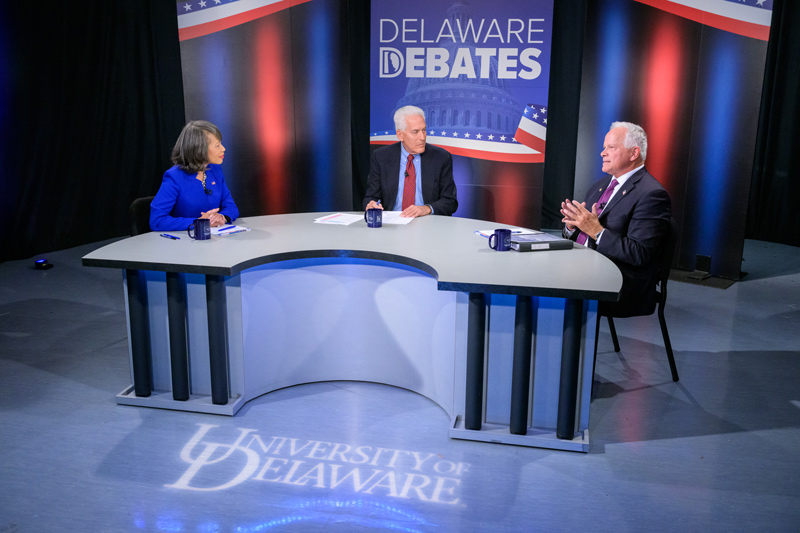 Delaware Debates 2022
Article by Margo McDonough Photo by Evan Krape October 31, 2022
Congressional candidates discuss the issues before Election Day on Nov. 8
Nationally, there have been several heated political debates during this election season. In contrast, the Oct. 20 match-up between Delaware's Democratic incumbent Congresswoman Lisa Blunt Rochester and her Republican opponent Lee Murphy was relatively restrained. There were a few instances when Murphy was admonished for not adhering to an agreed-upon rule not to attack the other candidate, but the overall tone was courteous.
Blunt Rochester is running for her fourth term as Delaware's lone member of the U.S. House. Murphy is on his third try for the House seat. Election Day is Tuesday, Nov. 8.
"One thing that struck me was the civility of the debate," said Phil Jones, associate professor in the University of Delaware's Department of Political Science and International Relations and a research director for UD's Center for Political Communication. "The candidates obviously have different stances on the issues but showed how to disagree in a civil way. Voters often say they want more focus on what the candidates will do, and less on partisan mud-slinging, and I think they got that in this debate."
"Delaware Debates 2022" was live-streamed without an audience from a studio on UD's campus. The event is a joint initiative of UD's Center for Political Communication and Delaware Public Media (WDDE 91.1, WMPH 91.7 and WMHS 88.1). During the 73-minute debate, the candidates answered questions on a range of topics, including the economy, the war in Ukraine, abortion, the Jan. 6 attack on the U.S. Capitol, gun violence, affordable housing and the national debt.
Ralph Begleiter, founding director of the Center for Political Communication and former CNN journalist, moderated the event. Also participating as a panelist was UD senior Meg Roessler, the operations manager of UD's Student Television Network and executive producer of 49 News on that network. ​
The economy loomed large in the debate, with Begleiter's first question to Blunt Rochester about her decision to vote for the Inflation Reduction Act. He asked, "Does the act actually reduce inflation? And what does it do to the national deficit?"
"The Inflation Reduction Act, which we passed, really to me is about Delaware families," Blunt Rochester said. She added that it addresses the issues she hears about "up and down this state, everything from lowering our prescription drug prices for our seniors to making sure that our energy costs are lowered.
"It is meant to touch people's kitchen table issues…making sure we invest in our climate, as well. So that's really the first of its kind, a massive bill that we were able to pass that really will have an impact on families in Delaware."
It is financed, she said, by taxing those businesses and individuals "that are at that top tier percent. Some [of these] businesses have never paid taxes," she said.
Begleiter's next question, directed to Murphy, was about remarks he has made that the Biden administration is not doing enough to fight inflation. Begleiter asked Murphy to "suggest three additional ways that you think a president could act to have a moderating effect on inflation over let's say, the next six to 12 months."
"We have to get the foot off the neck of our small businesses in this state," Murphy said. "We have to let them do what they do best. And that is to create jobs. We have to get rid of unnecessary regulations, lower taxes, make it easier for people to do business in this state. You know, it doesn't take a lot to get inflation under control. The government just has to use a little discipline on how they spend our money. And we can get this problem in a relatively short time under control."
Roessler asked the candidates about the skepticism that she said young people feel compared to earlier generations. Fueling this skepticism, she said, is a planet "ravaged by climate change," the unaffordability of home ownership, and the recent overturning of Roe v. Wade. "So, what should Congress do to reassure young people of the reliability of our national institutions?" she asked.
Murphy replied that Congress needs to reduce spending to reassure young people that there "will be a bright future for not only you, but for your family and your children." He added: "Right now, Congress and this administration are not accountable to the American people. We see spending out of control — spending that will affect future generations."
Blunt Rochester's response focused in part on the Inflation Reduction Act, which includes about $370 billion in clean energy and climate investments over the next 10 years. She noted that this Congressional legislation, which was signed into law Aug. 16, is "the largest investment in climate in the history of this country. The fact that we've been able to deal with issues such as criminal justice reform and environmental justice, I hope that restores your faith."
She also encouraged young people to be engaged and "continue to be part of the solution."
In the aftermath of the Supreme Court's June decision on Dobbs v. Jackson Women's Health Organization, which overturned Roe v. Wade and revoked the constitutional right to abortion, Begleiter asked the candidates if Congress should pass legislation to codify abortion rights into federal law. He went on to ask if Congress should pass laws protecting physicians and those who help women who cross state lines to seek reproductive services. Or, asked Begleiter, "Should Congress stay out of the abortion issue altogether?"
"I believe there is no room in women's wombs for politicians," said Blunt Rochester. "People are trying to roll back the freedoms that we've had and the autonomy that we've had. I'm excited about moving forward and making sure that when we get back in the House and the Senate, that if we have the votes, we can codify Roe so that we can make sure that: 'our bodies our choices,'" she said.
Murphy said that he agrees with the Supreme Court's decision to return this "important decision-making process" back to the States. "I have always been pro-life," he said, while devoting some of his response time to reminding viewers that abortion remains legal in Delaware.
"As people know, here in Delaware, it's a right," he said. "And if people want to change it — one way or the other — they need to get involved. It's up to the people in each state to make this important decision. What's good for Delaware may not be good for another state in the United States."
While there were many questions asked in that TV studio on Oct. 20, one that wasn't addressed is whether the debate will actually move the needle for either candidate.
"There are two major factors limiting the impact of most debates: viewership (if you don't see it, it can't sway you) and partisanship (people tend to believe 'their' candidate won)," said Paul Brewer, professor in UD's Department of Communication and a research director for UD's Center for Political Communication.
But Brewer noted that research has found that media coverage of debates also can shape perceptions. In states like Pennsylvania, with a large TV news presence in cities such as Philadelphia and Pittsburgh, even voters who didn't watch a debate originally may see and be influenced by coverage of the event on local newscasts. Delaware, in contrast, doesn't have large local TV stations.
"It can be a challenge finding news coverage of Delaware politics — there's not much national or local television coverage, so print and online outlets tend to be the only sources," said Brewer.
Watch the debate in its entirety on YouTube.