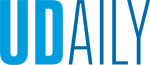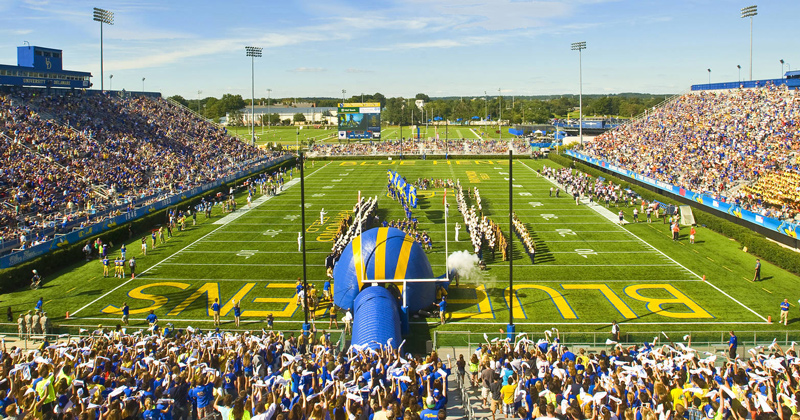 2022 UD Athletics Hall of Fame
Article by Athletics Department Photo by Athletics Department October 10, 2022
Seven people are honored for their contributions to the University and Blue Hen athletics
The University of Delaware Athletics Department announced that seven former Blue Hens have been inducted into the 2022 UD Athletics Hall of Fame class.
The 2022 Hall of Fame class includes:
R.R.M. "Ruly" Carpenter (Athletics Donor/Board of Trustees)
Bonnie Jill "B.J." Ferguson (softball head coach/women's tennis coach/compliance director/physical education instructor)
Sidney Haugabrook (football)
Pam Hohler (women's track and field)
Chad Kuhl (baseball)
Lindsay A. Prettyman (women's cross country, and track and field)
Mariano "Nine" Stallion (football, men's track and field)
The Delaware Athletics Hall of Fame, which originated in 1997, was established to salute outstanding student-athletes, coaches, and administrators who have contributed to UD's athletic tradition of excellence. Nearly 200 former Blue Hens have been inducted into the hall of fame.
The group will be introduced at halftime of UD's football game against Monmouth on Saturday, Nov. 5, at Delaware Stadium. Tickets for the game can be purchased by visiting bluehens.com/fbtickets.
2022 Hall of Fame class
R.R.M. "Ruly" Carpenter
(1940-2021)
Athletics Benefactor
Board of Trustees (1990-2014)
A long-time member of the UD Board of Trustees and a generous benefactor, Ruly was a friend and fan of Blue Hen Athletics throughout his lifetime. His life was marked by a steadfast devotion to UD, proudly carrying on a family tradition that extended to his grandfather and father, both of whom also served on the Board. Ruly served as a trustee for 24 years, chaired the Student Life and Athletics Committee and the Athletics Visiting Committee, and led the fundraising campaign to build the Bob Carpenter Center (BCC). Ruly generously supported many campus projects, including the construction of the BCC, the Whitney Athletic Center and the Bob Hannah Baseball Stadium. He also endowed a scholarship fund for baseball and was a long-time season ticket member for Delaware Football. In September 2005, he was recognized for his fundraising efforts with the University's Medal of Distinction. He also served on the UD Athletics Hall of Fame Committee since its inception in 1997. Ruly, who graduated from Yale where he was a member of the football and baseball teams, also founded the Blue-Gold All-Star Football Game along with his father. The Carpenter family owned and operated the Philadelphia Phillies for nearly 40 years and Ruly served as president from 1973-81, including the franchise's first World Series champion team in 1980.
Mariano "Nine" Stalloni
(1925-2008)
Football (1946-49)
Men's Track and Field (1947-50)
A native of Chester, Pennsylvania, Mariano was one of the top two-sport athletes in Blue Hens history, dominating on the football field and on the track in the 1940s. Nicknamed "Nine", he served in the U.S. Army Air Corp. during World War II and enrolled at Delaware upon his return home. He was a four-year standout fullback in football for Hall of Fame head coach Bill Murray and helped the team post an impressive four-year record of 27-8, including a perfect 10-0 mark for the 1946 team that captured the Associated Press Small College national title. He served as co-captain for the 1949 team that went 8-1. He set nine school records, including UD standards for touchdowns scored in a game (four vs. Bradley in 1949), season (14 in 1947), and career (36). He was also a three-year standout in track and field for Hall of Fame head coach Kenneth Steers. He set a school record in the javelin (202-6) and placed second in that event at the 1947 Middle Atlantic Conference and Mason-Dixon Conference championships. A 1950 graduate of Delaware, he later worked for many years with the Ford Motor Co., in New Jersey.
Pam Hohler
Women's Track and Field (1979-83)
One of the all-time great sprinters in Delaware track and field history, Pam set nine school records, competed in the 100-meter dash at the 1981 AIAW national championships, and was selected as the UD Outstanding Senior Female Athlete of the Year in 1983. A native of Newark, Pam earned six letters, was a two-time team captain, and a three-time team most valuable player. She set nine school records, including UD standards in the 300-yard dash (37.3), 440-yard dash (59.40), 600 meters (1:28.15), and 4x200-meter relay (1:49.8) indoors and the 100 meters (12.2), 440 yards (59.0), 4x200-meter relay (1:46.4), 4x200-yard relay (1:53.9), and 880-yard sprint relay (1:47.9) outdoors. She captured the 1983 East Coast Conference outdoor 400-meter dash and 400-meter relay titles and the ECC indoor 440-yard dash title. A 1983 graduate, Pam was the ECC Scholar-Athlete of the Year as a senior and earned second team Academic All-American honors by the College Sports Information Directors of America (CoSIDA) in 1983. She was inducted into the Delaware Track and Field Hall of Fame in 2017.
Sidney Haugabrook
Football (2001-04)
An outstanding cornerback and one of the most exciting return specialists in Delaware football history, Sidney enjoyed an impressive four-year career with the Blue Hens and was a standout player on the 2003 national championship squad. The 2005 UD Outstanding Male Athlete of the Year, Sidney was a consensus first team All-American as a senior in 2004 and was one of only two players in school history to earn all-conference honors all four seasons. A native of Atlanta and a 2005 UD graduate, Sidney started all 51 career games, leading the Hens to a 15-1 record and the NCAA I-AA title in 2003 and to a 9-4 mark and a NCAA quarterfinal berth in 2004. He also led the team to two league titles and captained the 2004 squad. He ranked among the national leaders in punt returns (11.4 avg./2 TDs) and kickoff returns (27.0 avg./1 TD) as a senior, recorded 12 interceptions and 26 pass breakups for his career, and established 13 school records. Sidney signed a free agent contract with the NFL's Tennessee Titans and played several seasons in the Arena Football League and Canadian Football League.
Chad M. Kuhl
Baseball (2011-13)
A three-year standout for the Blue Hen baseball team, Chad has moved on to enjoy one of the finest professional careers ever by a Delaware pitcher. A native of Middletown, Delaware, Chad was an All-Colonial Athletic Association selection as a junior and was drafted by the Pittsburgh Pirates in the ninth round of the 2013 draft. The powerful righthander won 25 games over five major league seasons as a starter for the Pirates and continued his career as a member of the Colorado Rockies rotation in 2022. A three-year starter for the Blue Hens under UD Hall of Fame head coach Jim Sherman, Chad earned second team All-CAA honors in 2013 when he posted an impressive 10-2 record with a 3.75 earned run average in 15 starts while leading the team in innings pitched (105.2) and strikeouts (76). The squad went 33-22 and advanced to the third round of the CAA Tournament. He went 5-5 with a 4.42 ERA as a sophomore in 2012 when he led the Blue Hens to a runner-up finish at the CAA Tournament.
Lindsay A. Prettyman
Women's Cross Country (2010-13)
Women's Track and Field (2010-14)
The consummate student-athlete, Lindsay made her mark at Delaware as a record-setting cross country runner and track and field distance ace as well as an award-winning scholar. She earned 12 letters in three sports as a Blue Hen, was team most valuable player in each, was honored as the 2014 UD Outstanding Female Athlete of the Year, and was selected as the Mary Ann Hitchens Award winner. A native of Newark and a 2014 UD Honors graduate, Lindsay was named the 2014 Colonial Athletic Association Female Scholar-Athlete of the Year and later earned CoSIDA Academic All-American honors. A four-standout in cross country, she captured 21 meet titles and became the first UD runner since 1984 to compete at the NCAA Championships in 2013. She established 10 school records in track and field, setting indoor marks in the 800m, 1,000m, 3,000m, and 4x800m relay, and outdoor standards in the 800m, 1,500m, 5,000m, 4x800m relay, and distance medley relay. She led Delaware to the 2014 CAA outdoor track and field team title when she won two events and earned the Meet Outstanding Performer award.
Bonnie Jill "B.J." Ferguson
Softball Head Coach (1981-2010)
Women's Tennis Head Coach (1980-92)
Compliance Director/Physical Education Instructor
One of the most successful multi-sport head coaches in Delaware history, B.J. not only led two different teams to 100 or more victories, but her 30-year tenure as softball coach is the longest by any coach of a women's sport in UD history. A graduate of Springfield (Mass.) College, B.J. arrived at Delaware in 1981 and posted a career-record of 622-583-8 over 30 seasons with the softball team, leading the squad to East Coast Conference titles in 1983 and 1984, 17 conference tournament appearances, and 20 or more wins 15 times. She was named league Coach of the Year three times, being honored by the ECC in 1986, the America East in 1997, and the CAA in 2003. In addition to her softball duties, she served as head coach of the women's tennis team for 12 seasons ending in 1992. During her tenure, she guided her teams to a dual record of 103-62 and led the squad to back-to-back ECC titles in 1987 and 1988. She stepped down as tennis coach in 1992 when she assumed the administrative responsibility of heading NCAA compliance for the Delaware athletics department and held that position until 1995.