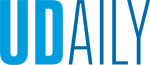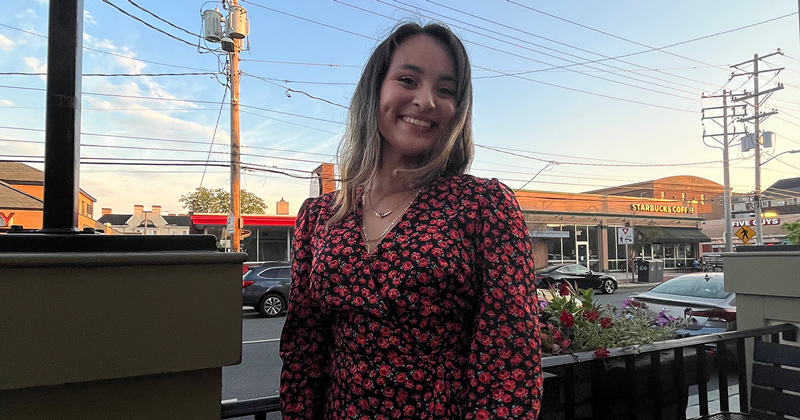 2022 Seitz Award winner
Article by Jessica Smith Photo courtesy of Geraldine Lara-Silva November 09, 2022
UD's Geraldine Lara-Silva was honored for helping fellow students of many ages
The George and Margaret Collins Seitz Award was established in 1954 by Margaret Seitz in honor of her mother and father. The award recognizes a University of Delaware first-year or sophomore student in good academic and disciplinary standing who exemplifies the "We Are Blue Hen" values of respect, openness, innovation, engagement and mentorship. Nominations are collected each spring and the winner is determined by a committee of UD faculty, staff and students. Award winners are selected and notified in June and granted $1,500.
Geraldine Lara-Silva is the 2022 Seitz Award recipient and she was honored on Oct. 7 by Dean of Students Adam Cantley, along with several Division of Student Life staff and students, at a lunch at Vita Nova in Trabant University Center.
Now a junior majoring in elementary education, Lara-Silva was nominated by her academic adviser Imani Powell, who worked with Lara-Silva in the Teachers of Tomorrow program. As a first-generation college student, Lara-Silva said the award's values resonated with her.
"As a child raised in a household with immigrant parents, I was a daily recipient of a strong message that education is paramount, and I need to work hard each day," she said. "That is why I never questioned whether or not I would go to college. Instead, I always saw college as a vital and mandatory stepping stone to reach my goal of working as a Spanish immersion elementary school teacher."
Pursuing a concentration in English as a Second Language (ESL), Lara-Silva has put her dreams of becoming a mentor to students into practice with her participation on and off campus. Last winter, she worked in kindergarten and third grade Spanish immersion classrooms at North Smyrna Elementary School.
"Being there for about two months made me realize how much I want to teach in a bilingual school program," said Lara-Silva. "It was so rewarding connecting with the students and being someone they could look up to."
Last year, Lara-Silva served as a secretary for the Academic Support Program Inspiring Renaissance Educators (ASPIRE), which provides a space for Hispanic, Latinx and Black students who want to become teachers. She was also an Orientation Leader this summer and helped connect fellow first-generation and Hispanic or Latinx students to relevant registered student organizations, including "We're First," of which she is a member.
"I think it's so great to find your people, especially on a big campus," Lara-Silva said. "I chose these organizations because they helped me connect with like-minded people. We support one another."
Lara-Silva said receiving the Seitz Award provided her with much-needed validation and was a cause for celebration in her family.
"When I was selected, I immediately had to call my parents," said Lara-Silva. "We both shared the joy of my getting this scholarship. I even had tears of happiness. Oftentimes, being a first-generation college student, I [experience] imposter syndrome where I feel like my abilities aren't great."
As the newest Seitz Award recipient, Lara-Silva plans to use the scholarship toward tuition costs or purchasing textbooks. She hopes she can shed light on the challenges facing first-generation students who could be struggling to meet basic needs on top of finishing their degree.
"I don't think other students realize that we often feel like we don't belong on this campus," she said. "I've had a hard time finding ways to navigate college. I found myself lost because I never was able to ask my parents for help with proofreading an assignment. Throughout my time, I have discovered that I am talented. Understanding the struggles my parents had to overcome to where they're at right now motivates me every day. I find beauty in being the change for a future generation."