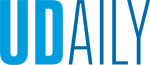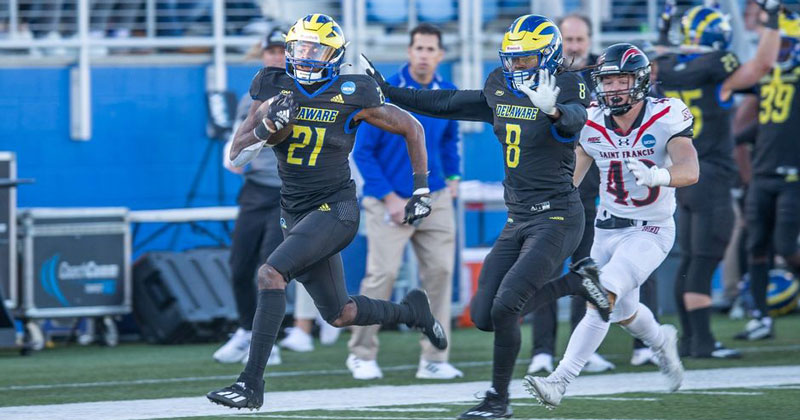 2022 FCS Playoffs
Article by UD Athletics Photo by Mark Campbell November 26, 2022
Blue Hens roll past Saint Francis 56-17 in first round of FCS Playoffs
The No. 23 University of Delaware football team scored the most points in an FCS Playoff game in program history as it rolled to a 56-17 victory over Saint Francis (Pa.) on Saturday afternoon, Nov. 26, in the first round of the 2022 FCS Playoffs at Delaware Stadium. With the win, the Blue Hens improve to 8-4 overall and advance to the second round.
Nolan Henderson accounted for five total touchdowns as he finished 16-of-23 passing for 266 yards and four touchdowns while also rushing for another score. Kyron Cumby rushed 10 times for 111 yards while Marcus Yards also finished with 85 yards on the ground. Chandler Harvin caught four passes for 128 yards and three touchdowns. The Delaware offense finished with 586 total yards of offense with 283 rushing yards and 303 passing yards.
Johnny Buchanan led all players with 15 tackles and combined with Drew Nickles on a sack. Amonte' Strothers and Artis Hemmingway each also added a sack. The defense held Saint Francis to just 258 yards of total offense.
The 39-point margin of victory was the second-most by a UD team in the FCS Playoffs behind Delaware's 40-0 victory in the 2003 national championship.
For more on the game, visit BlueHens.com, including the postgame news conference and a photo gallery.
Up next
The Blue Hens advance to the second round of the 2022 FCS Playoffs and will travel to No. 1 South Dakota State. Kickoff is set for 3 p.m. ET, on Saturday, Dec. 3.
For the latest on the Delaware football program, follow the Blue Hens on Twitter @Delaware_FB and Instagram @delaware_fb, and like "Delaware Football" on Facebook. Follow Ryan Carty on Twitter @RyanCarty10.