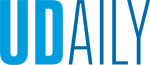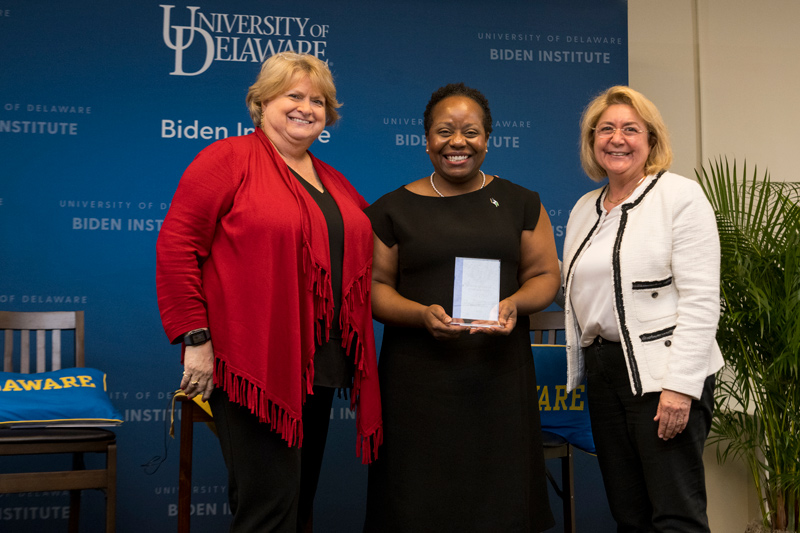 Recognizing women leaders
Article by Amy Wolf Photo by Kathy F. Atkinson November 01, 2022
Zip Code Wilmington Executive Director Desa Burton receives UD's Women of Power and Purpose Award
Desa Burton, the executive director of the nonprofit coding school Zip Code Wilmington, credits much of her success to never taking no for an answer.
"For me, the word 'no' means I'm on the right path," Burton told University of Delaware students and community members at the Biden Institute's Women of Purpose and Power event on Oct. 25. "For me, the word 'no,' looking back on it, meant that people were underestimating me … For me, the word 'no' means 'keep going.'"
The Joseph R. Biden, Jr. School of Public Policy and Administration's Biden Institute gave Burton the 2022 Women of Power and Purpose Award at the annual event, which culminated in a thoughtful discussion with Institute executive director Cathy McLaughlin and question-and-answer segment with students and other community members.
"To showcase women in our community that are doing great things is really important," McLaughlin said. "The purpose of these events is to hear about the great work that you're doing, but also for our students to have the opportunity to meet people like you so that they have role models and inspiration as they move forward in their careers."
UD First Lady Eleni Assanis, who introduced Burton, agreed that she can serve as a role model for UD students.
"We're all thankful that we have the opportunity to honor women who have made significant and lasting contributions to our community," Assanis said. "However, it's critically important that we celebrate all the women who are working right now, every day, to improve our society — women who are mentors and role models for the next generation."
A U.S. Naval Academy graduate, Burton spent 10 years as a surface warfare officer in the U.S. Navy and Naval Reserve. She later earned an MBA from Florida International University and a law degree from the University of Pennsylvania, where she served as the editor-in-chief of the Journal of International Economic Law. Prior to coming to Zip Code, she was the assistant general counsel for intellectual property at InterDigital, Inc., where she served as the senior transactions counsel for research and development, technology innovation and government contracts.
Burton told the audience — consisting of mostly UD students — to make the most of opportunities that will benefit their career paths.
"You get that first job and get your break to get some experience under your belt, but you've got to think to yourself, 'What am I supposed to get out of this?'" she said. "You don't just need to stay there to give them everything; you need to be getting something out of it too."
Sophie Phillips, a UD alumna with a master's degree in energy and environmental policy, is running for Delaware's District 18 house seat and was glad she attended the event and heard Burton's advice. If elected, Phillips will be the youngest member of the legislature, so Burton's advice to make connections and be confident resonated.
"It's always really important to hear from women of power, see where they came from, see where they're going and take any advice that they have," Phillips said. "I'm really excited that I got to hear her, and I will definitely be taking her advice."
Kaylyn Lim, a first-year public policy major who is involved with ROTC at UD, was especially interested in learning about Burton's experience as a woman in the military.
"She never gave up on anything. Every setback that she might have had, she continued to persevere," Lim said. "That's something that I'll definitely follow and keep in mind in my future."
About the UD Biden School
Established in 1961 and named in 2018 for the University of Delaware's most distinguished alumnus, the 46th president of the United States, the Joseph R. Biden, Jr. School of Public Policy and Administration prepares students with the knowledge and skills necessary to engage in research and public service activities to improve the quality of life in communities around the world. The Biden School's faculty, staff, students, and alumni create and use interdisciplinary, nonpartisan research, and empirically based analysis to inform effective decision-making and policy and to improve leadership and administration. The Biden School partners with organizations from all sectors to discover innovative and equitable solutions to the critical challenges of our time.