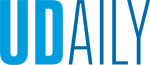 I Heart UD Day Thank You video: youtube.com/watch?v=gpTJg7_Vc-A
Filling UD hearts with gratitude
Article by Development and Alumni Relations staff Graphic by Heidi McDonough May 13, 2022
University community comes together for record-breaking I Heart UD Giving Day, May 4
Over 6,600 donors — including University of Delaware faculty, staff, students, alumni, parents and friends — collectively gave more than $1,059,000 toward 137 fundraising projects during I Heart UD Giving Day 2022, the University's fifth annual day of giving. The event took place on May 4.
"This was the most successful giving day event in UD history," said Jim Dicker, vice president of development and alumni relations. "The Blue Hen community continues to step up to make a difference for UD people, programs and causes. We should all be proud to be part of such an amazing, thoughtful and generous community."
Thanks to President Dennis Assanis, the President's Leadership Council, the Board of Trustees and other generous donors, more than $300,000 was awarded through 55 challenges and matching opportunities. The following projects won the President's Power Hour challenges, earning them each an additional $5,000 for achieving the highest number of donors within an hour:
Kappa Alpha Psi Scholarship in Memory of Keith J. Richards '01
Assistive Medical Technologies: Money for Mobility
Osher Lifelong Learning Institute (OLLI) Kent/Sussex: The Wind in Our Sails!
Nursing Alumni Network (NAN): Nursing Scholarship Fund
UD Mock Trial
University of Delaware Figure Skating
The fundraising project called A Jewish Community on Campus: UD Hillel raised $87,000 — more than any other project — and generated the largest number of donors, which was 290. Formed by Hillel Director of Development Laura Klatzkin and Campus Marketing and Development Manager Ana Levy, the project raised funds to bring together the Jewish community on campus through Shabbat dinners, individual mentorship, Jewish Learning Fellowship cohorts and more.
"We are filled with gratitude and humbled by the tremendous support for Hillel during I Heart UD Giving Day," Klatzkin said. "We are already in the midst of planning where these resources will best enhance the UD experience for Jewish students."
On campus, students, faculty and staff gathered in Trabant University Center to participate in activities, score treats and swag, and write thank you notes to donors. Students wrote a total of 780 messages of gratitude.
Check out the results for all I Heart UD Giving Day projects here.
Did you miss I Heart UD Giving Day but still want to support UD programs? You can make a gift here. Save the date for next year's I Heart UD Giving Day, scheduled for May 3, 2023.