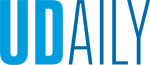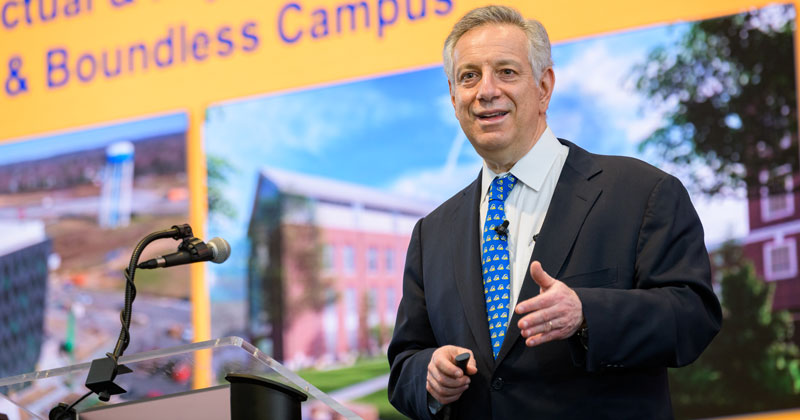 Biden names UD President Assanis to national advisory group
Article by UDaily staff Photo by Evan Krape May 19, 2022
Council advises Biden on science, technology and innovation matters
University of Delaware President Dennis Assanis has been named by President Joe Biden to serve on the President's Council of Advisors on Science and Technology, a select group of the nation's most distinguished leaders in these areas.
The President's Council of Advisors on Science and Technology (PCAST) is the sole body of external advisors charged with making science, technology and innovation policy recommendations to the president and the White House to provide informed perspectives on issues affecting the economy, worker empowerment, education, energy, the environment, public health, national and homeland security, racial equity and more. The council traces its origins to the scientific advisory committee established by President Dwight D. Eisenhower in 1957 in the wake of the launch of Sputnik.
"I am truly honored to serve our country as a member of the President's Council of Advisors on Science and Technology," Assanis said. "Innovation has a critical role in advancing societal progress and in informing policy to address the needs of current and future generations. I feel inspired to work with my esteemed colleagues to bring science and technology into the development of public policy solutions to the greatest challenges facing our world today."
Assanis, who has served as president of the University of Delaware (UD) since 2016, is a highly regarded expert in clean energy and power systems. In 2008, he was elected to the National Academy of Engineering, which cited his "scientific contributions to improving fuel economy and reducing emissions of internal combustion engines, and for promoting automotive engineering education." In 2019, he was named to the new National Commission on Innovation and Competitiveness Frontiers, an initiative of the nonprofit and nonpartisan Council on Competitiveness.
Assanis has sustained a distinguished career in academic leadership. UD accomplishments during Assanis' tenure as president have included enhancing student access and success; accelerating diversity, equity and inclusion efforts; strengthening academics and research, establishing public-private partnerships to amplify and accelerate innovation and entrepreneurship; and expanding and rejuvenating the UD campus, including the rapid development of UD's Science, Technology and Advanced Research (STAR) Campus.
He serves as Founding Board member and incoming board chair for Delaware Innovation Space, Inc., a partnership among DuPont, UD and the State of Delaware to develop a new science accelerator and innovation ecosystem. He is a board member of Delaware Health Sciences Alliance among ChristianaCare, Nemours/Alfred I. duPont Hospital for Children, Thomas Jefferson University and UD. He is also serving as Board member of Delaware Technology Park.
Before coming to UD, Assanis served as provost and senior vice president for academic affairs at Stony Brook University and vice president for Brookhaven National Laboratory Affairs. He chaired the Board of Managers of SUNY Korea, the first American university in Korea, and served on Board of Directors of Brookhaven Science Associates, the Board of Trustees of the Simons Center for Geometry and Physics, and the Board of Directors of Long Island High Technology Incubator, Inc.
Previously, at the University of Michigan, Assanis served as the Jon R. and Beverly S. Holt Professor of Engineering and Arthur F. Thurnau Professor, as well as Director of the Michigan Memorial Phoenix Energy Institute, Founding Director of the US-China Clean Energy Research Center, Chair of Mechanical Engineering, and Director of the Walter E. Lay Automotive Laboratory. He also served as Board member of NextEnergy, one of the nation's leading catalysts for renewable energy. He has also taught and conducted research as a faculty member at the University of Illinois at Urbana-Champaign.
A native of Greece, he earned his bachelor's degree in marine engineering from Newcastle University in England. At the Massachusetts Institute of Technology, he earned three master's degrees (in naval architecture and marine engineering, mechanical engineering and management) and a doctorate in power and propulsion. He is a Fellow of the American Association for the Advancement of Science, the American Society of Mechanical Engineers and the Society of Automotive Engineers.
Reporting to President Biden, who is a 1965 graduate of UD, PCAST was established by presidential executive order, and its members are responsible for advising the president "on matters involving policy affecting science, technology and innovation, as well as on matters involving scientific and technological information that is needed to inform public policy relating to the economy, worker empowerment, education, energy, the environment, public health, national and homeland security, racial equity and other topics."
Serving on the council are members of the National Academies of Sciences, Engineering and Medicine, MacArthur "Genius" Fellows, former Cabinet secretaries and Nobel laureates. Their areas of expertise span astrophysics and agriculture, biochemistry and computer engineering, ecology and entrepreneurship, immunology and nanotechnology, neuroscience and national security, social science, cybersecurity and more.
PCAST is co-chaired by Frances Arnold, a Nobel laureate and the Linus Pauling Professor of Chemical Engineering, Bioengineering and Biochemistry at the California Institute of Technology; Francis Collins, acting science advisor to the president; and Maria Zuber, vice president for research and E.A. Griswold Professor of Geophysics at the Massachusetts Institute of Technology.