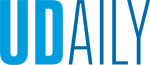 Blue Hen pride
Article by Peter Bothum Photo by Mark Campbell March 09, 2022
Men's basketball win sends students, alumni, fans through the roof
Editor's note: Celebrate with the team on Sunday, March 13, at the Selection Show Watch Party. The event, open to everyone, begins at 5:30 p.m. at The Bob. Those planning to attend are asked to RSVP in advance.
It's one of the most overused sports cliches of all-time: The "Cinderella" team makes the "Big Dance" and looks to pull off an upset in the NCAA basketball tournament.
But if the University of Delaware men's basketball team can pull off an upset in their opening game, it would be more like Cinderella riding "Seabiscuit" to the dance to have "Rocky" fit her for the slipper. After all, this has only happened five other times in Blue Hen basketball history, and they're the first No. 5 seed in the Colonial Athletic Association's 39-year history to make it out of the conference tournament and into college basketball's championship ball.
As such it was no surprise that Blue Hen pride could be found all over social media when the buzzer sounded to cement the 59-55 win over UNC-Wilmington on March 8, with students here in Newark and alumni across the nation exploding with exhilaration.
Author Jeff Pearlman, a 1994 alum who was assistant sports editor for The Review when the Hens made their first-ever NCAA appearance in 1992, unleashed a string of memories and photos on Twitter. He said that even though he's living out in Huntington Beach, California, he felt more connected than ever watching UD pull off the upset.
Pearlman has written several best-selling sports books and has interviewed some of sports' most legendary figures. His most recent, Showtime, chronicles the 1980s Los Angeles Lakers and has been turned into an HBO series.
But interviewing some of pro sports' greatest players can't top his time covering the 1992 Hens, who went 27-3 during the regular season. It was "the most magical sports experience of my life," he said, despite witnessing an 85-47 mauling at the hands of the Cincinnati Bearcats in the first-round game in Dayton, Ohio.
"There was a real belief this was made for an upset. Unknown program, sorta obscure players. At the start of that game my knees were shaking. You try being unbiased, but ... you're just a kid. UD goes up, I think, 6-2. 'It's happening!' Then Cinci starts pressing. 'Oh, oh.' They were so damn good. Won by 38, coulda been 58. But it took zero away from the magic of that year. I love what that team brought me. That experience. So much love, compassion, togetherness. Again, it remains my favorite sports moment. And I'm almost 50."
Delaware Gov. John Carney, an avid sports fan who earned his master's degree from UD in 1987, was at the game in Washington, D.C., and was so caught up in the contest that he didn't share a selfie or even note that he was at the Entertainment & Sports Arena.
"I was at the game behind the bench. The energy in the arena was just amazing, particularly as the game went on. The intensity of play was really incredible. I'm a big basketball fan, so I love to watch the game and was really tuned into our players in the backcourt – I'm a big fan of the two seniors."
The governor's love of UD sports goes way back. He's a native Delawarean, so even though he earned his bachelor's degree from Dartmouth College (football and hockey, not basketball, are big there), Carney grew up a Blue Hen fan and continued to be one during his political career. He was Delaware's U.S. representative the last time the Hens were in the tournament, in 2014, and was at the CAA championship game in Baltimore.
"As governor, you know, there's something special I think about being a political leader of this state and having your team and the flagship university perform like that," he said. "There's just such a level of pride."
Spirit on display
Enjoy this selection of social media posts shared in response to the team's historic victory.
In 2004, Jameer Nelson (@jameernelson) led St. Joe's into the NCAA tournament.

Today, his son, Jameer Nelson Jr., punched his ticket after Delaware won the Colonial Athletic Association Championship 🏆

WHAT. A. MOMENT. 🥺❤️pic.twitter.com/SEAmT1QD6Q

— Sports Illustrated (@SInow) March 9, 2022
Visit BlueHens.com for more details and a photo gallery from the game.
For the latest on the Delaware men's basketball program, follow the Blue Hens on Twitter and Instagram @DelawareMBB, and like "Delaware Men's Basketball" on Facebook.