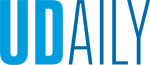 UD women fall to Maryland, 102-71
Article by UDaily Staff Photo by Jeff Fannon March 18, 2022
The Blue Hens cap a 24-8 season with NCAA Tournament appearance
The University of Delaware women's basketball team tried valiantly, but could not keep pace with the taller and faster University of Maryland team and lost, 102-71, in its first-round NCAA Tournament contest on Friday, March 18, at the Xfinity Center in College Park, Maryland.
The 13th-seeded Blue Hens were led in scoring by honorable mention All America Jasmine Dickey, who capped her UD career with 31 points and 10 rebounds. Knowing her star player was finishing her UD career, UD Coach Natasha Adair took Dickey out of the game with about 90 seconds left so the Blue Hen fans in attendance could give her a final ovation.
The fourth-seeded Terrapins (22-8) were led in scoring by Ashley Owusu, who had 24 points.
Despite the loss, the Blue Hens enjoyed a successful season that included winning the Colonial Athletic Association conference championship, the first since 2013. UD finished the season with a 24-8 record.
"Like we just told our team, obviously this is not the outcome that we wanted, but we don't want this one game to take away a phenomenal season," Adair said. "It hurts, as it should, but as their coach, I couldn't ask for a better crew. I couldn't ask for a better group for sure of seniors, leaders, but just a phenomenal team."
To learn more about the game and the Blue Hens' athletic program, please visit bluehens.com.