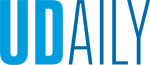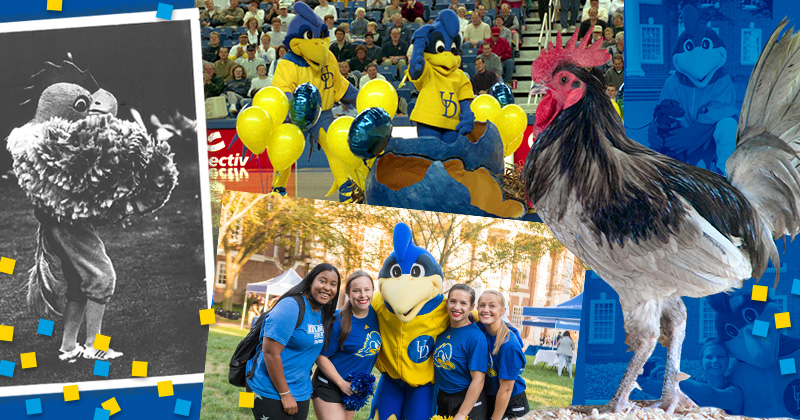 Why Blue Hens?
Article by Andrea Boyle Tippett Illustration by Jeffrey C. Chase | Photos courtesy of University Archives and Records Management March 11, 2022
Separating fact from fiction about UD's unconventional mascot name
The University of Delaware holds the distinction of having one of the most unique mascots in sports. No mundane bulldogs, run-of-the-mill bears or overgrown house cats here. (Did you know there are 13 schools playing NCAA Division 1 sports who call themselves tigers?) In the First State, we have a mascot whose flair and exceptionalism match our state's status as the first to ratify the U.S. Constitution – the Fightin' Blue Hens.
As the men's basketball team heads to the NCAA Division 1 college basketball tournament this week, the nation's eyes will be on the players (and the large chicken on the sidelines who goes by the name YoUDee). We are sure to stand out.
Why the blue hens? It's a question university archives coordinator Lisa Gensel gets a lot. "People ask all the time: 'Where did that come from? Why is our mascot our mascot?'" she said. The answer, well, "it's never that clear cut."
Let's debunk some myths by sharing some history in the hopes that every true Blue Hen is fully equipped to cheer on the team and maybe win a trivia game or two.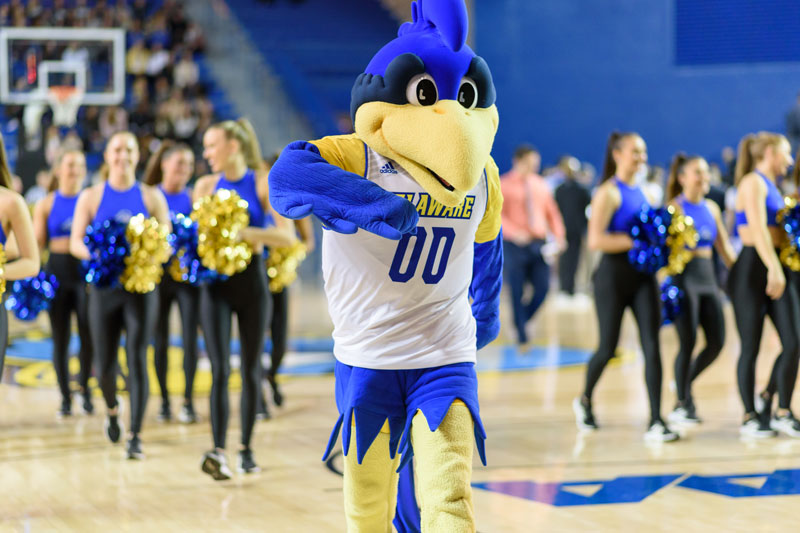 True or False?
The Blue Hen is one of the country's only female mascots.
False: People tend to assume that a Blue Hen is a female, understandable given that the top dictionary definition of hen is a female bird.  In fact, the name Blue Hen refers to a kind of chicken, it includes both males (known as cocks or roosters) and females (known as hens). YoUDee, the mascot on the sidelines, is gender neutral, as is their sibling Baby Blue.
True or False?
The Blue Hens name is connected to the American Revolution.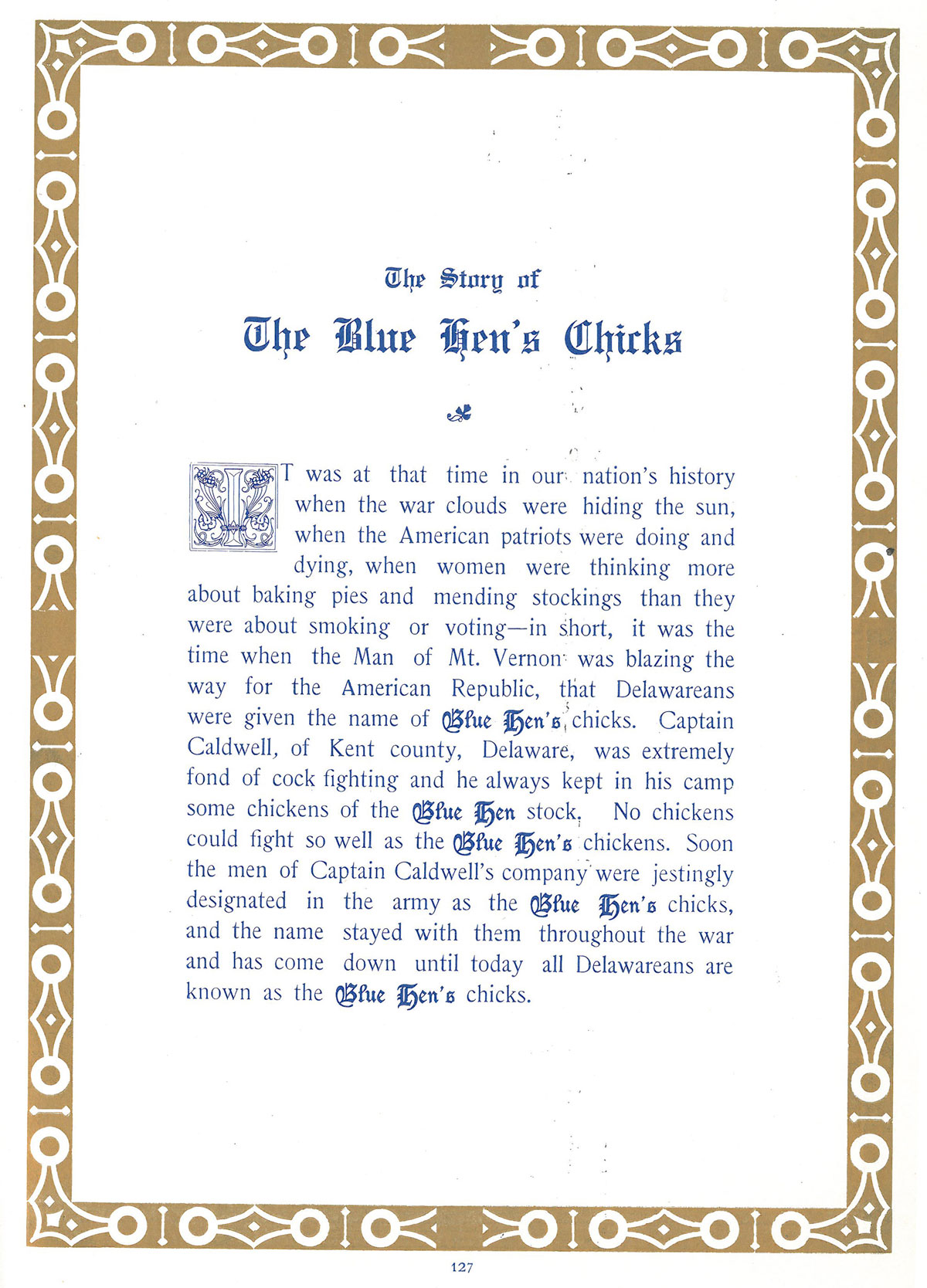 True: In the Revolutionary War, the Delaware Regiment contained eight companies. One was led by Captain Jonathan Caldwell, who owned a farm in the Kent County town of Felton. Caldwell was fond of cockfighting and brought along some Blue Hens. Stories of varying reliability say he brought them onto the battlefields or the men from his company rushed the enemy screaming "We're sons of the Blue Hen and we're game to the end." What is consistently noted is the birds' ferocity and success in fights. The regiment shared some of these same attributes and came to be known as the Blue Hens' Chickens.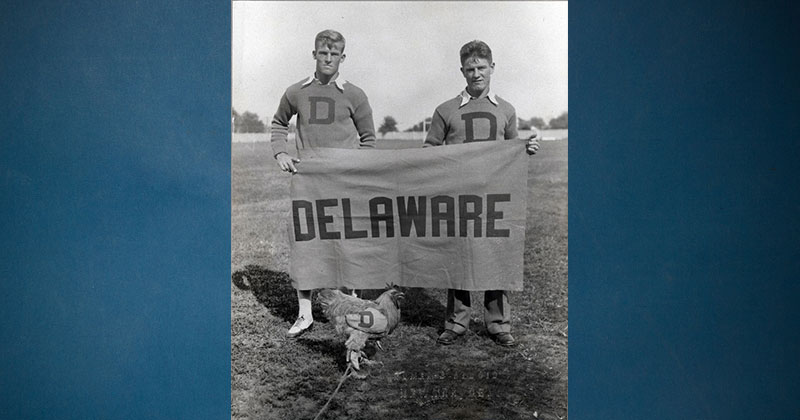 True or False?
Blue Hens are less fearsome than most mascots.
False: The Blue Hen is a particularly aggressive bird.
"Back when cockfighting was acceptable, these birds were kind of like the Mike Tysons of cockfighting," Brian Ladman, a senior scientist in the College of Agriculture and Natural Resources, said.
For many years, the mascot was represented by an actual chicken, typically a rooster. A bird first made an appearance at a football game in 1931, a tradition started by a group of cheerleaders, all of whom were male. (UD's predecessor institution Delaware College had not yet merged with its sister school.) The men got the bird from a local farmer and dressed it in wing covers sporting a large D. "Somebody dressed the rooster," Gensel remarked. "Those things have spurs! I don't want to know how they did it."
What's a spur? It's an extension of a bird's leg bone that juts out in the back. It's sharp and pointy and has no nerves or capillaries in it, allowing the birds to use them to fight without feeling any pain.
Over the years, the representations of the Fightin' Blue Hens have varied in how ferocious the birds looked. One popular image includes a hen with a bandaged beak and villainous look in the eye. A 1949 yearbook photo included a young family gathered around a fancy bird cage while an unfazed hen struts by. The mid-1970s mascot performer wore a suit with enormous fluffy arms.  A previous incarnation of the suit from the 1950s was terrifying in its own unique way. Take a look for yourself....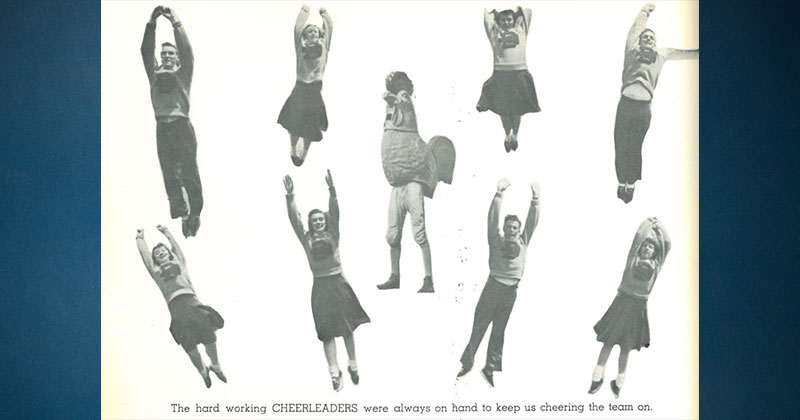 True or False?
The University's mascot is named after the state bird of Delaware.
False: The state did not name a state bird until 1939. The University of Delaware began using the mascot name in 1911 when it published its yearbook under the title The Blue Hen.
By that point, Blue Hens had been synonymous with the state of Delaware for more than a century. A Kent County militia fighting in the Civil War was also known as the Blue Hens' Chickens. In 1870, at a Centennial Exposition held in Philadelphia, Delaware's dedicated building featured a flagpole topped with a model of a blue hen. Numerous political campaigns have used the blue hen theme. And, in 1910 when the battleship the U.S.S. Delaware was commissioned, the state gave the vessel's crew two chickens as a gift.
Interestingly, Delaware is not the only state with a chicken as the state bird. Rhode Island is represented by its Rhode Island Red breed. Apparently it's a small-state trend.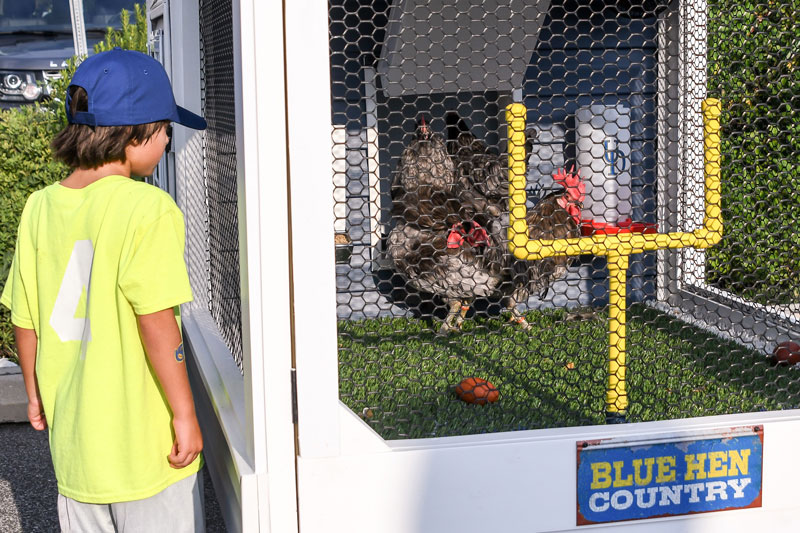 True or False?
You can see "real" blue hens (the feathered kind) on campus.
True: UD's College of Agriculture and Natural Resources keeps a flock of 20 Blue Hen chickens on South Campus.
Three members of the flock attend home football games in their custom-made moveable coop called The Roost. The trio is known as the Birdgade; a 2017 naming contest gave each bird its stage name. Captain Cluckers, Private Poultry and Corporal Doodle-Doo tailgate with fans each fall. They tend not to attend indoor sporting events since their manners are poor – they were raised in a barn after all!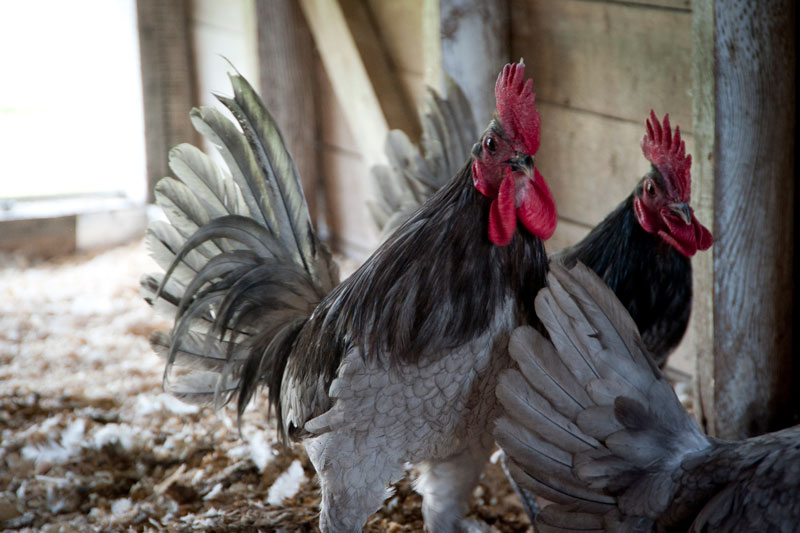 True or False?
Blue Hens are not actually blue.
True: Blue hens were given the moniker because their feathers had a blue-ish tinge. "They're grayish-brown," Ladman said. Many are actually black or brown.
It's the males who are, according to Ladman, "more glorious in their presentation and colors."  The Birdgade is an all-male troop. "We're not really interested in the hens, in this case."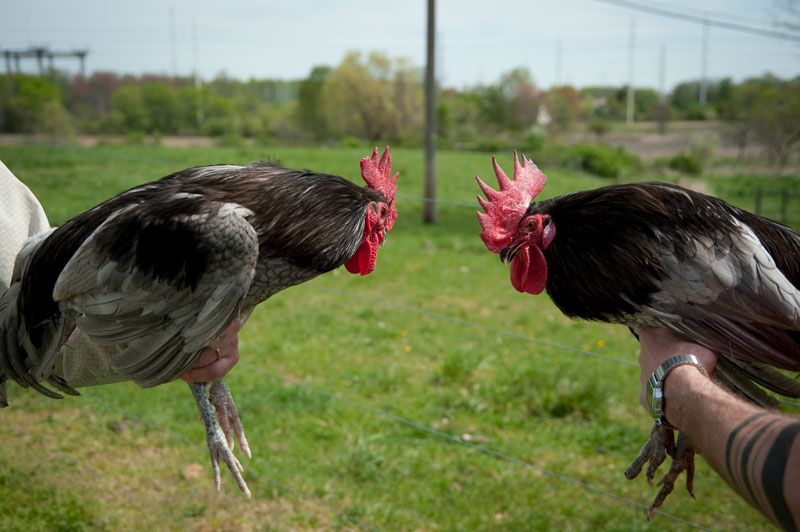 True or False?
There are more chickens in the state of Delaware than there are people.
True: Commercial poultry production is a major industry in the state. There are just under 1 million people in Delaware and 50 million chickens. Most are broiler chickens, the kind that eventually end up wrapped in plastic in your local supermarket. You won't find any blue hens there, Ladman said. "These birds aren't really great egg producers. And, they don't grow a lot of meat, so they are just ornamental. They're pretty to look at," he shared. 
What you are likely to find — or be if you live here — is a human Blue Hen. There are 52,000 alumni living in the state.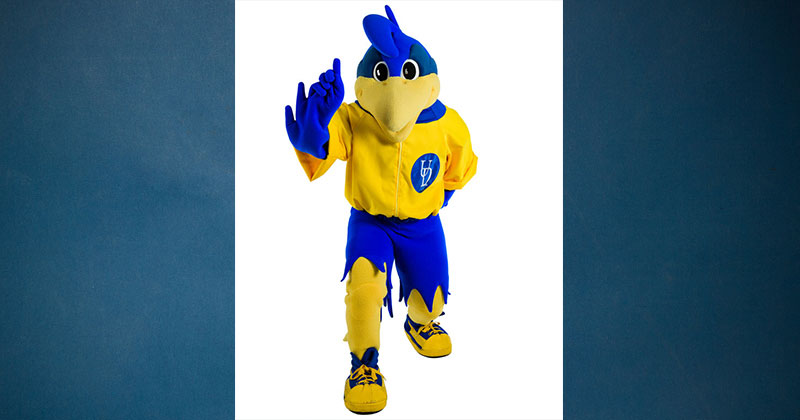 True or False?
The Blue Hen is the best mascot in the country!
True: OBVIOUSLY! But, if you need proof, just look at their hardware. The YoUDee mascot team has been national champions eight times ( 2002, 2009, 2011, 2012, 2013, 2016, 2017, 2019) and is a member of the Mascot Hall of Fame.
Blue Hen Bonus
One more image from University Archives and Records Management that we couldn't resist: