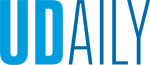 New diploma at 80
Article by Margo McDonough Photos by Andre Smith and Kelsey Underwood June 01, 2022
UD's oldest 2022 graduate, Steven Goodhart considers second act after earning bachelor's degree in criminal justice
Steven Goodhart received his bachelor's degree in criminal justice from the University of Delaware on Saturday, May 28, and now it's time to start looking for work. Unlike most of his fellow graduates, he's only interested in a part-time position. But, before you consider him a laggard, note that Goodhart, age 80, is the oldest person earning a degree at UD in 2022.
Goodhart received his first bachelor's degree — in mechanical engineering — from Penn State University in 1964, followed by a master of engineering in engineering science from that same institution six years later. He spent the bulk of his career as a civilian employee for the federal government, working at the Philadelphia Navy Yards for many of those years. He and his wife, Susan, moved to a home in the North Wilmington suburbs in 1974. Living in Delaware made for an easy commute during his working years and also paid dividends when it came time for Goodhart to plan his post-retirement life.
When he retired in 2013, he knew he didn't want to just hang out with friends and family, as relaxing as that may be.
"I wanted to go back and study the humanities and learn the things I had no exposure to as an engineering student," said Goodhart. "I also was very interested in criminal justice and wanted to discover more about this field."
He knew that UD had a great reputation. He had heard as much from his two children. Ian Goodhart received his MBA from UD in 1996 and Ilyse Mazza received her MBA from the University in 2000.
Plus, Goodhart was aware of UD's Over-60 Tuition-Free Degree program, which allows Delaware citizens aged 60 and older to attend classes for free, as long as they are accepted as formal degree candidates. When he applied to UD, some of the 155 credits he had earned at Penn State — more than 55 years earlier — transferred over. "I had enough math credits so I didn't need to take any math classes this time around," he said. "I did, however, need a philosophy course as the logic course I took at Penn State didn't transfer."
While he was studying for his bachelor's degree, Goodhart took Basic Mediation Training at the Biden Institute and began working part-time for the Delaware Center for Justice. Originally known as the Prisoner's Aid Society, the center implements programs that facilitate fresh starts for victims of crime, youth at risk, and the incarcerated.
Goodhart began volunteering in 2016, working as part of a team of mediators to find resolution on cases ranging from broken windows to more serious crimes.
"Such mediation relieves some of the workload on the attorneys, judges and others in the court system," Goodhart. "Surprisingly, people aren't usually too upset by the time they reach the mediation table. They are ready to work things out. In the case of something like a broken window, that might mean an apology and financial restitution."
While Goodhart discontinued in-person volunteering during the pandemic, he did a remote field experience at the center in the spring of 2022, as part of his capstone criminal justice course.
Goodhart had a 3.16 GPA before final grades were posted. His most difficult courses were two history classes, both of which he took during summer sessions. "They covered creation to the present day, and taking them in the summer meant that you had a week's worth of learning to cover each day," he said.
As for Goodhart's mature status, he said he always felt welcomed on campus and in class. "It felt strange to be the oldest person but the kids were great," he said. "In a lot of classes, we would be split into small groups for projects. We spent a lot of time working closely together and I was never made to feel different."
He said that his years of study have prepared him well for employment in the criminal justice field, should the opportunity present itself. "I feel really satisfied with what I have learned," he said. "UD's criminal justice program is excellent."
It's clear the positive feelings are mutual.
"I found Steve to be a very dedicated student and determined to obtain a bachelor's degree. His experiences at UD opened his eyes to part-time employment opportunities helping individuals involved in the criminal legal system," said Christy Visher, a professor in the Department of Sociology and Criminal Justice and director of UD's Center for Drug and Health Studies.
Aaron Fichtelberg, an associate professor and associate chair in the Department of Sociology and Criminal Justice, was equally effusive in his praise.
"Steven was a student in my Criminal Law course in the Fall of 2018," said Fichtelberg. "He continually impressed me with how much he understood, but equally how open he was to new ways of looking at law and justice. As many students who take my class know, I call on students to respond. Every time I called on Steven he was prepared and every time he had something interesting to say."
Added Fichtelberg, "I was pleased that Steven had an open-minded approach and an eagerness to learn. I know he would be an asset to any organization he joined."