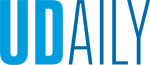 Technology for 'every Delaware zip code'
Article by Tabitha Groh Photos by Evan Krape July 01, 2022
UD's Center for Disabilities Studies opens Assistive Technology Resource Center in Milford, allowing more Delawareans to try supportive devices for free
When Emmanuel Jenkins got his first speech-to-text software in middle school some 20 years ago, it was top of the line, but clunky. The software enabled his laptop to write the words he spoke, but it took hours of training for the software to understand him. He carefully chose what he wore, because the microphone would pick up static.
Despite these challenges, it would change the trajectory of his life.
"Without the technology, the idea of me fully participating in my education, in my employment, would not be possible," said Jenkins, who serves as the community relations officer for the Delaware Developmental Disabilities Council and runs his own nonprofit, We Stand 4 Something.
A far-more technically advanced version of that speech-to-text software — and hundreds more devices that support people with disabilities — were on display June 15 when Jenkins spoke at the grand opening of the new Kent/Sussex Assistive Technology Resource Center (ATRC) in Milford. The ATRC is one of two resource centers operated by the Delaware Assistive Technology Initiative (DATI), part of the University of Delaware's Center for Disabilities Studies (CDS). The New Castle County ATRC is in Newark.
The ATRC houses a library of devices available for free loan that can help people with disabilities "do the things that they want to do at home, at work, at school and in the community, more easily, more quickly, more safely and more successfully," CDS Director Beth Mineo said as she welcomed visitors to the ATRC, the newest addition to the Milford Wellness Village.
Before cutting the ceremonial ribbon, Gary Henry, dean of UD's College of Education and Human Development, of which CDS is part, noted how the facility helps fulfill the University's land-grant mission of serving the people of Delaware.
"We serve individuals from every Delaware zip code," Henry said. DATI averages more than 1,700 contacts annually, he said.
"It's really amazing when I go in that room and see what's going on in there," said Milford Mayor Archie Campbell, who toured the space before the ceremony.
Without the kinds of technology available in the center, Jody Roberts of the Delaware Division of Developmental Disabilities Services said his daughter, who benefitted from eye-gaze technology beginning at age three, "would be living a very different life than she does today."
Looking for tools for an autistic 20-year old she tutors, Amy Morten found more than she expected in the center.
"I have a father who is visually impaired," Morton said. "Talking scales and larger-faced clocks—seeing the equipment makes your brain start ticking about what and who you could use it for."
Quadia Ameen and her three-year-old son, Faheem, sampled items with the guidance of Karen Latimer, a DATI assistive technology specialist.
Ameen, who said she is still learning to navigate resources for her son, worked with Latimer to find switches that help Faheem interact with toys, such as a teddy bear that plays peek-a-boo.
"I liked the perspective with which she saw my child," Ameen said of Latimer. "She saw him with abilities."
Searching for tools to help her son with autism live and work, Tomara Williams relied on center staff to show her a number of options.
"Every step of the way, staff explained what each device does and asked me to think about how it would help my son," Williams said.
"Each item in our inventory is there to help people with disabilities and their families see what is possible," Latimer said. "Whether it's a lifelong disability, a new challenge or even a temporary one, technology can help people to be more independent."
Throughout the afternoon, representatives from Delaware Relay Services, Delaware Library Access Services, Tobii Dynavox and Eschenbach Optik of America demonstrated products and services available through the ATRCs.
Tobii Dynavox's Ariel Sanchez displayed augmentative communication devices with eye tracking technology that allows users hands-free interaction with a host of applications — and by extension, their world.
"Being able to be yourself, that's what assistive technology is for," Sanchez said.
Jenkins agreed. When he borrowed a literacy support tool years ago from the ATRC, he immediately knew that he would need it long term. It allowed him to write poems to his wife.
He considers himself his favorite poet.
"Because I know my words," he said, tearing up. "And I know what my words mean, and I know what it felt like to not be able to express my words."
About the Kent/Sussex Assistive Technology Resource Center
DATI's Assistive Technology Resource Center is barrier free, open to the public and contains hundreds of examples of assistive technology devices that help Delawareans be more independent and productive.
Specialists can demonstrate equipment and help identify technology options for a given need. Most equipment is available for a free, two-week loan period.
The Kent/Sussex ATRC, located in the Milford Wellness Village at 21 W. Clarke Avenue, Suite 1200, Milford, is open weekdays, 8:30 a.m. to noon and 1 p.m to 4:30 p.m. Drop-in visitors are welcome, but advance appointments are recommended to ensure personalized attention. To make an appointment, email kent-sussex.atrc@dati.org or call 1-800-870-DATI (3284).